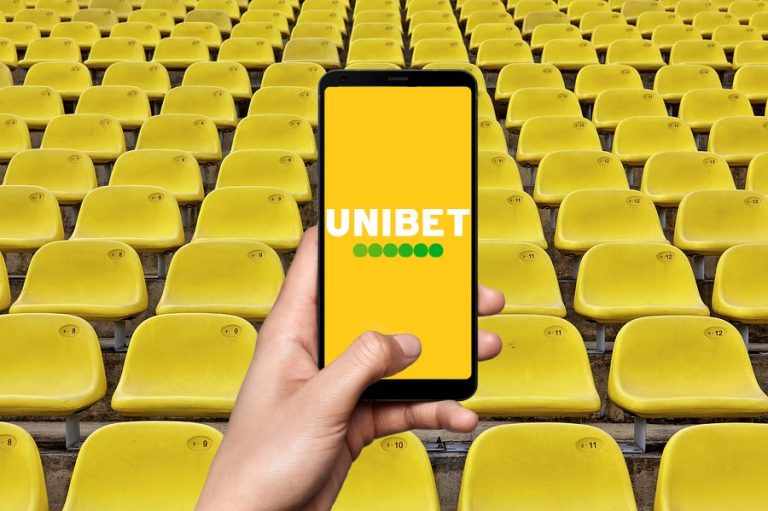 Unibet is one of the industry pioneers, and this bookie with British roots is more than recognizable among European bettors. It gained much trust and gathered a loyal audience worldwide. Unibet offers gamblers a traditional online sports betting site with lines, live wagering, a casino, and a mobile platform for iPhone and Android devices.
This review will focus on the Unibet mobile app. Here we'll discuss it inside and out to give readers the fullest image of Unibet's mobile experience, its features, pros, and cons. Let's go!
Unibet

background information

Do you doubt if you should download the Unibet sportsbook app? We don't think you should: the Unibet brand is among the most trusted gambling providers: at least, it has existed for so long that it's definitely not a scam. In fact, Unibet entered the industry in 1997. It was a telebetting shop in London: bettors called it by phone and ordered sports wagers to Unibet's owner — yes, the company was that small. However, Unibet started rapidly growing, and in 2004 it was not a modest sportsbook with headquarters at the owner's home anymore. The key to success was the online sports betting website: it allowed the brand to expand all over Great Britain and Europe.
Digital techs made Unibet popular, so no wonder the owners went further and released one of the first sports betting apps: it was in 2016.
It became even more important when Unibet decided to enter the US market in 2019. Since the PASPA law repealing, Unibet has become one of the key figures on the North American gambling market and released more app versions for every state it came over.

Unibet

Sports Betting App

Now you know that Unibet has different app versions, and depending on your location, you might get, say, Unibet India, Unibet NJ, etc. Although Unibet US works under different licenses than the other versions, they are not significantly different. Of course, every version is slightly adapted for particular regions. For instance, the American Unibet sportsbook app focuses on major US leagues, while the European edition is proud of the soccer coverage.

Let's consider how and where you can use Unibet via your mobile gadget and look at some legal matters.
Accessing Unibet on mobile
Besides the apps, you can use a more straightforward option and stick to the mobile site version. It doesn't require any downloading, and you will get the same experience that you have with your web browser version.
Still, Unibet took care to adapt their site to mobile devices and deliver a top-notch user experience. In fact, the Unibet mobile site version has an app-like layout, with a menu on-click and compact view adjusting to all screen sizes.
However, a mobile app is a better solution when saving traffic is essential. Luckily, you don't need to go far: the links to all app options are available right on the mobile site's main page. Just click on the Apps tab and select the one you need:
Unibet Sports Betting;
Unibet Casino (available in limited countries and states);
Hockey Expert (this one is not about gaming: only top useful info on stats, results, predictions, and latest team tweets);
Unibet Poker (available in particular countries and states).
Unibet sportsbook app is one of the most popular mobile products of the brand: in fact, most gambling activities in the US are related to mobile betting. The app layout is neat and clean and allows access to various betting markets with the most comprehensive coverage for NFL, NHL, NBA, and Soccer. The number of events is not the largest one and doesn't involve any exotic sports, but you are sure to get a traditional American sports betting experience with single and multiple bets in the pre-game or in-play betting formats.
Some users complain about the app's performance: despite regular updates and bug fixing, the Unibet app might work too slow, especially during peak hours. However, most customers still speak well about the app, and the best feedback is related to customer support.
The 24/7 professional service works fine, and the help center with a special betting forum is another Unibet gem.
Still, you won't find the latter one in the app: you will have to switch to the mobile or web version to chat with fellow bettors or read some FAQs.
Which states is Unibet Sportsbook App available in?
When we speak about the Unibet mobile betting app for the USA, we must mention that you can't download it from anywhere: sports betting is legal in particular states, while the other regions ban it.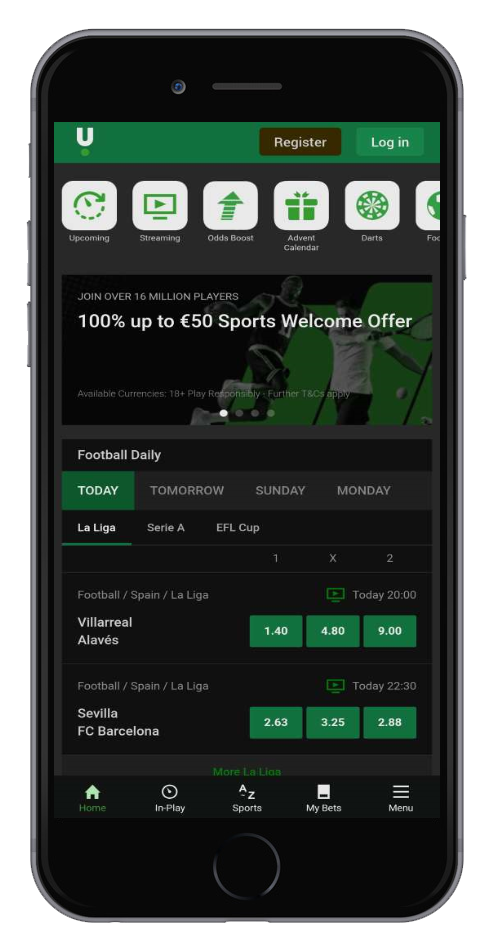 Besides, Unibet has not come to all states that legalized sports and are currently available in the following jurisdictions:
New Jersey – Unibet NJ (licensed by the New Jersey Division of Gambling Enforcement, working in a partnership with the Hard Rock Casino Atlantic City);
Pennsylvania — Unibet PA (licensed by the Pennsylvania Gaming Control Board, working in a partnership with the Mohegan Sun Pocono Casino);
Indiana — Unibet IN (licensed by the Indiana Gaming Commission, working in a partnership with the Caesars Horseshoe Hammond Casino);
Virginia — Unibet VA (licensed by the Virginia Lottery);
Arizona — Unibet AZ (licensed by the Arizona Department of Gaming, working in a partnership with the Fort Yuma Quechan Tribe);
Iowa — Unibet IA (licensed by the Iowa Racing and Gaming Commission, working in a partnership with Harrah's Casino).
New Jersey and Pennsylvania are the only states that can enjoy Unibet casino games besides sports betting markets; the other jurisdictions don't approve online casino gambling but allow you to visit legal brick-and-mortar casinos safely.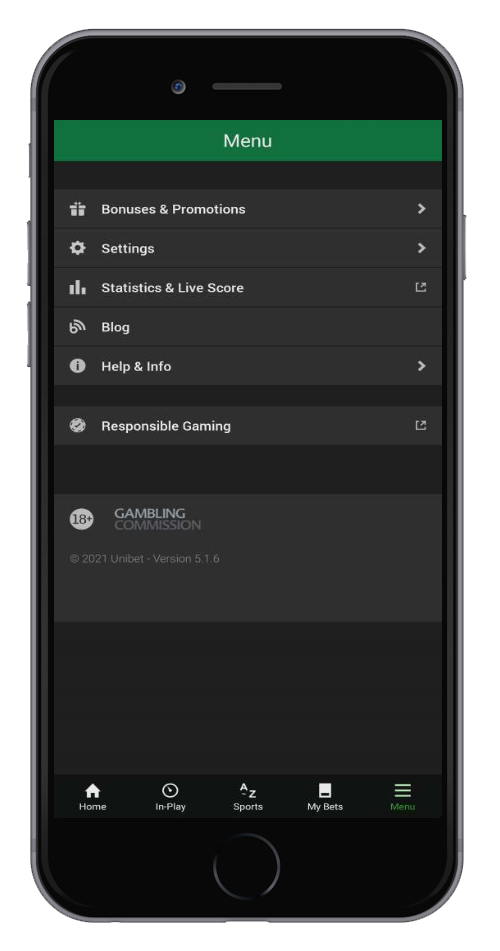 How

does Unibet Mobile Work?

In the next paragraphs, we will discuss what Uni bet offers to app users and help you with some basics. You will learn how to install the app, touch on the payment options, and the most thrilling point: the bonus system. We will mainly consider the Unibet app create for the US bettors but will mention some nuances of the other versions, too.
Application

instructions

1
How to download Unibet App for Android?
Unlike many sports betting and gambling apps that are not available in Google Play, Unibet can be safely found in the Google applications store: just type in 'Unibet' in the search bar to find the version for your region. As an alternative, you can get an .apk file from the Unibet mobile site and install it from the File Manager.
2
Unibet Mobile App Installation on Android
If you found the Unibet app in Google Play, press the 'Download' button, and the app will automatically appear on your home screen within a couple of seconds. If you opted for the apk file, go to the File Manager, find the installation file and click on it. As the installation is ready, you can sign in to your Unibet account. Still, if you don't have it, you can easily sign up using the app.
3
How to download Unibet app on iOS
You can do it within a couple of clicks: just go to the App Store, find the Unibet app for iOS, and press Download. You will need about 50 MB of free space on your device: the app's size is currently 49,6 after the latest update. Make sure you updated your system: you need iOS 13 or later to get the app.
4
Unibet App Installation on iOS
When you click on the Download button in the AppStore, the app will automatically install on your phone: you will find yourself on the home screen among your other applications. The signup or sign-in process is just the same as on Android devices, and as soon as you install the app and login into your account, you are ready to place your first mobile bet!
Unibet App Cashier Options
Unibet accepts many currencies, including US dollars, AUD, EUR, GBP, and more. The deposit and withdrawal methods selection is also pretty good: at least, all the most popular options are here, and you can opt for cash payments if you don't trust online banking.
| Payment method | Min deposit | Deposit time | Withdrawal time |
| --- | --- | --- | --- |
| Credit and debit cards | $10 | Instant | 1-3 working days |
| Online banking | $10 | Instant | 1-2 working days |
| Trustly | $10 | Instant | 1-2 working days |
| Apple Pay | $10 | Instant | 1-2 working days |
| Neteller | $10 | Instant | 1-5 working days |
| Skrill | $10 | Instant | 1-5 working days |
| Cash payments at retail venues | $10 | Instant | Instant |
| Bank Wire transfer | $10 | 1-2 days | 3-7 working days |
| PayPal | $10 | Instant | 1-2 working days |
| PayNearMe | $10 | Instant | – |
| Play Plus Prepaid Cards | $10 | Instant | 1-2 working days |
| Vip Preferred e-Checks | $10 | Instant | 1-2 working days |
Unibet App Bonus information
Unibet offers a range of traditional bonuses for new and existing players. All new gamblers can opt for the sports welcome bonus, and if your region allows online casino gambling, don't forget to claim the one for casino games, too—besides, several regular promotions and special betting options like boosted odds and a cash-out feature.
Unibet sportsbook doesn't offer any special bonuses for mobile app users but doesn't limit them in using all existing promotions. However, the US and European versions have different bonus systems. We will show you some bonuses available for Americans, so if you require the info about the British or European app, check out the Promotions sections at the website, mobile site version, or a dedicated app.
Sports Welcome Bonus: make a first deposit and get up to a $500 risk free bet as a 100% deposit match;
Referral program: share a Unibet referral link with a friend, and get $25 for their first deposit;
No Deposit Bonus: use a FREEBONUS promo code when you register and claim $10 in the form of a free bet;
Combo Booster: add four or more picks to your parlay, and get boosted payouts of up to 50% if your parlay wins;
Live Betting Bonus: place five or more live bets weekly, and get $10 free bets.
Besides, there are temporary promotions for particular tournaments or matches. For instance, when creating this review, we found a special offer for the Chiefs vs. Chargers game: if you place $25 on the Thursday Night Matchup, you will receive a $10 free bet.
App

Privacy

Is it safe to use the Unibet sportsbook app? Does it collect your private data, and do you risk anything when you register a Unibet account? Let's sort it out.

Like all mobile apps, Unibet collects some personal information. At least, it needs to identify you, so you must indicate your real name, passport details, and home address. The app's privacy policy says the app has the right to collect the following private data:
Financial Info;
Contact Info;
User Content;
Identifiers
Still, there is nothing to worry about. The latest encryption methods, including the SSL certificates and all that protects your card and e-wallets details, passport data, and anything related to your address and geolocation. Unibet does not send your data to any third parties and takes care of your security so that nobody can steal your details when you pay or register your account.
Pros

and Cons
Quick response
Convenient and intuitive navigation
Separate native apps for poker and casino games
Conclusion
We wouldn't call the Unibet app the best mobile solution in the gambling industry. Although the website works just fine, the app might lag at the worst possible time. Still, we can't say anything bad about the betting offer, odds, and the bonus program, as well as the app's layout and navigation. We have a hope that the technical issues are to be fixed soon: the app is too young, so we won't jump to immediate conclusions.
After all, we are sure that the Unibet app is safe, and overall, trust the brand: if you win, you are sure to receive your payouts quickly enough. We especially recommend it to the NFL bettors: Unibet offers very accurate and saturated lines for every football game, with all data coming from the official league's sources.
FAQ
Does Unibet have an app?
Yes, Unibet has a set of native apps for various activities: sports betting, casino games, and poker. There are different app versions for Europe and the USA.
---
Is Unibet App legit?
Yes, Unibet is a legal app registered by six gambling commissions in the United States, the Gibraltar Gambling Authority, and the UK Gambling Commission. However, you can't use it if your country or state prohibits online gambling or Unibet doesn't accept players from your region, so check if you are eligible to install the app before you make your first deposit.
---
What casino is Unibet affiliated with?
Unibet cooperates with five US land-based casinos: the Hard Rock Casino Atlantic City, Mohegan Sun Pocono Casino, the Paradise casino by the Fort Yuma Quechan Tribe, the Caesars Horseshoe Hammond Casino, and Harrah's Casino.
---
How does Unibet App pay out?
Unibet offers several popular banking methods, including credit and debit cards (only debit cards for the UK citizens), PayPal and other e-wallets, cash payments at local casinos, prepaid cards, VIP preferred, online banking, and bank transfers. It proceeds with the payments pretty quickly: it doesn't usually take more than a couple of business days.
Last updated on 22 Oct 2022 - 11:41
Liked this publication?