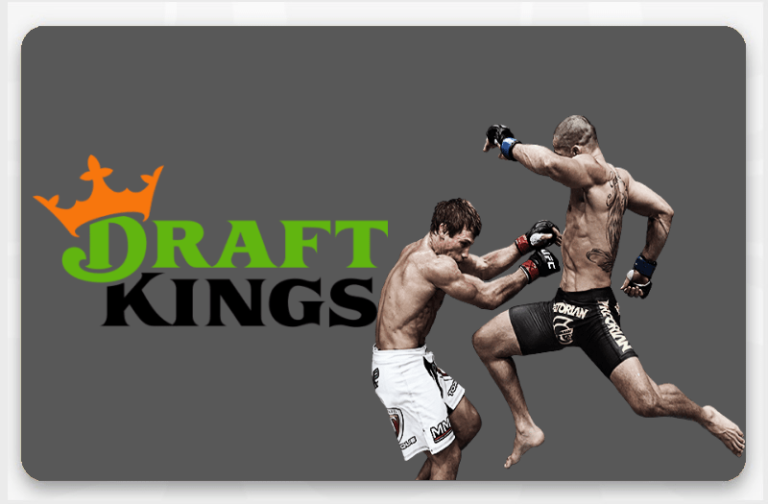 The MMA is a great option for making bets, and the DraftKings sportsbook made its best to provide customers with odds and lines for the top UFC fights. Its sports betting offering includes various promo offers for new and existing bettors, various markets except the most straightforward ones, and many other features that you can find out when join DraftKings.
Note, that the bookie is currently available in Virginia, West Virginia, New Jersey, Indiana, Iowa, Tennessee, and Mississippi.
UFC

betting options at the DraftKings sportsbook

Here are the betting markets you can find at DraftKings for UFC fights:
Moneyline: a bet on a fighter to win. There are moneylines for the main card with the main event of the night, and some additional ones.
Total round. It is one of the over/under bets where you wager on how many rounds both fighters will last.
Winning method. You bet on how a winner will win, but you don't need to predict the winner, though. It can be a decision, a knockout, or submission victory. To make the right prediction, it makes sense to check the stats for every player and see how they performed in the latest bouts.
Parlays. You can place bets on several fights. If all your picks are correct, all odds will be multiplied and your winnings will be significantly boosted.
Props. Propositions bets are not related the final outcome but are about some events that can happen or not during the fight. For instance, there can be a prop bet on how long will the match last, etc.
Futures. You can wager on the upcoming fights by choosing the winner of the main event, or the overall title defender of the season. Such bets are very simple but pretty hard to predict. You can get nice odds for such markets, though.
DraftKings

UFC odds

DraftKings offers pretty competitive odds for the MMA bouts. The margins for wagering on the UFC start from 7%, and may reach 9% if the fight is not in the main card. Although it's more than usually offered for the other sports betting markets like NFL or NBA, most bookmakers have approximately same or even higher margins.
DraftKings

UFC tournaments

Besides standard betting options, DraftKings offers an MMA tournament. It is a large event with a $500,000 prize pool. The winner gets $100,000, and it's one of the most significant events hosted by DraftKings. Besides, as a platform that was primarily created for Fantasy Sports, it obviously offers daily fantasy MMA contests with large prize pools for various players' levels.
DraftKings

bonuses for the UFC

One punch can be totally game changing, so why not getting some extra insurance? DraftKings offers a bonus of $200 in the form of $25 free bets that you can use for betting on any UFC fight.
To get the bonus, sign up at DraftKings, make a deposit of at least $5, and place a bet of the same $5 on any fighter moneyline.
If you fighter wins, you will get $200 in bonuses that you can use as free bets. If you lose, you won't have them, so you can opt for a traditional welcome bonus of up to $1,000 in free play, which will work better as an insurance, of course.
Last updated on 20 Jan 2023 - 17:31
Liked this publication?