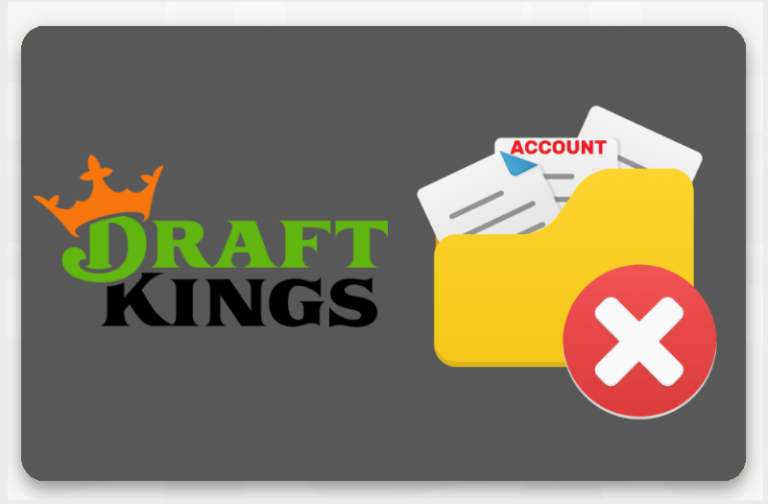 So you are done with your sports betting experience and want to delete your DraftKings game account. There are many reasons why a bettor might want to sign out forever: they found a better bookie, or left the state where DraftKings is legal, or felt they began to suffer from the gambling problem.
No matter what was the reason, you can easily get rid of your DraftKings sports betting account and get your deposit refund before you close the page forever.
The account deletion process is pretty straightforward, and we will describe it here.
Still, if you want to leave a chance to get back to reasonable and healthy gaming one day, you can keep your account live and just restrict your access. Let's look at all possible options of how you can delete or suspend your DraftKings account.
How

to delete your DraftKings account

To start, you need to know that you can't delete your account on DraftKings betting site automatically. Such an option simply doesn't exist, so you will need to reach customer support agents with a request to delete your account.
So

here is what you should do:

1
Step 1
Write an email with a request to delete your account. Don't forget to indicate your username and request a final payout if you have any funds left on your deposit.
2
Step 2
Send an email to support@draftkings.com and indicate 'Delete account' in the email subject line.
DraftKings customer support usually contacts users within 24 hours or earlier, so most likely, you will receive an account deletion confirmation and payout instructions the next day.
What is essential: DraftKings will still keep your personal data. You won't be able to log in using your email, phone number, and username, but it will be kept in the DraftKings database.
What does it mean for you? If you want to register once again, DraftKings will detect you as an existing user after you provide your passport details. It doesn't mean you can't play anymore. However, you will not be eligible to claim a welcome bonus for new customers.
The Responsible Gambling representatives advise to go further and unsubscribe from all DraftKings emails, too. If the reason for deleting your account was a gambling addiction, you should avoid any mentions of gambling, at least for the first several months of your recovery.
So how do you unsubscribe from what you might consider email spamming? Just open any email and create a filter that will automatically delete all emails sent from the DraftKings address. Don't forget to apply the filter to the whole email chain.
Feel confused or still not sure how to delete an account and unsubscribe? Call DraftKings agents and ask them to delete your account: it's also an option. Don't be shy; you don't need to give an honest reason why you opt-out of the sportsbook.
Alternative

options: self-exclusion and more

If you don't want to permanently delete your account, you can opt for alternative versions: cool-off and self-exclusion periods. They are similar; the difference is that the first one is for casino and sports betting products, and the second one closes access to all DraftKings services, including Fantasy Sports.

To request self-exclusion or a cool-off period, you need to contact customer support agents and choose a self-exclusion timing: from one month to a year. When your self-exclusion is approved, you will have certain limitations for your account:
DraftKings won't allow you to log in to your account;
You won't be able to deposit funds;
You won't be allowed to make any sports bets, play casino games, or enter Fantasy Sports contests (if you chose self-exclusion, not cool-off);
DraftKings will stop newsletter mailing;
You won't be allowed to request any payouts unless you request special assistance. To withdraw funds from DraftKings during this period, you will need to contact customer support.
Deposit

limits

Finally, if you have enough control over your gambling habits and don't have a severe addiction but require a little bit of support, you can choose the mildest option and limit your deposits.
Instead of opting to delete the DraftKings account, users can just indicate the maximum amount they can safely transfer to the DraftKings website.
To do it, go to your account settings (the edit account information tab) and indicate the deposit limit you want to set per day, per week, or per month. DraftKings won't accept higher amounts after it confirms your limits.
Last updated on 26 Jan 2023 - 18:38
Liked this publication?