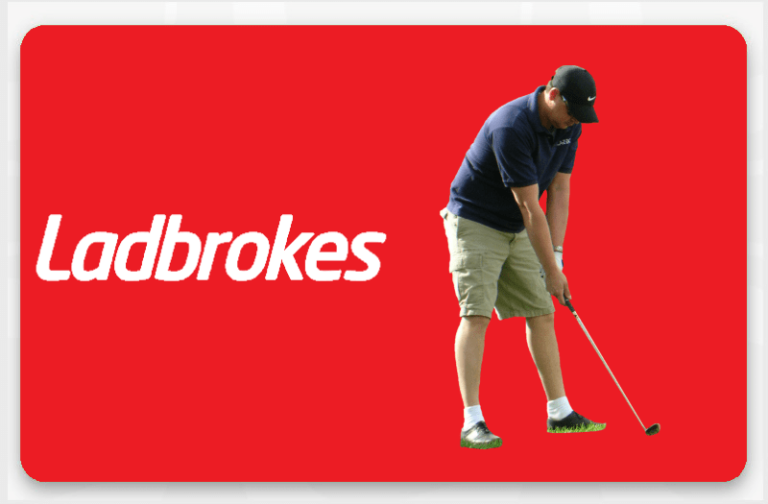 Ladbrokes is one of the oldest bookmakers you can come across at SuperBetting: established in 1886, it has become one of the major gambling brands of the United Kingdom. As a British sportsbook, it has a superior offer for such truly English sports as horse racing, soccer, and golf. As Ladbrokes claims itself, its golf betting odds and markets are one of the best available in the industry, and we'll check if it's true in this brief Ladbrokes golf betting review.
Ladbrokes

Golf events

Ladbrokes betting site covers all the major PGA and European tour golf events: The Masters, the US Open, The Open, and the PGA Championship.

Besides, you can find some niche tournaments, including Indian events and other competitions in Asia.

The coverage is usually better for major events: besides wagers on the winner, you will find many more odds for the most significant golf events.  Let's give them a closer look.
Ladbrokes

golf betting markets

When you open Golf betting options at the Ladbrokes sportsbook site, you will find two main betting options: Matches and Outrights. The outright odds allow you to choose from five to eight players who will take first places in the whole championship, and the match betting section gives you an opportunity to wager on a particular game.
Here

is what a single golf match can involve in terms of betting markets:

1
Tournament Winner
Like in any other sport, the tournament winner wager is when you predict who will win the game outright.
2
Each Way bets
As an average golf tournament consists of more than a hundred players, guessing the one who will be on top of them all becomes pretty challenging. You can make the risk of losing a bit lower if you opt for each way bets. This betting market implies two possible outcomes, so your stake divides into two parts. The first outcome is for a player to win the game, and the second one is that they will have a place finish, e.g. take one of the first places. For instance, you can find ¼ each way odds for a player to win or to finish within the top 5. Ladbrokes usually offers the classical 5 places each-way betting odds, but can also have a 6,7, or 8 places.
3
First Round Leader
Again, it's easier to predict the winner of a part of the tournament, so the first-round leader bet is another great alternative to the Tournament winner wager. It can also involve each-way bets that will be limited by the first tournament round.
4
Top 10, Top 20 Finish
Some players never win but show a pretty stable performance every tournament. Such players can bring great value to sports bettors if they opt for the Top 10 and Top 20 betting markets where you predict the results of the non-favorites of the event.
5
Golf Match
One of the most popular markets is a matchup between two players offered by a bookmaker. When two golfers are playing similarly, you can back one of them: you will focus on two particular players instead of giving forecasts for hundred participants.
6
Top Nationality
Ladbrokes offers Top Nationality betting odds when it comes to large tournaments and gives you a chance to wager on the best player within the particular country.
Ladbrokes

bonuses and special betting options

Luckily, you don't need to stick to standard Ladbrokes' golf betting odds and markets. The bookmaker offers a great choice of various additional options and services that can make your overall experience different. Here they are:
In-play betting. The golf matches are not the shortest one, and they are pretty unpredictable: weather conditions, players' starting times, and even traumas sometimes can be game-changing. To make more accurate forecasts you wager on golf in real-time, and Ladbrokes offers a very decent live wagering product for golf bettors.
Sports Welcome Bonus: Free Bet. You can actually spend it on any sport you want, and golf is not an exception! How to get the bonus: sign up at Ladbrokes and place your first wager of at least £5. You will get a £20 bonus in free bets (four bets of £5 each).
Boosted odds. Ladbrokes has good golf odds for most markets overall, but you can get even better profits if you are lucky to catch particular wagers at the enhanced odds.
Mobile betting. Ladbrokes features mobile apps for iOS and Android so you can place your bets wherever you are.
Last updated on 27 Jan 2023 - 11:39
Liked this publication?