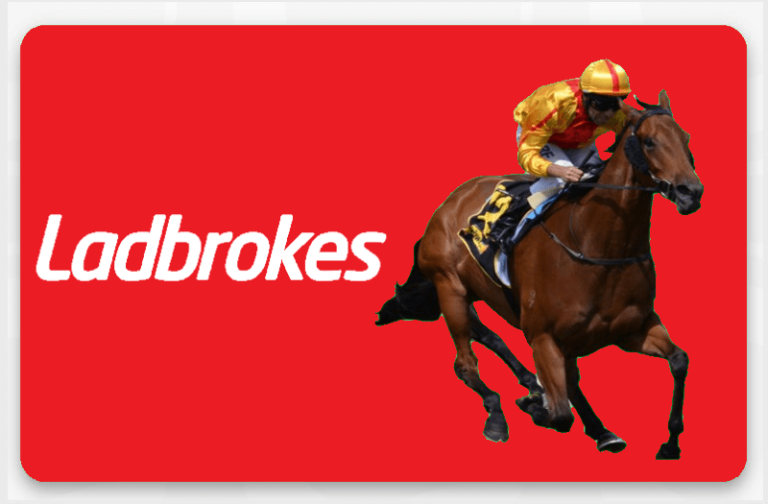 As a British-made bookmaker, Ladbrokes is proud of its horse racing betting offer: take at least the Ladbrokes Trophy that it sponsors! Besides tons of sports wagering markets available at the Ladbrokes site, its horse book shines away and deserves special attention. That's what we are going to speak about in this review: the Ladbrokes horse race betting odds, available markets, bonuses, and our overall impression: fair and unbiased.
Ladbrokes

Horse Racing offer: an overview

Gamblers can choose between traditional horse races like the Hennessy Gold Cup or the Grand National or opt for long-distance racing betting: both are available in the sports list.

As a Great Britain-targeting bookmaker, Ladbrokes mainly focuses on the UK and Irish races — and it makes it one of the most comprehensive racebooks dedicated to local events.

However, you can also find events in France, India, South Africa, the USA, and more important tournaments worldwide, but the UK coverage is unprecedently extensive.

The Horse Racing section consists of the four main divisions:
Meetings,
Next Races,
Futures,
and Specials.
Besides, you will find special boosted odds for selected races: for instance, at the time we created this review, Ladbrokes offered special options for Happy Valley: Paying four places instead of three.
Ladbrokes provides brief information about every horse: a couple of words about its stats and abilities. Besides, there are small betting tips and a race verdict delivered by the Racing Post, a famous horse racing publisher and Ladbrokes official partner.
Besides, you can watch all UK and Irish races live: right at the Ladbrokes platform, no matter if you use a website or Ladbrokes native app.
However, you get access to races you wagered on: it's not possible to watch just every single race. Still, you can listen to live commentary via the Ladbrokes radio: it's available even for the website's guests.
Ladbrokes

horse betting odds

First, Ladbrokes has the best odds guaranteed for all UK and Irish races. It's not a unique offer for an English bookmaker, but it is still lovely. What's that? Suppose you made a wager on a horse before the race, and the market you chose came at odds 6,0. However, the odds rarely remain the same until the beginning of the race, so when your horse started off, the odds went higher to become 7,0. The best Ladbrokes odds guaranteed promo will secure your wager at the higher odds, even if you confirmed your bet at a worse price.

The odds for favorites in the race winner market start from 5/4, or 2.25 in the decimal format. Of course, it always makes sense to shop the lines, but Ladbroke's overall offer is impressive enough to choose it as your last stop. Besides, its extra bonuses and promos are full of additional profit: let's look at them in detail.
Ladbrokes

Bonuses

Besides a standard sports welcome offer for the new customers, Ladbrokes has a range of special promos for horse betting. Here is what you can claim to boost your experience:
Sports welcome offer: place your first bet at min odds ½ of at least £5, and you will be eligible to claim four free bets of £5 each. You can use them both for horse racing and other sports;
First Past the Post: If the first horse got disqualified, your bet is still paid out at the lower odds but doesn't go void. Ladbrokes offer extra first past the post places so that the bonus can be extended to two horses or even more, depending on a particular race.
Cash Out: this option is not a bonus or a promo and more of a betting service, but it still gives you more opportunities as it protects your budget. If you placed a bet on a horse, and it seems this horse isn't going to make it, you can take your stake back — at a considerably fair fee. It's the best insurance for parlay wagers but works great for large single bets stakes, too. Note that it's not available for all horse betting markets.
Final

words

Ladbrokes is a company with an excellent reputation overall, and the users' reviews of its racebook are exceptionally brilliant. We can definitely recommend you try what horse racing betting is with Ladbrokes: it's an excellent platform for all bettors' levels and combined with quick payouts, it might be your next fav bookie in Great Britain.

Last updated on 27 Jan 2023 - 12:41
Liked this publication?