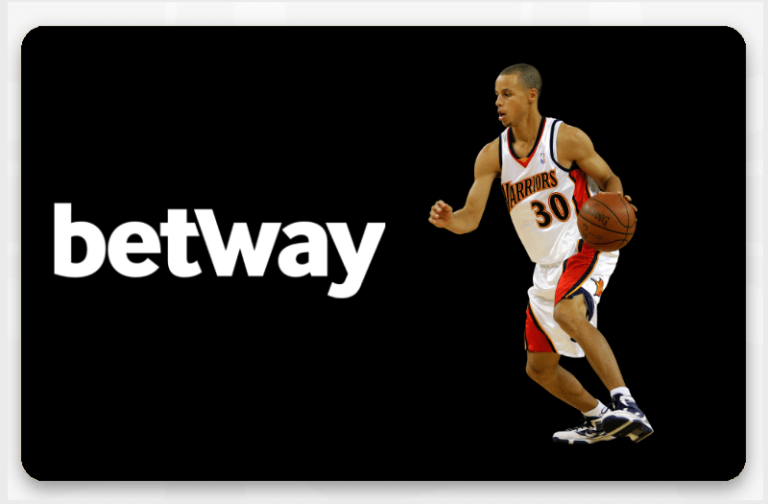 Betway brand has been wide-known as a British and European sportsbook, famous for its exclusive global betting partner of major sports leagues and great betting options for soccer. In 2021, Betway opened its doors for the US players and created a separate gambling brand focusing on the US major leagues: NFL, NHL, MLB, and NBA, the National Basketball League.
Although it offers other sports and gives pretty competitive odds for soccer and tennis betting markets, the coverage is the best for the top football and basketball matchups. This review will discover the betting options and bonuses for the National Basketball league you can find at Betway.
Betway

NBA betting markets

Betway offers all types of basketball markets that you can even imagine: from the most straightforward ones to more exotic props.

Besides, you can place both single and multiple bets. So, here is what you can opt for:

Moneyline. This bet type is the simplest one: you just need to guess who will win. The only thing that matters is the final score, including overtime.

Spread betting or Handicap. Here you wager on a winning margin. For instance, you want to bet on a game between Miami Heat vs. Chicago Bulls. A bookie suggests you 2.5 points spread for the Heat and -2.5 for the Bulls. If you back Miami, they will need to win with at least three points margin so that your bet worked out. A wager on the Bulls will win if they win or lose with at least 2 points difference;

Totals. A wager where you don't need to think much about the outcome. Instead, you try to guess if the total score goes over or under a specific number, suggested by a bookie.

Props. Bets on specific events during the game that don't have a direct impact on the outcome. Although sharp bettors don't pay much attention to such markets, recreational players willingly opt for outcomes like Will a Player get more than two blocks? Or will Team A score first and win? Betway doesn't offer the most lucrative odds for props like most bookies. Still, it has a very generous selection of them for many games, and you can combine them into parlays.

Futures. Who will be the most valuable player of the season or who will win the NBA Super Bowl? If you think you can predict such things accurately enough, you can safely place Futures bets: wagers on the long-term outcomes of the whole NBA season. Sometimes, you can try to predict the coach of the year or make wagers on the top conference team.

Parlays. Parlay is not a bet type: it's a way of how you can make your gambling experience more diverse. When you opt for a parlay, it means you combine several single wagers into a multiple bet. All odds multiply by each other, and it significantly increases your potential payout. What is the catch? If at least one selection loses, the whole parlay loses too. Obviously, when you add too many picks to your parlay, it becomes a very risky deal.
Betway

NBA odds

Betway can be proud of its NBA betting odds: the 4,4% average market is really a perk.
Of course, the actual odds will depend on the event and on the betting market: for instance, Money line and Spread bets tend to be more lucrative than props.
Still, the overall offering is very competitive, and if you dare combine NBA wagers in some not very complicated parlays, you might snatch a large sum!
Betway

NBA live betting

Betway features a pretty nice live betting section that involves most NBA games at pretty competitive odds: at least, they are not worse than most bookies offer for in-play markets.

If you are lucky, you can watch a game via a Betway live streaming service; still, it's not available for every single game.

Betway accepts live wagers pretty quickly, so you have all chances to catch the best odds: they are constantly changing as the game goes.
Betway

extra betting services

Placing bets is fun, but you can broaden your experience and make it even more fun if you opt for optional wagering services that Betway offers to its customers. Here are the most attractive of them:
Live Streams. When you want to bet and watch the game at once, Betway is a perfect platform to try it. The platform features high-quality live streams of most NBA games via Betway's partnership with Genius Sports.
Cash Out. Placed a parlay or a single bet on your fav NBA team, but it seems the wrong choice? The cash-out option can fix it: if the wager is eligible for cash out, you can delete it from your bet slip for a particular fee and don't stick in the losing streak.
Betway Blog. When you need a little help from experts, Betway is ready to go! Its blog section contains various tips, experts' picks, the latest news, and insights into the NBA drafts, rosters, and current season changes. Must read for novices and pros.
Betway

NBA promotions

Both US and UK versions of the Betway sportsbook have a comparatively lucrative bonus program.
Besides a sports new customer offer and some seasonal promos for existing customers, Betway has special offers for NBA bettors:
here they are:
Enhanced odds. Betway is a pretty generous bookie when it comes to promotions, and boosted odds are one of the many options to get more significant profits. What does it mean? Easy: selected NBA markets come at higher odds — sometimes much higher — than you can usually see for similar bets.
3-Pointer Free Bet Bonus. When you wager on selected NBA games, your bet loses, but the last score in the game is a three-pointer, Betway refunds your entire stake — unless it exceeds $25.
Last updated on 20 Jan 2023 - 19:39
Liked this publication?