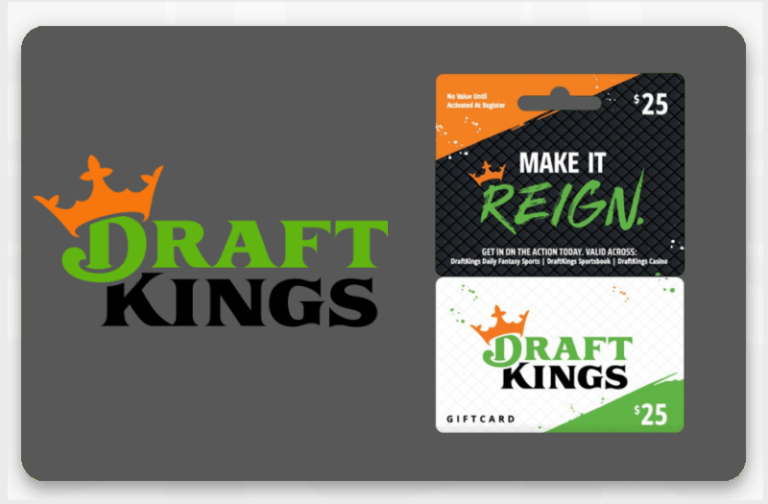 A year ago, DraftKings Sportsbook introduced a line of self-branded, prepaid gift cards to enable users to swiftly and securely fill their accounts. DraftKings gift cards provide bettors with cash on hand the benefits of privacy and ease, but that's not all. Additionally, the prepaid DraftKings card provides consumers with the most accessible conversion of cryptocurrencies to online betting dollars. You may be wondering where to buy DraftKings gift cards; keep reading to learn more.
About

DraftKings Gift Card

According to state rules governing which kinds of gambling are permissible, users may purchase DraftKings gift cards to finance their sports betting, daily fantasy sports, and casino accounts.

To learn more about how DraftKings gift cards operate, where to purchase them, and how to redeem them after purchase, bettors may visit the DraftKings gift card website.

The simplest method to get started is to locate a business near you that sells prepaid cards in denominations of $25 or $50.
Although retail locations vary by state, consumers may purchase DraftKings gift cards from Dollar General, Speedway, 7 Eleven, and Sheetz.
Bettors may locate the closest retail establishment online and visit the gift card rack to purchase DraftKings prepaid cards. Additionally, fans may buy digital DraftKings gift cards online via PC Game Supply using PayPal or cryptocurrencies.
When users purchase a DraftKings gift card in person, they may redeem it by scratching off the rear label to reveal the card's payment information. Users may then log into their DraftKings accounts, visit the cashier, pick debit or credit card as their deposit option, and enter the card number, expiry date, and CVV found on the back of each gift card.
Bitcoin

and Ethereum Deposits at DraftKings

PC Game Supply serves as a conduit for consumers to make larger gift cards and bitcoin contributions. Bettors may buy DraftKings gift cards in denominations ranging from $5 to $250 at PC Game Supply and pay with PayPal or cryptocurrencies to get their digital gift cards by e-mail.

To get started, users should visit the PC Game Supply DraftKings sales page and choose an increment ($5, $10, $25, $50, $100, $150, or $250) and payment option. PayPal, Bitcoin, and Ethereum are all accepted payment methods at PC Game Supply.
After making their purchase, most consumers get their digital gift cards through e-mail virtually instantaneously.
PayPal users must have a personal bank account connected to their PayPal account to complete the transaction. Those who choose Bitcoin or Ethereum must have a funded cryptocurrency wallet to transfer the cryptocurrency to a PC Game Supply-provided address. They may then redeem their digital redemption code by login into DraftKings, accessing the cashier, and selecting a credit or debit card as a deposit option.
Last updated on 15 Mar 2022 - 18:44
Liked this publication?