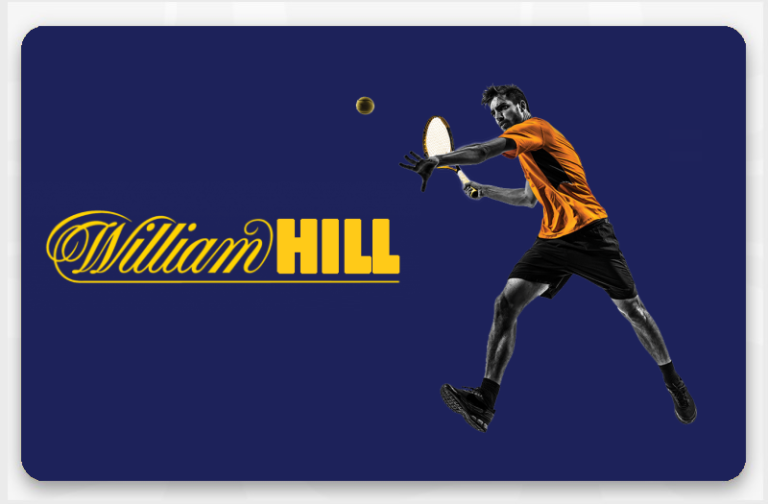 Tennis is one of the most popular sports in the world, and betting on it can be both exciting and rewarding. William Hill, a leading online sportsbook for tennis betting, offers a wide range of markets, competitive odds and some unusual promos. In this guide, we will provide you with all the information you need to know about how to bet on tennis at William Hill.
William

Hill Tennis Betting Features

William Hill is a renowned sports betting platform offering an impressive range of tennis betting features. Betting on tennis with William Hill is easy and convenient, as the site provides a variety of markets and competitive odds.

The site offers a wide range of betting options, from match-winner and set-winner markets to handicap and total sets markets. With some specialty markets, such as correct score and first-set winner, punters are allowed to get creative with their bets.

William Hill also provides live in-play betting — with the advantage of changing odds as the match progresses..
William Hill's promotional offers, such as enhanced odds and free bets, give all chances to increase profits and add some extra value to standard wagers.
For more sophisticated punters, William Hill has something to offer, too. Various analysis tools, including match stats, head-to-head records, recent form and rankings, and review of each player's performance.
A comprehensive selection of payment methods is a great perk, too: quick deposits and withdrawals with cards and ewallets or bank transfers ensure secure and convenient financial experience.
The quick review of tennis betting William Hill features:
Live and pre-game tennis odds
Special Wiliam Hill tennis odds
Quick deposits and withdrawals
A good selection of payment methods
Easy-to-use interface
Mobile-friendly with a native app
Competitive odds
Special odds and promos
Statistics and analysis of tennis tournaments
24/7 customer support with polite and helpful agents
William

Hill Tennis Betting Rules

William Hill has a transparent set of tennis betting rules. While there is nothing complicated in them, you still must be aware of some nuances before placing your bets: William Hill tennis rules are designed to ensure fair play and protect both the punter and the bookmaker.

So, here we go:
The minimum stake for tennis bets is £1, with maximum stakes varying depending on the market being bet on. Punters must also be aware of the maximum payouts, which are determined by the odds of the selection and the stake being placed.
All bets are settled based on the official match result, Bets made on a postponed or abandoned match are void.
William Hill also offers a range of special markets, such as correct score and first set winner. These markets can have different rules and also limits for maximum payouts. Make sure you check the rules for a particular special market beforehand!
The bookie also reserves the right to void any bets if you violate terms and conditions. How is it possible? For example, your bet can be disqualified if you placed after the start of a match or wagered on suspended matches.
William

Hill Tennis Betting Coverage

You will find a wide range of events to wager on; the full list includes the following tournaments:
ATP World Tour
WTA Tour
Davis Cup
Fed Cup
Grand Slams (Australian Open, French Open, Wimbledon, US Open)
ATP Challenger Tour
ITF Pro Circuit
Hopman Cup
Laver Cup
ATP Tour Finals
What about betting markets? You'll find the best coverage for the events of Grand Slams-level, but there are odds for minor tournaments, too. The average number of markets is approximately thirty — here is one example:
As you see, a match coupon involves the simplest bets alongside set betting and mixed outcomes:
Tennis

Offers and Promotions

William Hill doesn't offer many deposit bonuses, but it's famous for its exciting special odds and seasonal promos. They might vary depending on the season and current bookie's policies, so here are the examples of specialties you can find:
Free bet on any ATP World Tour match
Money back if your WTA Tour selection loses
Enhanced odds on Davis Cup matches
Special offers on Fed Cup matches
Double winnings on Grand Slams
Bonus bets on ATP Challenger Tour matches
Free bet on ITF Pro Circuit matches
Bonus bet on Hopman Cup matches
Double winnings on Laver Cup matches
Special offers on ATP Tour Finals matches
Besides, you might find an extra value if you suggest your own market via Twitter using the #yourodds hashtag.
How

to Bet on Tennis at William Hill?

1
Sign up for an account:
Before you can start placing bets on tennis at William Hill, you'll need to create an account. This is a simple process that requires you to provide some basic personal information.
2
Choose your market:
Once you've signed up for an account, you can start exploring the range of markets available for betting on tennis at William Hill. These include match bets, tournament winner bets, handicap and over/under markets, and futures markets.
3
Check the odds and lines:
Once you've chosen a market, you can then check the odds and lines available for that market. This will help you decide which bet to make and how much to wager.
4
Place your bet:
Once you've chosen your market, checked the odds and lines, and decided how much to wager, you can then place your bet. You can do this by selecting the bet from the list of available bets and entering the amount you wish to wager. Note that William Hill live tennis odds are changing quicker than pre-game prices.
5
Check promotions and special offers:
William Hill offers a range of promotions and special offers for betting on tennis. These include free bets on ATP World Tour matches, money back if your WTA Tour selection loses, enhanced odds on Davis Cup matches, and more.
6
Collect your winnings:
If your bet wins, you'll receive your winnings in your William Hill account. You can then withdraw these winnings or use them to place more bets.
Final

Words

Betting on tennis at William Hill is easy and rewarding. With competitive odds, a wide range of markets, and great promotions, William Hill is the perfect place to bet on tennis. So why not give it a try today?

Last updated on 19 Apr 2023 - 09:22
Liked this publication?