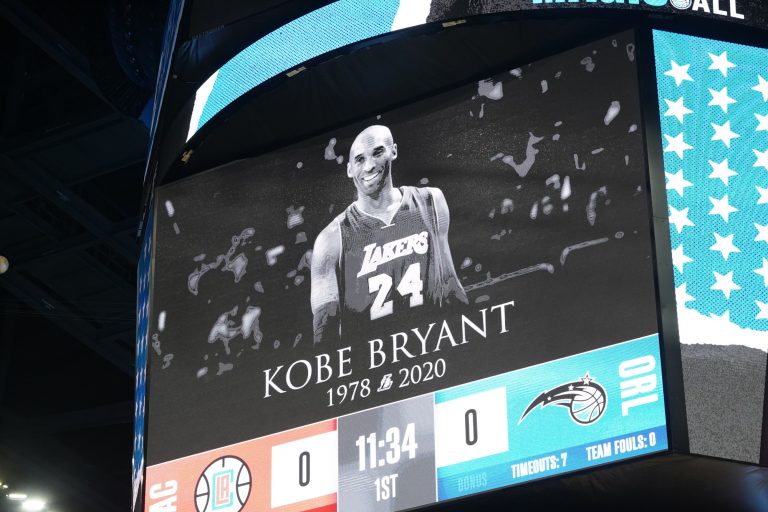 Fans, friends, and family commemorated Kobe Bryant, the greatest NBA legend, with heart-melting tributes on his 42nd birthday. The NBA champion died earlier this year in a tragic aircraft crash with his little daughter on the board too.
In

memory of the legendary Kobe Bryant

The beginning of the year 2020 marked a dark date for all big-sport fans as they lost one of the most eminent basketball stars, Kobe Bryant. The NBA pro died in the aircraft crash in January when he and his teen daughter were on their way back home to California. The tragedy took the lives of seven other people who were on board together with the champ and his child.

Following the tragedy, millions of fans, friends, and colleagues expressed their condolences to the Bryant family. The late champion was honored during the Super Bowl. Alicia Keys and Jennifer Lopez also commemorated Kobe at the Grammys 2020 with emotional speeches.

Today, the eminent NBA star would have celebrated his 42nd birthday. Kobe's beloved wife, Vanessa, paid a heart-melting tribute to her late soulmate. Vanessa shared a post on Instagram to congratulate her late husband on this special day. In her emotional post, Vanessa wrote how much she missed Kobe and added she would like to celebrate this day with him and their daughter Gigi.

Fans couldn't stay aside and joined Vanessa with heart-rending tributes to honor the late NBA star. They wrote: "Happy Heavenly Birthday Kobe Bryant," "Legends live forever," "Your legacy will never die!"

Kobe Bryant was one of the most world-recognized basketball players. He had a brilliant career in the NBA, and he was proclaimed the most valuable player of the LA Lakers. During his impressive career at the NBA, Bryant became a 5-time champion. Kobe was honored with multiple awards, including a medal he got from the former US President Barack Obama in 2009. Bryant was invited to participate in the 2000 Olympics, but he rejected the proposal because he and Vanessa announced their upcoming wedding plans.

Phil Jackson, Bryant's long-time coach and close friend, revealed that he deeply admired Kobe not just for his fantastic talent, but also for his ability to stay a part of a team and embrace the importance of teamwork. The Lakers players also admitted that Kobe was the unique man due to his incredible ability to raise the team's spirit even in the most difficult situations.

Kobe Bryant's name has deeply rooted in people's hearts as the name of the incredibly talented, generous, and simply amazing person. The NBA champ is deeply missed, but his legacy will keep living for years. Legends never die!

Last updated on 05 Oct 2021 - 15:43
Liked this publication?