What

is Pinnacle?

Pinnacle, former Pinnacle Sports is an online sports betting platform allowing users to place online bets on various sporting events taking place worldwide. In this review, we will look at the website and analyze all the strong and weak sides of Pinnacle.

It was founded in 1998; since then, it has grown in size and became a medium-sized online sports betting site. At the first glance, it offers an easy-to-use interface and a large number of online sports betting options. You immediately see various sports that you can place your bets on including football, tennis, hockey, baseball, basketball, and American football.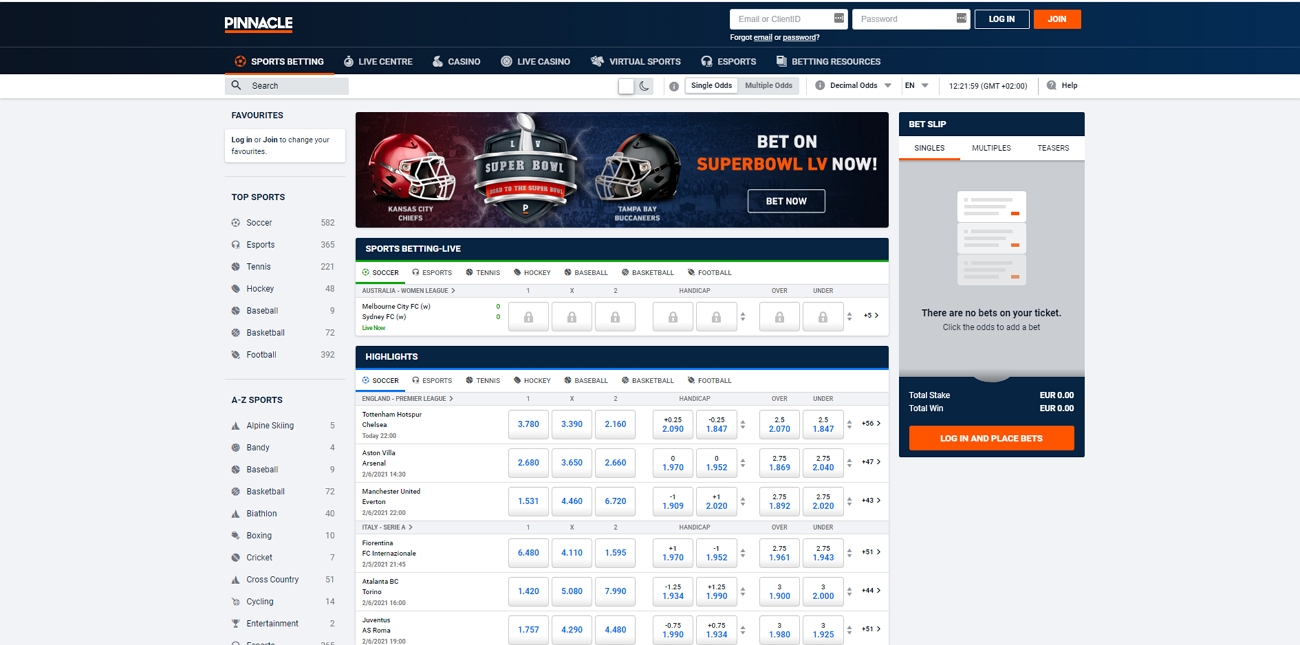 Pinnacle home page
Besides, you can bet on:
Although Pinnacle focuses mainly on sporting events, it added poker and casino in 2004 so now it is a fully-equipped gambling platform.
Pros

and Cons
Large selection of sports
Pinnacle offers more than twenty disciplines.
Established reputation
The bookmaker is a well-known and trusted brand in Europe.
Competitive odds
Pinnacle's margins vary from 3% to 8% for pre-game and live markets.
High-rollers friendly
The bookmaker has comparatively wide betting and winning limits.
Paid withdrawals
Pinnacle charges a withdrawal commission for every transaction.
No Live Chat
Customers can only contact the support via the special ticket forms at the website.
How

good is the reputation of Pinnacle as a company?

Pinnacle bet, formerly known as Pinnacle sports, is a Dutch company officially registered in the Kingdom of the Netherlands.  Pinnacle also has a Malta Gambling license, with all rights reserved in two European Union jurisdictions. Pinnacle is far safer than many betting websites. Although the company keeps most of the information about itself private, according to Wikipedia, it has a revenue of several billion dollars per year.
In the research done for this article, it was found that Pinnacle received positive reviews from more than half of its users, with only 36% describing the site as poor.
Therefore it can be concluded that Pinnacle is a trustworthy company, on whose site you can safely engage in sports betting, casino games, or other forms of online gambling.
Where is Pinnacle allowed?
At the same time, it is worth mentioning that players from some countries may be restricted from placing bets on Pinnacle.
In 2007, the company made a decision to leave the United States market due to the new government regulation which has been enacted in the United States. The full list of restricted countries is the following:
Online casino gamblers from the United States, United Kingdom, Ireland, Spain, France, Netherlands, Germany, Denmark, Sweden, Australia, Poland, Singapore, Slovenia, and the Czech Republic are restricted from performing online gambling on the Pinnacle online site.
What not to confuse Pinnacle with
If you are new to online gambling or if you are a professional online gambler looking for an online marketplace to place your wagers, note there are two official Pinnacle companies that can show up in your Google search.
The first is the Pinnacle sports company and online gambling webpage that will allow you to win as much money as you possibly can by betting on your favorite teams;
The second is Pinnacle studio 22, which is a video editing software manufactured by a Californian digital company, Pinnacle Systems.
Sports betting is available in the first company.
Using

Pinnacle for betting on sports

A good thing to notice: other online market betting sites follow Pinnacle odds, due to the site's excellent functionality and reliable interface, and very accurate forecasts. Besides, Pinnacle is known to process bets much faster than its competitors and will not limit you to how much money you can win gambling.

Pinnacle offers a big selection of sports disciplines to bet on:
American football, and more.
They offer markets for more special sporting events including eSports, Aussie Rules, Futsal, and others. They allow you to select from two odds formats:  Decimal and American, and give plenty of betting options for the most popular events.
You can find not only standard wagers like the Money Line, Handicap, and Totals in the Pinnacle eSports betting sections but also a plethora of props.
For instance, if we choose a random CS: GO match, say, Heroic vs. Sprout, we will find Over/Under bets for each player on a particular map, and props like if there is overtime on Map 3, or a knife kill on Map 1. The same range of options is available for almost every eSports again.
The betting line is the same generous for Betting MLB and NFL. For example, you can choose between betting options on the Game, 1st Half, 1st Inning, Alternate Run Lines, Double Result, Exact Scores, and Next Run for the Baltimore Orioles vs. New York Mets game. 
The coverage is wide enough to meet the needs of almost every sports bettor; it is more diverse for pre-match wagering, but there are also regular in-play betting markets for eSports, Soccer, Tennis, Baseball, and Basketball.
One of the main perks of Pinnacle is their lucrative odds: if you compare their offers with the other global bookmakers', you will find out that there is a pretty significant difference in margin.
For instance, Pinnacle offers only 2,5% of the margin for the top Soccer leagues, MLB baseball league, and NFL. An average margin for the events inside the mentioned leagues can vary from 4% to 6% and may reach 9%-10% in some places, so the Pinnacle's odds value is evident. You can also find a selection of markets with a 2% margin, which is the lowest amount in the sports betting industry. 
Betting odds:
| Average commission | Commission in the prematch | Live commission |
| --- | --- | --- |
| 4% | 3-5% | 5-8% |
Besides, Pinnacle offers large betting limits: for instance, you can wager up to $10,000 on Spread in NFL lines.
If you are not a high-roller and prefer not spending that much on your sports betting, you will be pleased by a minimum bet amount of $1.
With the betting limits as massive as Pinnacle sports, the sportsbook can make a lot of money betting on the players or teams you support the most during the game. However, it is worth noting that the company sportsbook can be somewhat limiting if you are interested in placing bets on some exotic or little-known sports. However, there are many options available on the webpage, as well as high betting limits. The possibilities offered by the sportsbook can be a little weak when it comes to rare sports. Still, the coverage provided by the sportsbook with a chance of betting up to $30,000 makes Pinnacle a superior bookmaker compared to many others.
Pinnacle

casino

Pinnacle casino offers some extremely good options for online gambling. It also has a convenient user interface with friendly pictures describing various games that you can play. The company offers you a choice between a simple online casino or a live casino. should you be an avid lover of casino games, then the options Pinnacle gives you for betting on various table games are truly amazing.

This review mentions that a lot of other online casinos offer you sign-up bonuses.
Should you be interested in gambling with your money on a iPhone or an iPad, Pinnacle offers nice and efficient mobile applications for your smartphone or tablet.
It should be noted that the company no longer offers online poker due to changes in the European regulations in Curacao. As previously mentioned, the company has also left some high-profile markets due to the changes in the regulatory environment of the host countries.
Pinnacle

customer service

Pinnacle sport book indeed offers excellent customer service. The primary way to contact the provider of the sportsbook is by email. However, the sportsbook provider does not offer direct live chat or phone support on its webpage. At the bottom of the webpage, the sportsbook provider, you can find the customer support option.
There you can directly contact the company by submitting a ticket.
You can submit a query any time on any day of the week. Unfortunately, there are no other options presented on the webpage. Should you choose to submit a ticket, then you will need to fill out your e-mail address, state the subject of the problem, choose a respectable department, and describe your issue in a corresponding form.
Customer support sectionFrom what is known from Google, they respond to all requests extremely quickly. Pinnacle sport book has a good reputation as online betting and wagering webpage so you can be sure to get professional and helpful support quickly.
Although live chat is not offered, customer service seems to be pretty good according to the many reviewers on the Internet.
How

to get your winnings back into your bank account?

Unfortunately, the company does not offer free withdrawals. However, there is a wide variety of withdrawal options for you to choose from. The minimum amount you can withdraw from the site is £10, or $13.
Pinnacle takes a withdrawal fee; it starts from £8, or $10.
It usually takes between 2 and 5 days to receive your winnings. If you choose to withdraw the money by bank transfer, you need to pay a $15 fee. However, this method implies withdrawal limits.
Thus, if you have large winnings above $45,000, a bank transfer becomes a better option for you.
FAQ
Does Pinnacle have a gambling license?
Yes, Pinnacle works under the Malta Gaming Commission and the Curacao Gaming Board licenses. Both licenses cover casino gaming and sports betting.
Does Pinnacle have a native app?
Yes, you can download Pinnacle betting and casino apps for iOS and Android. You will have the same betting account in the app, and can use all services offered by the website.
How long does Pinnacle withdrawal take?
Depending on your selected payment option, a payout may take from fifteen minutes to five days. The quickest methods are Bitcoin if you prefer crypto, and Skrill or Neteller ewallets for those who like fiat currencies more.
Last updated on 24 Feb 2023 - 19:22