Olybet is an Estonian bookmaker primarily targeting players from the Baltics. Apart from sports betting, Olybet offers a casino, poker, and mini-games.
The company was founded in 1993, but for a long time, it was called Olybet Casino and did not offer any sports betting activities until 2012. However, after Olybet started accepting sports bets and added a poker room, its main focus still remained on slot machines and casinos. The bookmaker is focused on players from Baltic countries. The bookmaker's website is available in English, Estonian, and Russian languages.
Olybet casino operates under an Estonian license. You can open a EUR game account.
The Olybet pros include broad sports betting line, a wide variety of sporting events, a good selection of betting options, a vast library of casino games, and a lucrative welcome bonus.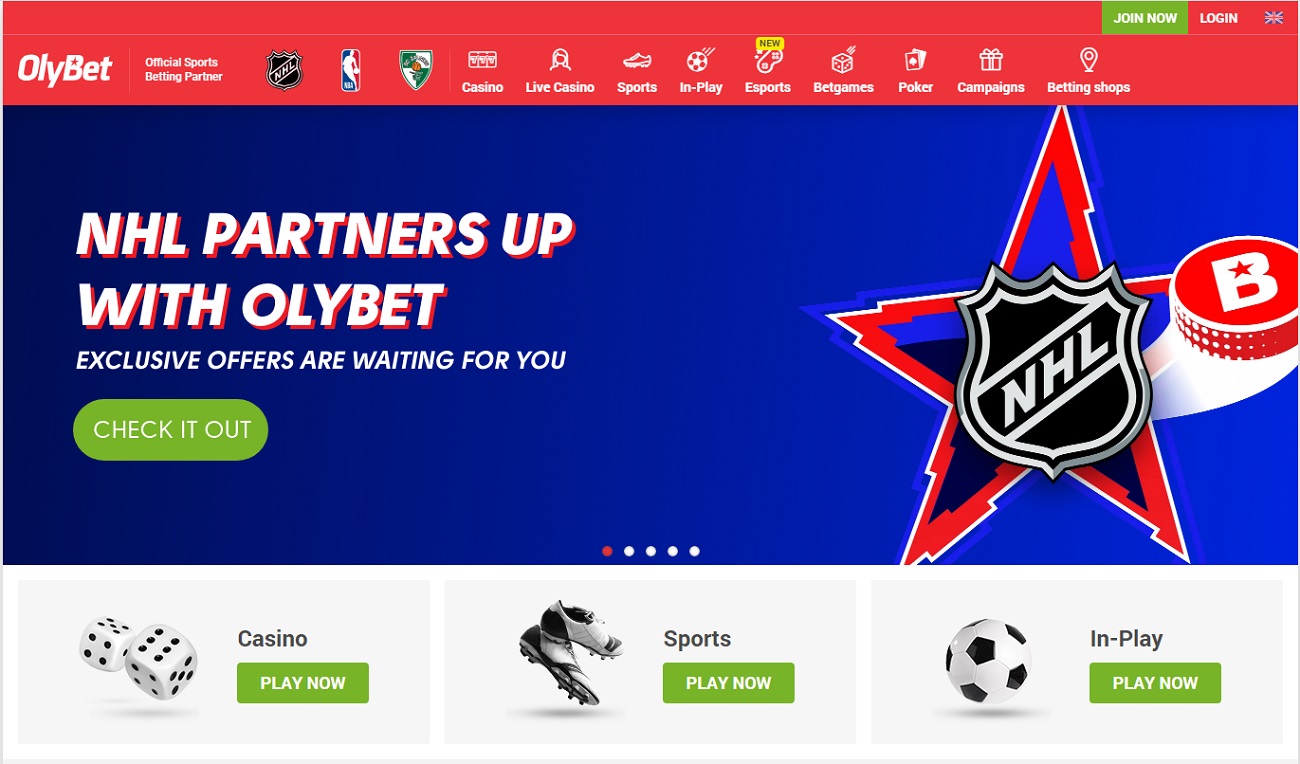 Home page. The bookmaker is the official partner of the NBA. Besides, the poker room of the Olybet casino is a partner of the WSOP online series.
Registration
Olybet's website works in Russian, Finnish, and English. Registration in Olybet casino is possible exclusively from Latvia, Lithuania, Norway, Finland, Sweden, and Estonia. During verification, Olybet does not accept national passports from other countries.
Olybet

official website

The Olybet official website is painted in red and white colors and, in addition to sports betting, offers casinos, poker, and mini-games. The bookmaker's coverage in the pre-match and live lines and all betting services are powered by BetConstruct, the Armenian sports betting software developer. Many online bookmakers in the post-Soviet space use the same tools, so the bookmaker does not offer anything unique.

There are three versions of Olybet.
You can determine which version you are on by the first-level domain. If it is .lv, you are using the Lithuanian site, .ee – Estonian, .eu – European.
Special offers
LIVE TV: streaming video with broadcasts of sports events on the operator's website allowing you to watch Soccer, Hockey, Basketball, and Tennis matches. To access the Live TV, you must have at least one euro cent or uncalculated bet on your account. Matches available at the Live TV are marked with a special icon.
Cash Out: allows a client to request an early calculation of a prematch or live bet.
The decision to satisfy the request is made by the sportsbook. In case of a positive decision, the funds are immediately credited to the account. The amount that a client receives for a bet depends on the odds at the time of placing a bet and on current odds for the same outcome.
Olybet Limits
The minimum bet is €0.10. The maximum bet is determined by the bookmaker for each event separately, but the maximum winning per bet is only €1,000. Besides, there is an Estonian tax you must also cover when you withdraw funds, even if you are not an Estonian resident.
Line

and odds
Bookmaker's line and odds are provided by BetConstruct, and it is a pretty good option overall. The bookmaker does not limit the selection of sports by only major leagues, as other bookmakers do; instead, it limits maximum winnings for smaller markets.
The most popular sports for betting are:
Betting odds:
| Average commission | Commission in the prematch | Live commission |
| --- | --- | --- |
| 6,5% | 4-6% | 7-8% |
Olybet

bonuses

Registration bonus – 25 euros. From time to time, only promotions dedicated to large tournaments are held – for example, for the 2018 World Cup, the bookmaker offered a quest of 30 tasks, during which you could get free bets up to 300 euros.
First Olybet bonus up to $ 2,000 for 90 days
Olybet casino Poker offers all players the opportunity to receive Olybet free spins for virtual sports, live casino, Olympic casino Eesti, casino Olybet, poker network, live dealer bonus code for live betting, and a bonus of up to $ 2,000 for the next 90 days, with the maximum bonus amount, immediately activated to your account, regardless of the amount of the deposit.
Log into the Olybet poker client, select a poker username and you will receive a $ 2000 welcome bonus. After joining the campaign, having made an option, bonus payments will be made automatically as you play your favorite games for money. To activate the bonus, in the poker client you need to select "My Bonus", and then "Welcome Bonus" and click "Opt-in".
The Olybet casino bonus is paid in parts within 90 days: $ 5 for every $ 25 rake paid in cash games or tournaments, that is it gives + 20% Rakeback for the duration of its validity. You can monitor the status of your bonus at any time by clicking "My Bonus" and then "Welcome Bonus" in the poker client.
Up to $ 100 bonus with Olybet tournament tickets
Olybet casino Poker is launching a new Olybet bonus for live casino, video poker, Olybet Olympic casino, table games in July to celebrate the high-profile event with up to $ 100 free tickets to the WSOP Online 2020 series satellites. To take advantage of this offer, you need to make a first deposit of more than $ 20 and select "First Deposit Bonus" in the pop-up window.
Once these simple conditions are met, you are guaranteed to receive $ 60 free tickets to the WSOP Online 2020 series satellites within 6 days. You will also have a chance to get additional tickets for another $ 40 by completing special tasks.
Fish Buffet system – cashback up to 100% for poker network
Olybet Poker casino has a player reward system called Fish Buffet. By playing at Olybet tables for real money and rake, the player will be credited with special Fish Buffet (FB) points, where 1 FB = $ 0.01 rake.
By accumulating these points, the player will increase his VIP-status at Olybet casino, starting from the starting rank of "Plankton" and up to "Black Shark" and "VIP". There are 25 different statuses in total, each of which requires a different number of points, as well as a certain time interval for which you can get this status.
Restricted countries can not review Olybet offers and wagering requirements.
In an online casino, you may place the deposit within 1 5 days a week after your registration on the site. For any answers you may contact free players support – many languages English are available. Casino games bonus code will be sent to your email from an online casino. There are many languages English on the welcome page and bonuses for players who make bets for 7 days play at cash games casino and virtual sports. Customer support service will help you to get Olybet free spins for the casino, find review Olybet, and 7 days deposit bonus for games. Contact support any time you need it. The review is also available on the main page.
Each of the Olybet statuses has a minimum and maximum cashback level for 1 5 days that a player can receive and depends on its validity period. The minimum deposit for players is always 10% cashback, and the maximum varies from 40% to 100% depending on the status. Accordingly, with a daily rank, you can count on maximum bonuses of 40% rake return, and with a monthly rank up to 100% for 7 days.
Olybet VIP program
Let's summarize the main points of the Fish Buffet VIP program in the form of the following list:
To participate in the Olybet VIP bonuses program, registration in the promotion is required, without it, the player will receive 0% Rakeback;
For $ 1 of rake, the player gets 100 Fish Buffet (FB) points;
Depending on the points scored, the player will be assigned one of 25 statuses;
The time to reach each level of bonuses is strictly limited and can range from 24 hours to 30 days;
If the player does not have time to collect the required number of review points, then he rolls back 1 level;
Each level has its range of rewards, which in total give the specified percentage of cashback.
Mobile

version and applications

The mobile version of the BC website works in Estonian, English, and Russian, offering everything that is on the stationary portal, but Olybet does not have mobile applications for iOS and Android devices.
Cash

races on GGnetwork for $ 100,000 + every month

Every month the GG network review, which includes the Olybet Poker poker room, organizes cash races for various disciplines. In different months it can be a competition for players: Omaha, Hold'em, Fast Poker, or MTT tournaments.
Participation in this promotion is a great way to get additional Rakeback from playing in the poker room, of course, provided that you take prizes at the end of the race.
You can find up-to-date information on cash races in the current month below, in the section of articles and promotions on this page.
Fast poker Rush and Cash with 50% Rakeback
For fans of fast poker, there is Rush and Cash tables review on the GG network, which can not only be called the fastest type of poker but also allow you to receive 50% Rakeback bank wire for poker games which Olybet offers in the form of Cash Drops (available for Estonia Latvia United States, United Kingdom, Estonia Finland, all rights reserved by Olympic entertainment group and Olybet customer support).
How

Olybet works?
As you start playing Rush & Cash at the mobile app online with the min deposit, some randomly selected hands will be awarded extra free spins and real money deposit for 7 days or 15 days for new players. The deposit is available for sports and live games such as Olympic casino Eesti, virtual sports, video poker, casino games Olybet, table games, and others.
Cash drops range from 10 to 500 Antes: small amounts go to the bank to trigger the action, while large ones are added in equal shares directly to the participants' stacks.
This ultimately gives each player a 50% Rakeback for casino games.
Additional Information
Discard cards and you will immediately get new ones on the other table against other opponents.
You can fold at any time, even of your turn, if a bet or a raise was made before you.
If you want to watch the hand play review, just hold down the fold button.
A random seating for games is applied to each hand.
Payment

methods

Opening at a bookmaker is available exclusively in euros, the minimum deposit amount is 5 euros. Available payment methods are Visa and Mastercard bank cards, as well as electronic systems Skrill and Neteller. The minimum withdrawal amount is 10 euros.
Withdrawal methods at the casino
You can top up your account for 5 euros but withdraw it – only twice as much. Given the policy of this company, I would not recommend putting money at all. And if you put it in, then immediately 10 euros so that they can be withdrawn.
There are very few ways to fund your account:
bank cards and transfers;
payment systems Neteller and Skrill.
Customer

service

The main method of communication that Olybet practices with its clients is live chat. It works from 8 am to 12 am.
Assistance will be provided in English or Latvian.
There is another option – write to support@olybet.com. If you have any problems, then you will probably simply not be listened to – the client is not important here. The maximum that you can get "according to the rules of the company." So it is better to read these rules in advance if you decide to take such a daring step as registering with Olybet. You may ask questions about bonuses, high quality sports, deposit methods, wagering requirements, everyday bank transfer available on the site for new players.
Support service is available – by e-mail support@olybet.com, as well as through the contact form, which can be found in the "Contacts" section. Live chat is also available, but the level of competence of its operators is traditionally not happy.
Last updated on 20 Feb 2023 - 16:51