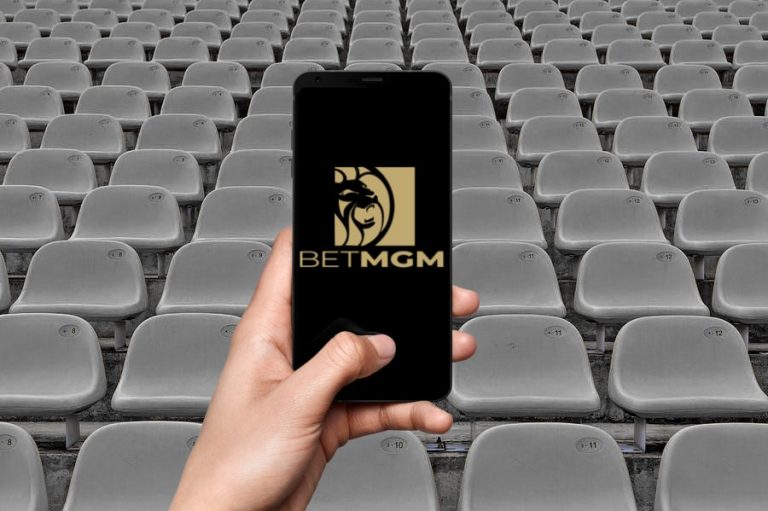 BetMGM, a part of the MGM Resorts International is a relatively new online sportsbook: being a famous casino brand, it established itself as a top American sports betting site just a couple of years ago, when the USA entered into the new gambling era. After the US government repealed the PASPA law in 2018, BetMGM became one of the online sports betting pioneers in Nevada, New Jersey, and other states that signed bills on legal online sports betting.
Like all licensed US sportsbooks, MGM is mainly about the mobile experience. Thus, the BetMGM sportsbook app is the leading brand's product, and we expect it to offer top-notch design, betting offers, and tech performance. Still, let's get first things first and look at the details: will it meet our expectations?
How

does MGM compare to other legal sports betting apps?

The first thing that jumps into an eye is MGM's rating at the App Store and Google Play. It's really high, so we can safely compare the BetMGM sportsbook app with its main competitors like FanDuel, DraftKings, or PointsBet, the other apps from the top bookmaker rankings. What else is common about them? Well, many things: the betting markets, the number of available sports and coverage of various events, sports betting bonuses, and overall looks are almost the same.
However, BetMGM is almost beyond the US sports betting industry competition when it comes to odds.
Of course, there are some better and some worse offers, but the overall price is lower than many American online sportsbooks can afford. For example, if you bet on NFL at BetMGM, you will pay about 3%-4% of the betting margin, while many others offer no less than 5%.
Is

MGM App Legal?

Of course, it is, but it depends on where you live. A quick intro to the US sports betting law for those who are new to the topic: every state is eligible to set its own gambling laws. In other words, every state governor can decide if they want to legalize sports betting or not. Thus, not all states allow sports betting, so, pretty obviously, the BetMGM app is legal in particular states, while the others don't allow it, along with all the best sports betting sites and applications. In fact, you won't even find the BetMGM mobile app in the App Store or Google Play if you are located in a state that bans gambling.
States where it's legal to use an MGM App
Currently, the BetMGM sports app is exclusively available in the United States: no other countries are accepted. Besides, as you know from our previous paragraph, you can't download and use the app from any state, so here is the complete 'white list':
Arizona (only sports betting);
Colorado (only sports betting);
Pennsylvania (only sports betting);
Indiana (only sports betting);
Iowa (only sports betting);
Tennessee (only sports betting);
Virginia (only sports betting);
Wyoming (only sports betting);
Mississippi (sports betting, casino games, and poker);
Michigan (sports betting, casino games, and poker);
New Jersey (sports betting, casino games, and poker);
Washington DC ( sports betting only in the Nationals Park area);
West Virginia (sports betting and casino games);
Nevada (registration is available at the MGM brick-and-mortar venue).
As you see, various states allow different gambling activities.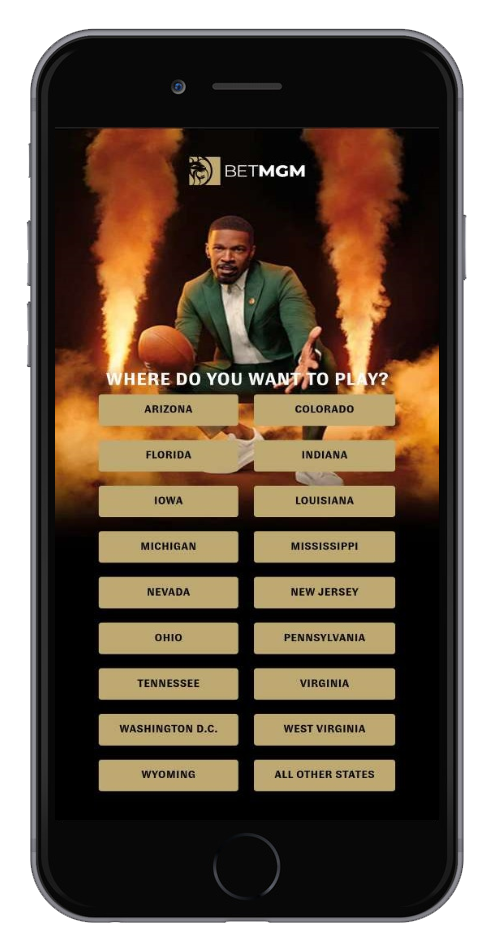 If you live or visit Mississippi, Michigan, New Jersey, or West Virginia, you can also download, install, and enjoy MGM Poker App and MGM Casino App. They won't be available in the other states, but you don't need to be a resident to play: it's enough to have the proper geolocation when you play.
Deposits

and withdrawals at MGM App

BetMGM doesn't offer any unusual payment options like crypto.
However, you have plenty of convenient methods on hand right in the app and can even deposit and withdraw in cash if online banking is not a deal for you.
Here is the full list of payment options you can use:
| Payment method | Minimum deposit | Commission fee |
| --- | --- | --- |
| Visa/Mastercard credit and debit cards | $10 | Free |
| Apple Pay | $10 | Free |
| Skrill | $10 | Free |
| PayPal | $10 | Free |
| Gift Cards | $10 | Free |
| PayNearMe | $10 | Free |
| Borgata Cash Deposit | $10 | Free |
| VIP Preferred | $10 | Free |
| Bank Transfer | $10 | Free |
While a minimum deposit is $10 no matter what payment method you choose, withdrawals start from $20. It usually takes up to a couple of days before you see your payout, and the fastest withdrawal option is a credit card. Besides, you can collect cash in the MGM betting venue in local casinos, which is also a pretty quick solution.
Bonuses

and promotions at MGM Mobile App

The BetMGM app is mainly popular for its boosted odds promotions: you will find sports betting markets with reduced juice daily, although there is not much diversity in them. Most of them are NFL, sometimes NBA, and NHL bets, but a few Americans need many more sports betting options after all.

So are there any other bonuses? Not much, but don't forget to claim your welcome gift. Both of them are for new customers, but there are also special seasonal promotions and cash prizes for the existing ones.

Overall, the bonus program seems to be a bit dull, and don't expect to get special offers for mobile bettors or casino players: everything mirrors the bonus program from the main BetMGM online sportsbook website.
| Bonus Type | Bonus Amount |
| --- | --- |
| Sports Welcome Bonus | Up to $1,000, risk-free bet + $25 free bet |
| Casino Welcome Bonus (for the casino app) | Up to $1,000 first deposit match + $25 no deposit |
| Money Monday Club (a bonus risk-free bet) | A $10 free bet every Monday |
A

brief guide to MGM App

MGM made its best to create an intuitive and easy experience, so you won't face any issues downloading, installing, and using the app. However, if you don't know how to even start, we prepared a brief guide for iOS and Android users.

We will tell you how to get the app and sign up in the next block: we hope it helps!
How to register an account in MGM App?
It's more than easy. We'd say you don't even need to leave your couch to do it, but for the Nevada rules where you actually must come to a casino in person. Still, the casino assistants can do the whole procedure for you; all that you need is to download the app. And what shall you do if you need to complete your reg remotely?
Here

is the guide:

1
Step 1:
Press the register button. It will appear on your screen as soon as you enter the app for the first time;
2
Step 2:
Indicate your email;
3
Step 3:
Invent a secure password;
4
Step 4:
Enter your name and last name; note, you must share real information, not some nicknames;
5
Step 5:
Indicate the last four digits of your SSN;
6
Step 6:
Indicate your date of birth;
7
Step 7:
Enter your mobile number;
8
Step 8:
Indicate your residence address: you can choose it from the drop-down list in the app;
9
Step 9:
Activate your promo code if you are lucky to have one, put a tick next to the terms and conditions, and press the Register button. Your BetMGM account is ready!
Downloading and installing MGM App on iOS
If you use an iPad or iPhone, find the AppStore app on your home screen, open it, and search for BetMGM. You will see the app version for your state (or nothing if MGM has not come to your state yet). Make sure you logged in to your Apple ID and press the Download button.
Your app will automatically appear on your home screen: just allow up to a minute; if it takes more, make sure you have a stable Internet connection. You can open it and register or log in using your existing account details when the app is ready. You don't need to create a new one for a mobile app; moreover, you can't have more than one BetMGM sportsbook account.
Downloading and installing MGM App on Android
BetMGM app is available at Google Play, so you can either find it directly in your Google Play app or get the link from the mobile version of the BetMGM site. No matter what you choose, the process is the same as with iOS: you press the Download button and wait until the app appears on the home screen. The signup process is the same.
By the way, it is one of the MGM (and other betting apps registered in the USA) perks: Google Play doesn't prohibit gambling apps, and you don't need to find the apk file and download it separately from any other source.
System Requirements
A bit about the app specs: both iOS and Android apps do not require much, but you must still make sure you have enough free space and a compatible system version. What do you have to check? If you are installing the BetMGM app on your iPhone or iPad, you need about 130 MB and iOS 10.2 or later. The Android app requires 23 MB and Android 5.0 version. Besides, don't forget you can use real-money betting apps only if you are older than eighteen (or twenty-one — check your local gambling law).
Betting

at MGM App

It's time to see what exactly you can do with the BetMGM app? It is any better than the other US sports betting apps or is just famous for its brand? First, let's straighten out: we are speaking about the BetMGM Sports Betting app, as there are more: MGM Poker, MGM Horse Racing, MGM Casino app. Our primary focus is the sportsbook app, and we'll tell you all its ins and outs in the next block of our review. To stay unbiased, we personally made several sports bets and also went into the honest feedback of the other customers. Hopefully, we managed to gather the fullest image for you!
What betting markets are available at MGM App?
As a US bookie, the BetMGM app mainly focuses on the American leagues and especially NFL. The other major leagues are also here: NBA, NHL, MLB are at your disposal anytime. Overall, the BetMGM app has twelve disciplines — not the most comprehensive choice, so forget about rare exotic sports; everything is more than traditional.
Still, the US betting audience doesn't usually require much more and is more than okay with professional and college basketball, football, or baseball lines.
If you still need some more and don't want to limit your betting experience by the essential events in the USA, we have good news for you. You can wager on soccer worldwide, and basketball is not only about the NBA: there are European, Russian, and Japanese leagues in the coverage. The tennis coverage is very traditional, and the same is with golf, MMA, boxing, and cycling. Cybersports bettors won't find BetMGM sportsbook attractive: there are simply no eSports markets at all.
Anything else but the sports? No, unfortunately not: you will have to look elsewhere if you like wagering on some political events or fun things like the next Game of Thrones episode.
Available types of Bets
As you see, the number of covered disciplines is small, even for a US bookmaker. What's with the selection of betting markets? We wouldn't name it the best, too, but there is still something to choose from.
Let's start with the betting options: you can place single bets or opt for Parlays and Round Robins. The latter one is a bit of an alternative to classical accas, but we'd be pleased to see some more options like pleasers or if-bets.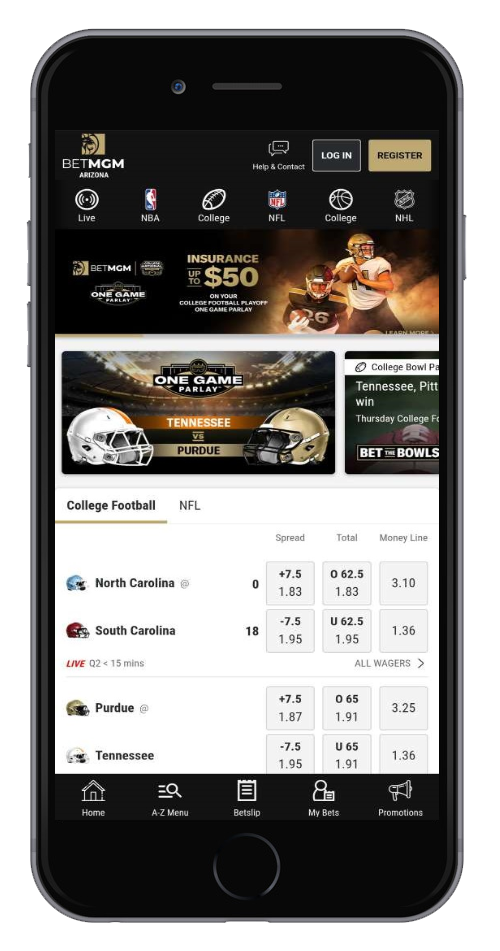 Is there a wide choice of betting markets? Well, it depends on sports and a particular event. NBA matchups usually come with 30-50 pre-game and 10-20 live wagering options, and the same is true for ice hockey. However, even the major NFL event (even the Super Bowl game!) won't involve more than about 150 betting markets.
So what are the available betting options? You can select from several props besides the most traditional Moneyline bets, Totals, and Spreads for the full time, halves, and quarters. Although BetMGM is not the best app for prop betting, there are still such markets as the First Team to Score, Will Both Teams, Score 40 or More Points, How Many Yards Will The Shortest Touchdown be; Will The Game Go Into Overtime, and more wagers of this kind. However, don't expect many of them for all sports and events: they go as some pleasant addition to the overall experience, but BetMGM doesn't focus on them much. Besides, we remind you that you won't find college sports props anywhere at the local US bookies: the law doesn't approve it.
What about the betting odds? They are probably the main BetMGM app feature. Unlike many other American bookmakers, it provides the sports bettors with very competitive options like the average 4% margin for the NFL and approximately 5% for the other sports. What we don't recommend at BetMGM is tennis: the margin of 7% or so is too much, after all.
Live Betting at MGM App
Thanks to the convenient interface, you will easily find all live betting markets in the BetMGM app. However, we can't say they are superior: the number of events rarely exceeds twenty per day, and the lines are very limited. Besides, most of the time, there are no in-play markets at all, but for a couple of games. Some extra bonuses for in-play events wouldn't also hurt — but BetMGM is not so generous to offer, say, boosted odds for live NFL or NBA games.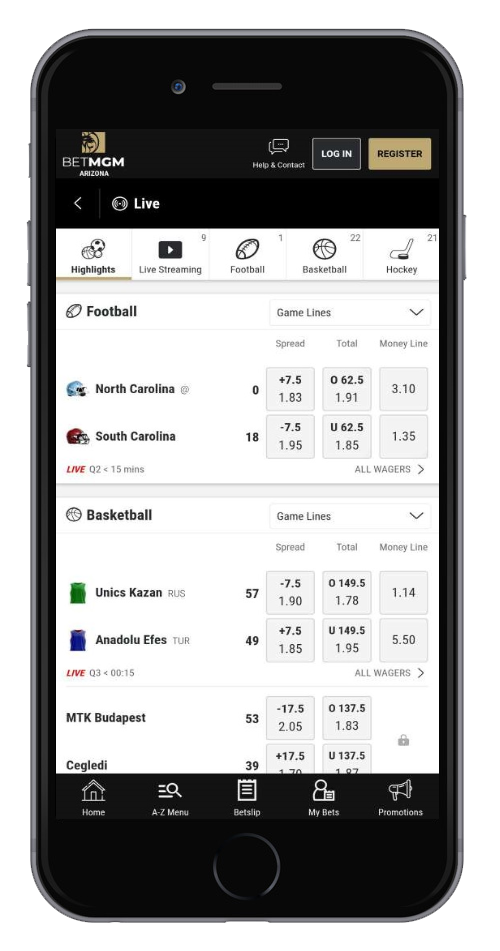 The coverage of every matchup leaves much to be desired — it seems live betting is not the strong site of BetMGM. No special promotions, no live streaming, match center, and only the cash-out feature and convenient live graphics save the situation a bit. Overall, it seems the BetMGM app does not care much about its live betting offer and just added it for some diversity on the hype wave.
Conclusion
We liked BetMGM for its convenient app, easy registration, and helpful customer support. Besides, we really appreciated its betting odds: they are impressively good, especially if you wager on NFL. The boosted odds promotions make the experience even more profitable, so you won't regret joining BetMGM if you are keen on American football. NBA and other top US leagues fans will also find some activities, but the overall experience might seem a bit dull if you are used to offshore sports betting sites offering more than thirty sports and a plethora of different betting markets.
One of the main reasons you might want to join the BetMGM app is its reputation and security: it's enough to check its AppStore rating to understand the place is trusted and secure. We suppose this app might be a perfect option for those who have just begun getting into the world of sports betting but can safely recommend it to sharp bettors as well.
FAQ
Is the bet MGM app legit?
Yes, the BetMGM app is legal in several US states and works under the local sports betting licenses of various commissions. However, you can't use it anywhere but the particular states: there is no international version of the BetMGM app, and it remains an exclusive sportsbook for the United States residents and visitors.
---
What states can you use the BetMGM app?
You can find BetMGM in the license registers of New York, New Jersey, West Virginia, Pennsylvania, Virginia, Tennessee, Michigan, Nevada, Washington DC, Iowa, Indiana, Colorado, Arizona, and Wyoming.
---
Does MGM have online gambling?
Yes, MGM has additional apps for poker and casino games. The casino and poker apps are available in Mississippi, Michigan, and New Jersey, and West Virginia residents and visitors can play casino games while poker is banned.
---
How do I bet on the MGM sportsbook app?
Just like at any other sports betting app: select the sport, an event, and a particular market (Moneyline, Over/Under, Totals, or some Props like the First Team to Score, the Most Scoring Half, etc.). Select the outcome you want to bet on and click on the odds offered for this outcome. Your bet will appear in the bet slip. Open the bet slip (it's on the bottom of the screen) when you are done with your picks, indicate your stake amount and press the confirmation button. If you want to combine your bets into an accumulator, select the Parlay or Round Robin tab in the bet slip.
Last updated on 22 Oct 2022 - 11:33
Liked this publication?