Asian Bookies — List of the TOP Bookmakers
Published on 24 Jul 2020
The Asian sports betting industry is rapidly growing. Although it has been hard to name at least a couple of popular Asian bookies until recently, the high demand for modern online bookmakers resulted in dozens of new sportsbooks launching in Hong Kong, Indonesia, Japan, Malaysia, and other countries. In some sense, it became a breath of fresh air for many Asian sports bettors: most regions could offer them nothing more than state lottery sports betting at offline retail shops.
Top-3 Asian Bookies

ESports betting;
Online Casino;
Good bonus system;
TV games betting;
Keno
Read 22Bet review

Esports betting
video broadcasts
Casino and live casino
Read Dafabet review

Esports betting
Casino and live Casino
TV games betting
Read Sportsbet io review
This guide will highlight everything you need to know about Asian sportsbooks: they have special features compared to European, American, and British bookmakers, so we will try to embrace as many details as possible.
To start, let's briefly review sports betting laws in various Asian countries. It will better help to understand nuances of local gambling markets, choose Asian betting sites, and there are some really interesting facts, after all!

The legality of Sports Betting in Asia
A very important aspect of Asian sports betting is legality: not all countries allow online gambling, but the number of active sports bettors is still growing annually. While some regions officially permit digital sports wagering, the others are dead set against legalization. Still, gamblers find loopholes and use mirrors and proxies, so there is hardly a country having no betting audience for sportsbooks. We will discuss illegal Asian gambling later, too, but now let's speak about what is officially legitimate and what is not.
China
When we speak about sports betting in China, we mean its mainland, excluding Macao and Hong Kong. The latter have much milder gambling laws, while online sports betting in Chinese is totally banned. Unlike many countries where the legislation is mainly spread on illegal gambling entities, China's laws also involve harsh fines for bettors. Not that it stopped Chinese bettors from joining offshore sites willing to accept a lucrative millionth audience, but the government is actively combating illegal sites and blocking alternative ways to access them. China offers two state lotteries with tickets sold in retail shops as an alternative to online sports betting. The lotteries offer a bit altered variation of traditional single and parlay betting but still do not prevent the Chinese from opting for offshore sportsbooks.
Hong Kong
Hong Kong residents who got caught making illegal sports bets can be fined or even jailed for up to nine months. This law seems even more hair-raising when you get to know what kind of sports betting is considered illegal.

The answer is simple: any online and offline sports betting but the one offered by The Hong Kong Jockey Club, a non-commercial horse racing, sports gambling, and lottery operator. You can not bet online, so online sports betting becomes automatically illegal and severely pursued action in Hong Kong. Sounds crazy for US and Canadian citizens, doesn't it?
Bangladesh
It seems the situation is not much better in Bangladesh: local gamblers can also regret making bets on sports events using online sports betting sites. The only approved betting option is to wager on horse racing, and if you want to make one, you must go straight to a track and use the services of accredited providers during a race. Bangladesh authorities do not grant any online sports betting sites with licenses and do not allow offshore betting either, so basically, online gambling is under a ban. Several years ago, more than seventy cricket bettors were arrested for using some foreign betting platforms to make bets on cricket, so being an illegal bettor is the same risky as providing unlawful gambling services in the country.
India
Officially, any form of sports betting is banned in India. However, the government keeps failing to prevent thousands of Indians from illegally placing sports bets at British, European, and Asian sportsbooks. In fact, most locals safely gamble at offshore betting sites without any risk of being caught and punished, which made the government think of the first attempt to make online sports betting legal. The most probable legalization pattern in India is the one accepted in the USA when every state makes its own decision regarding a local gambling law.
Malaysia
Malaysia used to allow online sports betting, but the bubble has burst in several years: in 2003, Ascot Sports got a local Malaysian license and went online to offer digital sports betting in the country, but in 2008, it closed its operations, leaving Malaysian bettors high and dry. The only legal way to make sports bets is to visit official betting shops, but the number of gamblers using offshore sites grows annually.

Like in most Asian countries, illegal gambling is punished pretty severely, but the Internet era makes it almost impossible to catch breakers visiting forbidden sites from their smartphones and PCs.
Indonesia
As a Muslim-majority country, Indonesia strictly prohibits all sorts of gambling, so if you ever come across a casino or sports betting shop in Indonesia, it will definitely be an illegal entity. Obviously, there are no local online bookmakers, too. It doesn't keep residents out of gambling at offshore sites that accept Indonesians, and there is no way the government can interfere in this grey zone of digital gambling business.
Singapore
Singapore has taken ultimate measures regarding gambling: in 2014, the government released the Remote Gambling Act, completely prohibiting all types of online gamblings, including sports betting via Internet, phone, email, etc. Brick-and-mortar bookmakers had been banned long before this act, so nothing changed in the offline industry, so it seemed like Singapore's gambling market vanished in the air. However, 2016 brought good news for two companies: Singapore Pools, a sportsbook and lottery, and Singapore Turf Club, a horse racing betting organization. Both of them became legal and began working under the strict control of the government, while the other offline and online bookmakers, including offshore ones, remained completely banned. Fines for illegal and offshore betting reach approximately $5,000, and imprisonment is also possible.
Japan
Although brick-and-mortar bookmakers, or, more correctly, sports lotteries are extremely popular among Japanese bettors, online sports betting is banned. However, the law does not ban offshore bookmakers operating in Japan, so basically, gamblers can opt for any international sportsbook to make bets on horses, car racing, and other favorite Japanese sports. However, all types of casino games, including poker, are still prohibited.
Korea
You can safely bet on sports offered by State Lottery when you are in Korea; however, online casinos and sports betting sites are still outlawed. However, South Korea has a large betting audience, and such industry giants like Bet365 and William Hill could not resist offering their services to Korean gamblers. Obviously, the government tries to keep an eye on illegal online betting and restrict access to offshore sites, but the number of mirrors only seems to grow. However, if you are a tourist in Korea, you can safely visit one of the twenty-three casino venues working specially for travelers.

Payment Methods at Asian Bookies
An average Asian bookmaker is not crucially different from classical British or European bookies regarding banking options. Some Asian bookmakers offer locally available methods, like self-serving kiosks or, for instance, Chinese Union Pay. Still, the majority successfully goes with widely accepted international payment systems, including credit and debit cards, e-wallets, and cryptocurrencies.
Many local systems, like AliPay in China, block gambling transactions. It can definitely get a player in trouble, so sportsbooks aiming at the Asian market tend to take care of providing customers with more options, including the ones implying complete anonymity.
Payment

Methods

1
Bank Cards
Most Asian bookies or European bookmakers accepting Asian players have credit and debit cards among their payment options. You are almost 100% guaranteed to find Visa and Mastercard systems in a cashier of an average bookmaker. Still, some have a little extended list of options and accept Visa Electron, Maestro, or Diner's Club.
2
Crypto
Harsh laws and draconian fines for offshore gambling in some Asian countries made cryptocurrency payments highly popular among bettors. According to statistics, more than 700 offshore sports betting and casino sites accept at least one of the top popular cryptocurrencies, and 20% of their customer pool comes from Asia. Anonymity, high transaction speed, and sometimes extra bonuses from bookmakers make more and more Asian punters opt for Bitcoin, Litecoin, Ethereum, and other crypto payment methods. It became a big concern for the government that keeps losing control of offshore sports betting operations. Thus, sometimes, crypto gambling may make the whole experience twice illegal: for instance, China has recently announced all transactions made with alternative currencies out of the law.
3
E-Wallets
Suppose you are familiar with the gambling industry. In that case, you probably know that many bettors prefer using e-wallets: they are usually safer than cards and often allow more convenient and quicker transactions. Asan betting sites offer the same options: you will most likely find top popular options like PayPal, Neteller, and Skrill: 22Bet, Pinnacle, Sbobet, and other best Asian bookies have all of them and some more in their cashier menu. If you deposit and withdraw at a bookmaker welcoming Asians, you will most likely have an opportunity to pay in your local currency and avoid conversion fees.
Key Factors in Choosing an Asian Bookmakers
Asian sportsbooks are becoming popular worldwide. Asians are pretty limited in choice and have some specific taste for sports betting, so the websites aiming at this betting pool offer alternative options and give other lucrative perks. For instance, many Asian bookies offer more minor sports leagues and events, and better cover sports like cricket or racing, unlike European bookmakers that typically focus on top Soccer tournaments. Besides, you can find much more competitive odds and bonuses at gambling sites facing Asia, so sophisticated bettors worldwide tend to seek alternatives to their usual providers in the Asian market.
You now know why Asia bookies are a good option but are all of them trusted and worth joining? In the next several paragraphs, we will speak about how to find a good bookmaker to make the best of your experience and avoid any disappointing impression of the Asian sports betting industry.
Availability in Your Area
Of course, you do not need to be a resident of China, Japan, Singapore, or any other Asian country to join an Asian sportsbook: with strict laws of most Asian countries you are now aware of, it would be too risky for a bookmaker to totally rely on the Asian market. Thus, most bookmakers that offer their services in Asia are also open for other countries:
For instance, William Hill's main pool comes from Great Britain;
Bet365 offers sports bets for Canadian gamblers;
Sbobet is available for most European and African regions.
However, if you want to opt for Asian sports betting site from a country that bans online gambling or wagering with offshore bookmakers, there is a backup plan: you can either use VPN or find a website mirror. Proxy and VPN betting is extremely popular in Asian countries, but we hope you understand it is illegal and can result in some not very inspiring consequences.
Bonuses and Promotions
Asia betting sites can offer a bit more in terms of bonuses than less generous UK sportsbooks as industry newcomers. On the other hand, many gamblers opt for such betting sites for the sake of high winning and payout limits, so they are not much interested in following wagering requirements.
Still, a range of fair promotions or a good welcome sports betting bonus shows a customer's approach to a company and can sometimes significantly boost your winnings. Let's see what you can get at some best Asian bookmakers.
| Sportsbook | Bonus Type | Bonus amount |
| --- | --- | --- |
| Dafabet | Welcome First Deposit Bonus | 150% of up to RMB450 |
| Betway | Free Bet | Up to $250 |
| Bet365 | Accumulator Bonus | Up to 70% boost for Acca payout |
| SboBet | Welcome Bonus | Up to $200 |
| 1xBet | Welcome First Deposit Bonus | Up to RMB15,000 |
Sports and Events Coverage
If you opt for Asian sportsbooks because you are into smaller markets or niche sports and events, it is natural to check the line and see what you can get. Sportsbooks allowing you to switch a layout to an Asian view are helpful for this research: this view focuses on Asian major events and sports. In an ideal scenario, any bookmaker must have at least twenty sports to wager: if a selection is too poor, it might be a sign of a low-quality odds provider. At the same time, you are likely to find the best odds at a platform with a huge range of markets and disciplines.
Available Types of Bets
Many people love Asian gambling sites for unusual Asian betting markets. Such bet options include Asian Handicaps and Totals, and they can come in different variations, so make sure you can try such alternative bet types. Haven't you heard of them before? No big deal, we'll explain.
Asian Handicap betting implies you can save half of your bet amount if you lose because the bet is divided. For instance, a traditional handicap has the following possible outcomes: you either win, lose, or get a stake refund if there is a draw. Asian handicap offers more options because you bet on both outcomes simultaneously: for instance, your $10 wager will be divided into a $5 bet on a home team and a $5 bet on an away team.
Asian totals also divide your bet between two adjacent standard totals.
For instance, if you wager $10 on Asian totals Under 2,85, you actually bet $5 on Totals Under 2,5 and $5 on Totals under 3.
However, a good sportsbook using decent software does not, of course, limit users to two or three types of wagers, and it's essential to explore the overall number of markets offered for various events: from most popular betting markets to some more exclusive ones. Surprisingly, the more betting opportunities you have, the better quality of odds, site's performance, and support you can expect.
Mobile Betting
If you monitor what's new in your fav sportsbook as often as you check your Facebook Messenger, then you definitely have sports betting apps or bookmarked some sites in your mobile browser.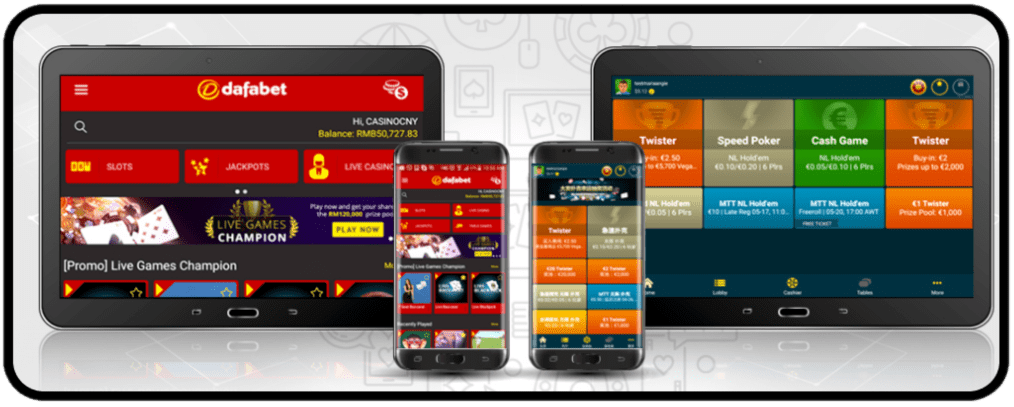 Obviously, mobile betting has many advantages, so it is essential to know if your new bookie settled it well. Many sportsbooks available for Asians have native apps: for instance, 22bet, Betway, and Pinnacle feature top-notch applications for both iOS and Android. However, if you are forced to use proxy betting, downloading an app might become an issue, so make sure a chosen sportsbook looks and works well in your smartphone browser.
User Interface
Those who are used to classical UK sportsbooks may get a bit confused by the unusual interface of some Asian bookmakers. However, as most bookies work both for Europe and Asia, they typically allow you to switch between an Asian view, adapted for users interested in Eastern sports, and a Euro view.
For instance, you can find such an option in No matter what you choose, make sure the site layout is convenient for you and looks good on both PC and mobile screens.
Obviously, all pages must be fast to respond, especially when a site gets a lot of traffic, for instance, when there is a popular event available for in play betting.
How to Bet in Asia?
Asian countries are very specific and have many unique features. It occurs in various aspects of life, and sports betting is not an exception: Asians brought many exotic things into the world of gambling and made some of the popular worldwide. Still, they borrowed much from British betting culture, too. To make things easier for you and explain to you what is peculiar about betting in Asia, we prepared several paragraphs dedicated to Eastern gambling nuances.
Asian Betting Odds
The first thing that can confuse or even repel even an experienced American, Euro, or British better is the odds format. Luckily, all sites give you a choice: you can use more familiar American, fractional, or decimal odds or opt for Asian odds formats: Hong Kong, Malay, and Indonesian. However, it can't hurt to know how to read Asian odds, and here is a brief guide.
Indonesian odds resemble the American format: there are also positive and negative odds, for instance, -2.00 or +1.50. Negative Indonesian odds show how much you need to invest to win one dollar (or any other currency); positive Indonesian odds reflect your net profit from a one-dollar bet;
Hong Kong odds work almost like European odds: multiple your stake amount by odds value, and you will see your net profit;
The Malay odds are similar to Indonesian odds: positive odds multiplied by a stake amount show your possible payout if a bet is successful; odds coming with a minus sign show how much you can win if you risk a certain unit. For instance, if you wager $92,5 at odds -0.925, and your bet wins, you will win $100.
Most Popular Sports Among Asian Bettors
Like most of the world, Asia is keen on soccer betting, and it is considered a top popular sport in Asian countries along with baseball, so you will easily find odds for English Premier League matches, UEFA Champions League, and Asian major and minor soccer events.
Most bets made by people in China, Japan, Korea, India, and Taiwan are soccer and baseball bets; however, the other preferred betting options are pretty unique. For instance, one of the most beloved sports to watch and wager on is cricket, and cricket tournaments' importance for some countries can be compared to the US March Madness. Besides, Asians are very meticulous towards horse racing, and even such anti-gambling countries like Singapore give an easier ride for betting on horses.
Sports Live Streaming at Asian Bookies
The live streaming feature is not a must-have service; in other words, if a sportsbook does not offer match broadcasting, it doesn't mean the site is bad. Still, many gamblers prefer using all-in-one platforms, allowing them to enjoy live betting and monitor tournaments at the same time, so many Asian betting sites offer such an option. Among the top Asian bookmakers with live streaming events available right on their sites are Sbobet, Bet365, 22Bet, Dafabet, and Pinnacle, and the list goes on.
Pros

and Cons of Asian Betting Site
Higher betting odds;
More generous bonuses and promotions with fair rollover requirements
Better selection of exotic Asian sports and smaller events
A wider choice of betting markets including Asian Handicaps and Totals that are usually more profitable that standard ones
Prohibited in most Asian countries and require VPN or mirrors
Conclusion
We hope that you now know enough about Asian betting to go and try your first Asian bookie! Your first impression might be controversial, but many bettors fall in love with perks such sportsbooks can offer. Besides, they can be your alternative bookmakers if you travel to Asia as a tourist, but remember that even tourists can be punished for breaking local gambling laws. Betting on Asian sites is much safer if you are in a region allowing offshore sports betting but remember to opt for trusted, licensed, and reputable platforms.
If you are a high roller, you will definitely find much profit in this niche. Many Asian bookmakers typically offer higher betting odds and do not limit accounts, so it means you can win and withdraw more than most European or UK sites would allow. A simple example: standard Moneyline odds for big soccer events are 1.91 (-110 in the American format) at an average European sportsbook. An Asian bookmaker can easily offer you the same market at a 1.95 (-105) price, and, combined with large or unlimited payouts, and it can bring you much more profit. The reason for such generosity is pretty obvious: the industry giants from the UK and Europe have cracked the market long ago, so newcomers are striving to take evident advantages over their powerful competitors.
Another good thing about almost all Asian bookies is their sports and markets selection.
You already know that Asians have some special exotic bet types and prefer different sports compared to the rest of the world, so if you are keen on niche betting options, you will be glad to see unusual sports and wager types in pre-match and live lines. For instance, it is doubtful that a typical UK bookmaker will publish odds for Muay Thai!
It all could sound like a perfect option unless Asian bookmakers accepted everyone wishing to try off-the-beaten-track betting. However, many sportsbooks available in Asia are not accessible for Europeans or Americans, and all of them are out of law in Asian countries too. Thus, the main inconvenience of any Asian betting site is its legal status: you will not find a platform officially accepted by local authorities of China, Singapore, Korea, etc.
FAQ
How Can I Bet if Betting Is Prohibited In My Country?
The most popular solution is using sportsbook mirrors or a VPN. A mirror is a copy of a website located on an alternative domain so that a user from a restricted country can reach it. VPN is an abbreviation for a Virtual Private Network; in simple words, it creates an encrypted connection allowing you to connect from any region without being there physically.
Can I Use My Credit Card to Bet on Asian Bookies?
Most Asian betting sites accept popular payment options, including credit cards, e-wallets, and cryptocurrencies.
Can US players register at Asian bookies?
Many Asian sportsbooks come from UK and Europe; still, some of them expand their services for US bettors, too. For instance, Bet365 New Jersey or Intertops is available both in Asian regions and in some American states. However, some of the best Asian bookmakers restrict access for US residents, so we recommend you check the policies of a particular bookmaker before you sign up.
How to calculate Hong Kong odds?
Hong Kong odds look like decimal, but they show your net profit instead of total gross (stake amount plus winnings) reflected in the decimal format. Thus, you must simply multiply Hong Kong odds by your stake amount, and you will see your possible winning amount.
Last updated on 06 Feb 2023- 13:10
Get bets with a yield of 100-700% delivered straight to your inbox!