BetUS is the 'America's favorite sportsbook for 25 years, claims a large banner on the site's main page. A loud statement, isn't it? Our BetUS review will try to bring real facts to light and check if BetUS is as good as it says. The first look at the BetUS site inspires some trusts: a neat platform with mobile betting opportunities and some pretty competitive odds immediately come to an eye. However, our aim is to know Bet US inside out and give you our unbiased and fair opinion on its pros and cons.
We will speak about everything related to BetUS: its sportsbook and casino, customer service, and players' opinions; besides, we will show you how to use it: use this guide as a brief instruction if you are a beginning bettor.
It's high time we made some conclusions and gave you our final opinion about BetUS and its services. Before we share our thoughts with you, let's briefly overview BetUS's main advantages and drawbacks, to sum up what we said above.
Pros

and Cons
Large selection of sports for pre-game betting;
Competitive odds for major events;
A nice choice of props for selected markets;
Many deposit bonuses for crypto deposits;
A big collection of blackjack and poker games.
Mediocre live betting section;
No special betting services;
Small casino games library;
No live streaming;
A modest selection of payment methods;
Controversial reputation;
Poor customer feedback and complaints about payout delays.
Brief

Guide to BetUS Sportsbook

As we promised, here is a guide on how to start your work with BetUS: although it is not that hard, some rookie gamblers have issues registering their accounts.
To start, we must warn you that you mustn't provide BetUS (like actually any other sports betting site) with the wrong information.
You can, of course, indicate some fake data, but it will most likely end up with your account blocking. There are very few chances of getting the payout of your winnings after it, although some reviews claim you can still have issues with it when you deal with BetUS. However, we will discuss it later, and now we will give you some simple instructions.
The process involves several steps but is still very quick unless you make mistakes when you enter your personal information. So, to create a BetUS account, do the following:
Registration
1
Press the Join button at the right upper corner of the site;
2
Indicate your name, last name, title, phone number, and email address;
3
Indicate your residence address, and create a password. On this step, you can enter a reference number to take part in the referral program;
4
Press the Confirm button. Your BetUS account is ready!
Making your first deposit
Log in to BetUS and enter the My Account tab. It shows you all wagers, deposits, and withdrawals history, the account balance, your recent messages, and activity. Find the My Wallet section and select the Deposit tab: a pop-up window will show you all available payment methods. The list depends on your country: for instance, it can include only altcoins and cash transfers, but if you have a US account, the choice is a bit bigger.
Select a payment method and follow the instructions: for example, you will need to enter your credit card details if you opted for card payments or share your crypto wallet data with BetUS if you prefer alternative currencies. Users who want to deposit in cash must contact the personal account manager: you will see the phone number and a live chat link when you select the Cash deposit option.
Depending on the method you choose, your deposit will appear at My Account within 1-15 minutes.
Placing your first bet
To place a sports bet at BetUS:
Go to the Sportsbook or Live Betting section.
Find an interesting event and a bet type: for instance, you can select basketball from the list of sports, opt for the NBA league, find a game between the Hornets and the Wizards, and bet on the latter to win with a +4 Point Spread.
Click on the odds suggested for the outcome, and your wager will automatically appear in the bet slip on the left.
If you want to add several bets from various games, change the bet type in the bet slip: you can switch between Single Bets, Parlay, Teaser, If-Bet, and Reverse Wagers.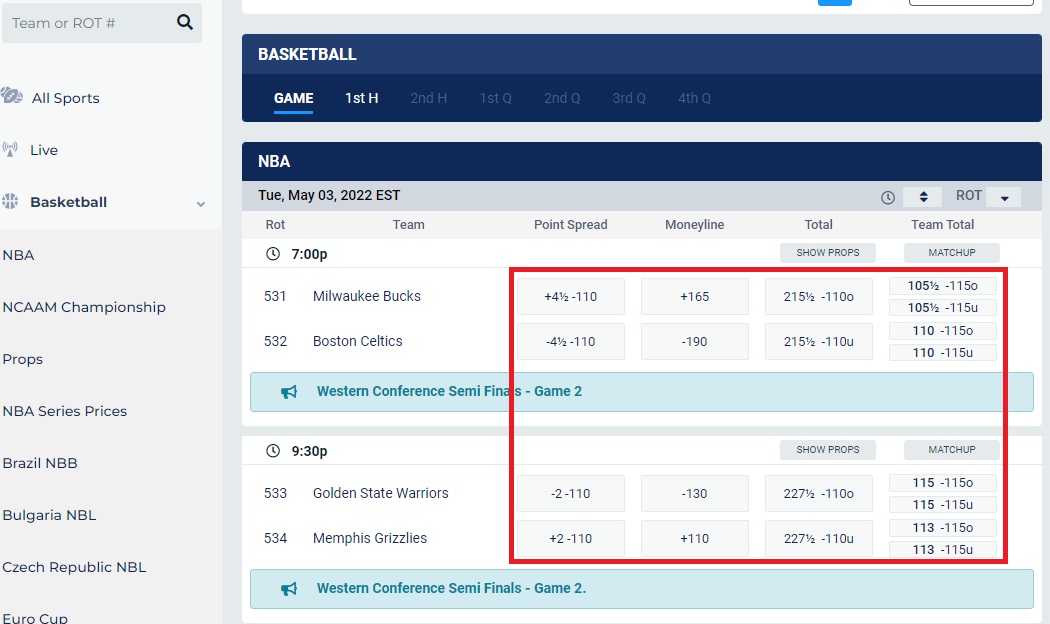 Bet

US General Background

Before you join BetUS, you might find it helpful to learn more about the site. Is BetUS legal and safe? Can you gamble at it from anywhere? Is it a licensed company, and can you be sure that you will get a decent service here? We'll answer all these questions in our next block and recommend you to take your time to read it carefully: probably you will find some facts that may prevent you from using BetUS or, on the contrary, you will make sure it is the right place for you.
License
BetUS can not boast a prestigious license: they are approved by the Curacao Gambling Committee, a pretty controversial gambling organization. Not that it licensed scammers, no. However, it does not require as many things from sports betting sites, and online casinos as, say, the UK Gambling Commission and does not monitor the licensees' activity much. Still, many reputable online gambling platforms successfully work under Curacao's license, and you can be pretty sure they comply with the basic security principles.
For your information: BetUS' headquarters are based in San Jose, Costa Rica, and most employees are Costa Rican, but there is some Canadian staff, too.
Countries Which Allow Bet US
Although BetUS mainly faces America, it does not limit its betting pool by exclusively the United States and Canada. The list of countries that can join BetUS is pretty vast: it includes many European, African, and Asian regions, for instance:
India;
Hong Kong;
Italy;
Iceland;
Hungary;
Japan;
Nigeria;
Taiwan;
Cyprus;
Philippines;
Germany;
Latvia;
Zimbabwe, and more.
However, make sure your country allows online sports betting or Internet casino gaming: BetUS does not care much about local restrictions and can accept people from regions where gambling is banned. It may lead to withdrawals issues and problems with your local authorities, so take care of learning all nuts and bolts of your country's legislation before you join.
Reputation
BetUS has existed since 1994. It is quite a time for an online bookmaker: you can consider it one of the online betting pioneers. Such a long existence in the industry usually implies a clear reputation, but it's not probably the BetUS' case. Although it has a pretty large loyal customer pool and attracts many new users from the US and worldwide, some reviews make us doubt if we can trust this brand at all. However, let's get all this straightened out.
There are many complaints about BetUS payouts: it seems many gamblers could not withdraw their winnings for various reasons. For instance, some of them were blamed for being a part of a syndicate, or violating bonus wagering requirements, while in fact, they were just recreational players who never intended to break any rules. Still, the site exists, so there were no high-profile scandals, but you must know that its reputation is not perfect after all.
User Interface
BetUS has a very simple and minimalistic design: classical blue and white colors, a traditional online sportsbook layout, and a very straightforward and detailed personal account interface. Nothing overwhelms the view, so even the latest promotions ads do not distract gamblers or annoy them.
All pages download quickly, and although BetUS may look a bit old-fashioned, it perfectly manages with its prior aim: to deliver quick and convenient sports betting products for desktop and mobile experience.
Yes, the mobile site also looks fine, although iOS and Android apps are not available.
Available Banking Options
We've already mentioned that BetUS offers traditional and cryptocurrencies, but the overall number of payment methods is not the biggest one: even US gamblers will find just several banking options for their deposits and withdrawals. The most disappointing thing is a lack of any e-wallets: no Neteller, Skrill, or PayPal payments are available, and not so many popular methods are on hand in the end.
Besides, the minimum deposit limit might be too high, compared to many large sports betting sites that allow you to top up your account with a small amount of just $5 or $10. Mind deposit fees, too: if you deposit with a credit card, you have to pay an extra 7,5% unless it is your very first transaction with BetUS.
In this table, we will compare BetUS payment methods so that you can choose the best one beforehand.
| Payment method | Minimum deposit | Deposit processing time | Payout processing time |
| --- | --- | --- | --- |
| Credit/Debit cards | $50 + fee | 30 minutes | 1-2 days |
| Cash Deposits | n/a | n/a | n/a |
| Bitcoin | $10 | 30 minutes | 1-2 days |
| Bitcoin Cash | $10 | 30 minutes | 1-2 days |
| Litecoin | $10 | 30 minutes | 1-2 days |
| Ethereum | $10 | 30 minutes | 1-2 days |
Bet US Sportsbook Mobile App
Despite having accepted thousands of customers since 1994, BetUS did not release a native app, so you will have to go with the mobile version of the site. It is pretty neat, though: the interface is fully adapted to all types of screens, so you will hardly face any issues with placing bets, spinning slots, or making deposits if you use the BetUS mobile site in your Safari or Google browser. You will have the same account for both site versions and will have access to every BetUS section, including a sportsbook, racebook, promotions, contests, casino, BetUS TV, and some auxiliary tabs like Locker Room.
Customer Support
The BetUS customer service team is easy to reach: a phone number and a live chat link are available on almost every page. When we tested how the agents work, we were pleased to receive quick and comprehensive polite replies. Still, we answered some very simple questions that you can actually find at the FAQ tab. Still, when it comes to more complicated issues like withdrawal delays or lost deposits, the customer service may work worse and make you wait for some time before they solve your problem.
The team is available 24/7, so you can always contact it, but there is a chance you will have to reach them over and over until you finally get a reply to your question.
BetUS

Sportsbook Review

When you open the BetUS sportsbook page, you first see various last-minute bets for different events, mainly within top popular American leagues. Below are the hottest bonus offers, and on the left is the list of all available sports disciplines. This list is not the smallest one and includes many sports beyond the most traditional US options.

Before making your first bet, you should know about sports betting at BetUS: their policies towards winners and stake limits. As we have already mentioned, this company does not welcome professionals and high-rollers: you may pay a heavy price for winning too much, so be aware of the restrictions. You can make a minimum bet of $5 and a maximum bet of $5,000. BetUS does not announce any winning limits, but according to some users' experience, you may face difficulties getting a payout of more than $10,000.

For your convenience, you can switch between American, Decimal, and Fractional odds. If you know only a few facts about sports betting and need some education, BetUS offers you some guides in their FAQ section or the Locker room tab: a special section with insights, sports news, betting tips, and trends.

The Bet TV tab is also about tips and predictions: it is full of shows and podcasts on NFL, NBA, MLB, tennis, MMA, and more — most likely, you will find something for every sport available in the line.
Available Sports at BetUS
We liked what we saw at the BetUS sports collection: unlike many American bookmakers, it does not limit players with top-four leagues and a couple of other international sports. Almost thirty disciplines have available odds, and it seems a perfect combination of popular and exotic options.
Most typical sports are obviously football, soccer, basketball, baseball, ice hockey, and tennis. Besides, you can make bets on horse racing, eSports, snooker, surfing, winter sports, or opt for entertainment or politics betting.
Popular disciplines involve various US and international events, so the choice is not limited by local leagues. For instance, you can find basketball markets for the Euroleague basketball, Greece Basket League, ABA League, and more besides NBA and NCAAB.
Soccer is also available worldwide: the coverage does not include as many events as a classical English bookmaker would offer, but you can still wager on games in more than ten countries.
The entertainment betting section deserves attention, too: the selection of various bets on celebrities, awards, and TV shows is pretty impressive compared to many other online betting sites.
Esports is separated into a special section and offers odds for all top famous cyber disciplines like Counter-Strike: GO, Valorant, King of Glory, League of Legends, and more, with events available for betting in the pre-match and live modes.
The racebook is rather modest and contains thoroughbred and harness betting markets for the US and Australian tracks; you will hardly find some British or, say, South African races, so the choice is pretty limited.
Overall, the coverage is more focused on the USA, Canada, and Australia, but the major international events are also here for almost every sport.
Types of Bets at BetUS
As you already know from our instruction on placing bets, BetUS accepts various wager types: singles and multiples of all kinds. Let's briefly overview each bet type offered in the bet slip:
Single bets: the most straightforward betting option: you simply choose one market, for instance, Match Winner, and add it to a bet slip;
Accumulator, or Parlay bet: the most typical multiple bet variant. You add several picks from different events, for instance, Match Winner from Chicago Bears vs. Detroit Lions game, a Point Spread market from the Titans vs. Patriots match, and some more selections from two other games (not necessarily NFL ones). If you opt for Parlay betting, you will combine all your picks into one multiple bet with enhanced payouts, as all odds will multiply. However, the bet will win only if all selections win;
If Bets: a type of a multiple bet that works like a chain: if your first selection wins, your initial stake goes to the next election; if it wins either, the stake is placed on the next election, and so on. When one of the selections loses, you receive a payout for all previous bets, excluding the initial stake amount;
Reverse Bets: if-bets working in all directions: it doesn't matter what will be your first or second pick;
Teasers: a multiple bet on Spread and Total markets, allowing you to purchase extra spread or total score points and bet on a more probable outcome but at lower odds.
Not all bookies offer all these multiple bets and limit users with one or two variants. But are there any markets you can add to your bet slip as a single or a multiple bet?
It seems that there are not at first glance. For instance, if you open all NFL events, you will see only Money Line, Point Spread, and Totals markets in a match coupon, and the only way to get some more options is to click on the 'Show Props' button.
However, when you open all props, it turns out that this section adds almost three hundred more markets that give us a normal average coverage of a standard American online betting site.
Speaking about NFL props, they involve 1st Quarter Total Points Range, 1st Half Total TDs and FGs Scored, Score in Last 2 min of the 1st and 2nd Halves, Game Total Points Range, Highest Scoring Quarter, Race To 10-40 Points, and more.
All match coupons have the same principle: you see all standard markets first, and the Show Props button opens the rest of the best types. However, the choice is significantly smaller for basketball games. Overall, the coverage is not so in-depth as many sports betting sites can offer but still includes all popular and some exotic wagers, so it must be enough for most recreational bettors.
BetUS odds and lines
As you see, BetUS is not really superior in coverage, but probably it compensates for it with competitive odds? Well, it depends on selected sports and the market. For instance, you can find a 4,5% margin for some soccer handicap markets, but the money line margin for the same game can exceed 10%. The offer is significantly better when it comes to the NFL games: the margin here varies from the industry-low 2,5% to still competitive 5%; the situation is more or less the same with basketball and ice hockey, while the sports can involve a 6%-9% margin in the pre-game mode. The live betting margin is traditionally higher, but the overall BetUS price is comparatively lucrative.
BetUS In-Play Betting
Switching to the live betting section of BetUS showed us a surprisingly old-fashioned platform, not even a bit similar to what we saw on the pre-match page. Obviously, BetUS uses different providers for their in-play betting, and we wouldn't name it the best. If you check the live betting calendar, you will see about twenty daily events; most of them are NFL, MLB, and major tennis tournaments.
Thus, there is nothing much to choose from, although you can find about a hundred markets for an event that went live.
In fact, an experienced bettor will not find anything too exciting: there is no Cash Out feature, no live streaming service, and no very lucrative betting odds for in-play events. Match center or any other extra options are absent, so the offer is overall mediocre. The only advantage we could find is that BetUS accepts live bets pretty quickly, with delays up to 20 seconds.
Sportsbook Bonuses by BetUS
The BetUS promotions page is full of offers: the welcome bonus alone has three various options for sports bettors and casino players. Besides, there are rebate bonuses, special offers for crypto transactions, daily casino promotions, and a referral program bringing extra cash to be new and existing players who shared their BetUS referral link. Please note that most bonuses require a promo code: you can find a code for every bonus when you open its terms and conditions.
Not that there was any diversity in the bonus program: almost all offers imply you get some extra cash on your deposit when you top up your account, so you will not find any parlay insurance bonuses or boosted odds promos, cashback options, and so on. In the table below, we will show you how much you can get from various bonuses, but we recommend you read the full terms and conditions before you claim anything.
The look at the promotions page shows that the most privileged users are those who opt to pay in cryptocurrency: they have the most opportunities to get some extra money.
| Bonus Type | Bonus Amount |
| --- | --- |
| Sportsbook+ Casino first deposit bonus | 125% deposit match of up to $3,125 |
| Casino Welcome Bonus | 250% deposit match of up to $5,000 |
| Sports Crypto First Deposit Bonus | 100% deposit match of up to $2,500 |
| Re-Up Crypto Bonus (casino and sports) | 200% deposit match of up to $2,500 |
| Re-Up Crypto Bonus (casino and sports) | 20% deposit match of up to $500 |
| 100% Crypto Deposit bonus for the 2nd and 3rd deposits | 100% deposit match of up to $2,500 |
BetUS

Casino Review

If you expected top popular games like Microgaming Mega Moolah or Netent's Starburst, we're sorry to disappoint you: BetUS works with a single provider. Although their provider is Digital Gaming Solutions, which is considered one of the top-tier companies, it is still not enough to create an online casino compared with the top European and British platforms. The number of games barely exceeds a hundred, but the offer is not limited by slots: you will find the full set of card and table activities and live dealer tables.

You can opt for various promotions and bonuses, for instance, deposit bonuses from 20% to 100%. Besides, BetUS regularly organizes different tournaments: for instance, you can register to Blackjack or Video Poker tournaments with buy-ins starting from $5.
Casino Games Available at BetUS
In this block, we will briefly describe the BetUS casino portfolio: it is not very large, but we'll try to show you the gems of the collection. The library is divided into several sections: blackjack, table games, slots, video poker, and live dealer games, so let's overview each.
Table Games
The table games section consists of approximately thirty titles, and they are mainly card games and roulette. We will discuss card games in the next paragraph, and here is the full selection of roulette games you can play at BetUS:
Roulette: $1-$50 bet limits;
Roulette High Limit: $2-$100 bet limits;
Roulette High Roller: $10-$500 bet limits;
American Roulette: $1-$200 bet limits;
European Roulette: $1-$250 bet limits;
Zoom Roulette: $1-$50 bet limits;
European Roulette: $1-$500 bet limits.
Besides, there are two craps tables, and the rest of the games are related to cards, so let's take a look.
Card Games
This part includes mainly popular poker titles as follows:
Casino War (Single and Multi-Hand);
Let It Ride Multi-Hand and Single Hand Poker;
Keep Em Poker;
Three Card Poker Multi and Single Hand;
Caribbean Stud Poker and Caribbean Stud Poker High Limit;
Pai Gow;
Mississippi Stud Poker;
Crazy Poker;
Red Dog;
Top Card Trumps;
Draw Hi-Lo;
Pontoon;
Triple Edge Poker;
Oasis Poker;
Three Card Rummy.
Although the casino library is comparatively small, not every online platform offers many video poker options.
It may even probably compensate for the lack of any live poker room at BetUS, so we are pretty satisfied at this point.
Speaking about blackjack, you can select from more than thirty options: the providers even took care of collecting them all under a separate tab. The options include some classical and popular versions of blackjack, like Multi-Hand, Single-Hand, and Switch blackjack, but the main perk of the collection is some exotic titles that you don't usually come across at standard casino sites. For instance, you can opt for the following versions:
Spanish Blackjack;
Super 7;
Burn Blackjack;
Six Card Charlie.
Slots
Like most online casinos, BetUS slots library is the biggest part of the whole casino: there are almost a hundred games: traditional fruit machines, jackpots, theme slots, and modern video slots, almost all by the Digital Gaming Solutions, but there are a couple of Betsoft games, too. Among top titles are the following:
Hyper Galactic;
Ingot Ox;
I Scream;
Jumbo Jester;
Stay Frostie;
Thai Blossoms;
Kitty Cutie;
Lucky Macau.
You can play all slot machines for real money or for fun. Although the library is not so vast, some filters for more convenient search wouldn't hurt: players must scroll the whole page to find a title they need.
BetUS Live Dealer Games
The BetUS live casino is divided into several sections: blackjack, roulette, baccarat, and Super 6. The tables vary from $5 to $2,500 stakes, but the games come in their traditional versions, without any exotic options. For instance, there are Blackjack Early Payout, Blackjack Classic, European and American roulette, Baccarat, and Live Super 6, and the difference between the tables is mainly in the bet limits.
Casino Bonus
Besides the welcome offer we mentioned in our BetUS sportsbook review, casino players have more bonuses. They are divided into special blackjack promotions and daily promos for other table games and slots. Here is what you can get:
Straight Flush 3 Card Poker: increased payouts on Monday;
250% match bonus on all deposits from $100. You can wager the bonus on all slots;
Video Poker Wednesdays: 10% cashback on video poker losses on Wednesday;
Roulette Thursdays: one random winner is eligible for a $500 prize on Thursdays;
Friday Deposit Bonus: make a $50 deposit and get a $50 cash bonus plus a 50% deposit match;
Slots Saturdays: a 150% deposit match bonus and 25 free spins.
Blackjack Mondays: a bonus up to $500 on all net blackjack losses;
7 Heaven Fridays: every Friday, all 7-7-7 Blackjack payouts pay 3 to 1.
All casino bonuses come with the two times 30x wagering requirements.
Conclusion
We could call BetUS a standard US-facing sportsbook with more or less standard betting markets and pretty good odds: it is pretty enough for us to recommend them to bettors safely. However, many complaints about its payout delays and accounts blockages prevent us from giving it a high ranking. There are many minor cons, too, but this one related to BetUS's reputation is essential. On the one hand, it is a licensed registered website that has existed for more than 20 years, but on the other, many reviews vilify it as a scam.
So, can we recommend BetUS? Probably, it is worth trying: however, it is definitely not the right place for high rollers, so don't roll over large sums and gamble for fun.
FAQ
BetUS is licensed by the Curacao Gambling Committee, so it operates as an offshore bookmaker for all countries from the allowed regions list. However, it is not approved by any local US or European commissions, so you cannot legally use BetUS if your local law prohibits online gambling.
How do I withdraw money from BetUS?
BetUS offers standard withdrawal options like all major cards (Visa, Mastercard, American Express) and cryptocurrency wallets. You can request a bank transfer or cash payouts: please, contact your personal account manager for all details.
BetUS's owning company is registered in Costa Rica, with its main office in San Jose. The brand is a part of the Angel city Group.
BetUS uses all modern protocols and certificates to protect users' data when they share personal details or make transactions. However, you must note that some delays with payouts might happen, and your account is at risk of being blocked if you win too much or show a performance of a professional bettor. Besides, BetUS is often spoken of as an unreliable sportsbook, so we must warn you to be careful about it, especially if you want to wager large amounts.
Last updated on 21 Mar 2023 - 17:04