Providing betting choices for both eSports world and traditional sports events, where players can benefit from competitive odds and bonuses, a user-friendly design, and a variety of payment methods are all essential characteristics of the sportsbook you're going to learn about in our GGBet review.
Today's gamers have a plethora of online casino games and sportsbooks to choose from, but not all of them are worth their time and effort. This is why we've chosen to give you an unbiased assessment of all the features and services offered by this sportsbook, so you can quickly determine if it's a legitimate site to wager and gamble with online casino.
This review will provide you with all of the information necessary to make an informed choice.
GGBet:

Pros and Cons
Excellent possibilities for esports betting
On-site live streaming is available
Popular markets are highlighted on the homepage
Limited countries access
High margin on standard sports bets
How

to Use GGBet Betting Site?

Below we are covering the most important aspects of the GGBet betting website utilizing.

The following are the steps to establish an account with GG.Bet:
GG

Bet Account Registration

1
Open your browser and go to ggbet com
2
In the upper right-hand corner of the screen, click the orange Sign Up button
This initiates the registration process. You may register here with a Social Network account (such as Google+, Facebook, Twitter, or Steam) or with your email address.
3
To register through e mail, enter your email address and then choose a password for the site.
Confirm your password in the box below, then click the Register button
4
After completing this section, the second Registration page loads
5
Complete the fields on this page with your name, address, date of birth, sexual orientation, the nation in which you live, a contact phone number, and the currency you prefer to use on the site
6
You then need to check the first two of four tick boxes at the bottom of the form addressing the Privacy Policy and to indicate that you are of legal gambling age and agree to the site's terms of service.
7
The last two checkboxes, regarding receiving promotional communications and increasing a betting or deposit limit upon registration, are optional.
8
When you're finished, click the Submit button to become a full member of the site.
Your registration will be completed shortly after you click the submit button, and you will then have successfully established your GG.Bet account.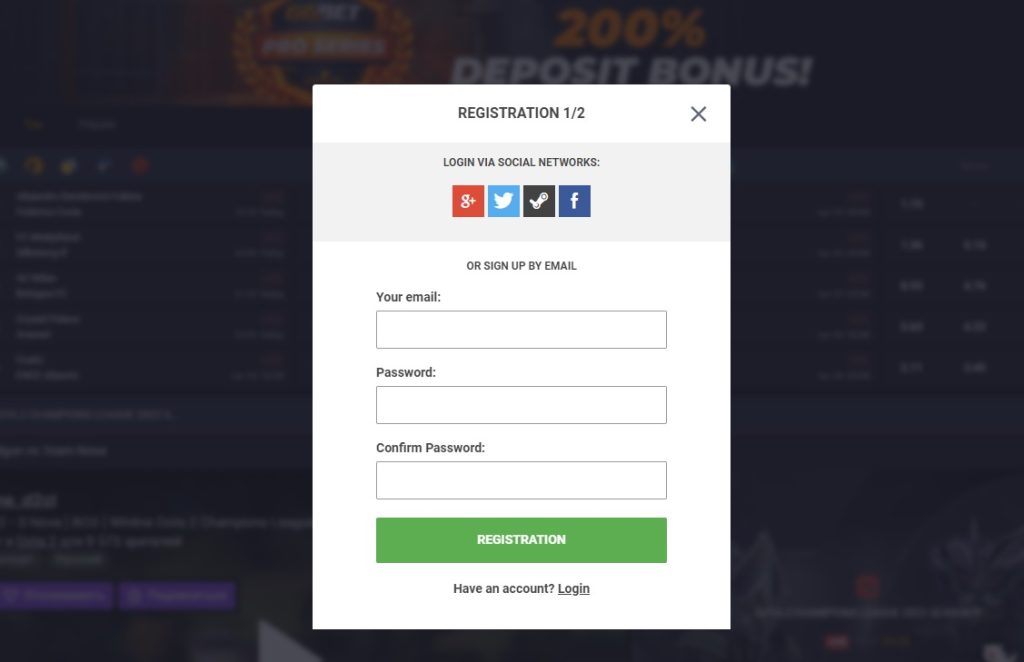 Make Your First Deposit
You've created an account and are now on your way to the GG.Bet. To begin using the site, you must first log in. However, you must have funds in your account before you can start betting, so let us walk you through the process of funding your account and activating the GG.bet bonus code.
Log in to your new account with GG Bet.
Locate the redemption code box by clicking on the Account Details box.
This is the point at which you enter a GGBet promo code, if you have one. To confirm the code entered, click the button.
Navigate to your account's banking area and pick your desired deposit method.
Enter the supplied payment method information and make your deposit.
Bear in mind that in order to obtain the maximum bonus, you must make a deposit of €200. Smaller deposits are matched 100% (a €30 deposit will get a €30 bonus).
After you've made a deposit, you'll get your bonus cash.
Once you've played through your deposit, you may begin utilizing your bonus funds on your account! Easy!
Bear in mind that you have 14 days from the moment you get your bonus to utilize it completely, and that your bonus comes with a 20x wagering requirements that must be satisfied before to the 14-day expiration date.
The highest amount that you may withdraw after meeting the wagering requirement is €50.
Place Bets
When you make a wager, you are given odds that reflect how much money you will get if your wager wins. GGBET esports odds are shown in decimal format. This implies that your returns may be calculated by multiplying the decimal odds by your investment (the amount you wish to bet). The greater the decimal odds, the more money you will win.
For instance, if you were to put €10 on an event with odds of 5.5, you would get €55 if your bet won (€45 in profits plus your initial €10 commitment).
Many people are used to seeing chances expressed in fractions — for instance, odds expressed as 25/1.
For fractional odds, if you risk €10 at 25/1, you will get a return of €260 (€250 wins plus your initial €10 wager).
25/1 is a fractional odds value that translates to "25 to 1," which means that for every €1 staked, you will win £25. The fractional odds of 25/1 are shown by the decimal value 26; this is computed by dividing 25 by one and then adding one (adding 1 represents your original stake being returned).
Withdrawal Money
GG.Bet prefers to withdraw money to the same payment method that you used to make your deposits. Also keep in mind that with GG.Bet, you may only withdraw a maximum of €25,000 in a single month. The betting site does not provide any information about how quickly they handle withdrawal requests.
GG.Bet

Review

GG.BET was founded in Cyprus by sports lovers and experts with the goal of developing a simple and accessible platform for betting on all major esports events worldwide.

While GG.BET's primary emphasis is on esports betting, the site also features slot games, instant games, and the chance to wager on a range of sporting events.
License and Legality
GG.Bet is a fully regulated betting site with the Malta and Curacao Gambling Commission's permission to provide clients with a safe, fair, and entirely transparent betting experience.
By instituting a stringent verification process, the betting site has taken efforts to fight money laundering. Additionally, GG.Bet utilizes GeoTrust and SafeCharge security technologies to assure the safety and security of your deposits and personal information. This should imply that you can wager with confidence at GG.Bet.
Available Countries for Esports Betting
GG.BET is not as widely distributed as some of the bigger businesses, and is not available in as many countries.
This restricts the number of people who may register and wager on the website (and may be an issue for regular travellers).
Additionally, it only displays odds in decimal format, which may be inconvenient for users who prefer a different format, such as fractional, as an option.
Betting Markets
For each esports match, GG.Bet offers a variety of various betting markets to choose from.
Esports Betting Markets
If you wanted to place a wager on major esports events such as the StarLadder Berlin Major, you would have access to 77 different betting options. These included CS:GO betting possibilities such as the right map score, the total number of maps, the odd/even number of maps, the map winner, the pistol round winner, the race to rounds, the total number of rounds for each time, and even whether or not there would be overtime.
GGbet Esports Odds
When selecting a bookmaker with whom to place bets, one of the most crucial factors to consider is the quality of the odds offered by that bookmaker. Once again, GG.Bet excels in this area, demonstrating how much you may enhance your wins by just selecting slightly better odds than the competition. GGbet esports odds are consistently considered as among of the finest in the business, and when you place a wager with them, you can be confident that you're receiving the highest possible pricing for all esports events, regardless of how many you wager.
Betting Options
While some esports betting site alternatives limit you to wagering on the most popular esports, GG.Bet allows you to gamble on a wide range of events.
In addition to the well-known GG.Bet CSGO betting possibilities, there are betting options for around a dozen additional esports.
There are a variety of games available, including League of Legends, Overwatch, Dota 2, StarCraft 2, Smite, Playerunknown's Battlegrounds (PUBG), Call of Duty: Black Ops III, Halo, NBA2K, Heroes of the Storm, Vainglory, and even the World of Tanks.
GGBet

Bonuses and Promotions

GG.Bet offers some attractive bonuses for betting.
Welcome Bonus
A fantastic welcome bonus for all new clients has just been announced by GG.BET. All you have to do to take advantage of this offer is open a new account with GG.BET and enter a Bonus Code if you have one, and you can look forward to receiving a 100 % bonus on your first deposit up to €200, with a minimum investment of only 10 euros. Just keep in mind that you must make your qualifying deposit within 14 days of inputting your GG.BET bonus code, or you will forfeit your opportunity to take advantage of this sign-up bonus offer.
Furthermore, the welcome bonus at GGbet Casino has been enhanced by a factor of 2.5 times.
In addition, gamers have x2.5 times the chance of winning their Jackpot if they participate.
Deposit Bonus
You may be granted a 100% matched deposit bonus up to 200 euros. This means that when you make your initial investment, you will have the opportunity to double your money — it doesn't get much better than that!
GG.Bet Bonus Code
Bonus code helps you claim the bonus announced.
GG.Bet

Esports Betting Markets

While some esports betting companies limit you to wagering on the most popular esports, GG.Bet allows you to gamble on a wide range of events. In addition to the well-known GG.Bet CSGO betting possibilities, there are wagering options for around a dozen additional esports. There are a variety of games available, including League of Legends, Overwatch, Dota 2, StarCraft 2, Smite, Playerunknown's Battlegrounds (PUBG), Call of Duty: Black Ops III, Halo, NBA2K, Heroes of the Storm, Vainglory, and even the World of Tanks.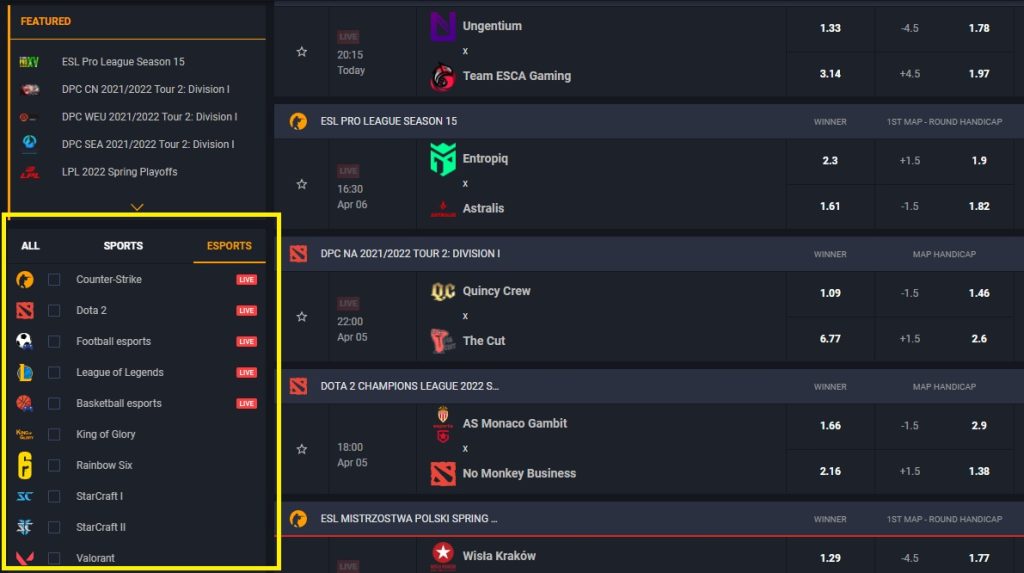 As of the time of writing this GGBet review, the company offered better odds for some esports than for others. For example, there were 50 distinct GGs available to choose from. Betting on CSGO is more common than betting on Overwatch, which is less common than betting on games such as Hearthstone, Call of Duty, and other popular titles. When competitions for these esports do take place, you can be certain that GG.Bet will be there to cover them.
League of Legends
GGBet as a top esports bookie, accepts bets for LoL games. In a professional esports scenario, League of Legends is a 5v5 contest in which the win condition is the destruction of the other team's nexus building in their base.
A total of three roads (usually referred to as "lanes") link bases to one another, and these paths serve as the main means by which one side confronts the other team in combat.
Counter Strike: Global Offensive
CS:GO has emerged as a significant component of GG.Bet's portfolio, with the company currently providing more CS:GO events and tournaments than at any other time in its history. In fact, as a sponsor of the ESL Pro League, they've increased the number of betting markets and chances available on their website, and you'll find yourself surrounded by options — they have one of the most comprehensive selections of CSGO betting markets available anywhere on the world!
StarCraft II
While it is possible to play 2v2, Starcraft is most known for its competitive battles, which are mainly 1v1.
Players begin by selecting one of three separate factions from which to play. Games may be played between players who are from the same faction by utilizing two characters from the same faction. Players usually specialize in a single faction while playing online. Each faction has troops and abilities that are completely distinct from the others.
GG Bet provides its clients with great chance to wager on StarCraft II game.
Dota 2
Dota 2 is another of the most popular esports betting markets at the moment, which is why – as with CS:GO – it is given a specific mention in this section of the guide. A wide range of Dota 2 betting markets and events are available at GG Bet, with the biggest tournaments taking place all around the globe. They are also consistently proven to be providing the finest Dota 2 odds, so you will be hard-pressed to find a better location to wager on this massively popular war game than at GG.Bet.
Rainbow 6
GG Bet, among other things, provides access to Rainbow 6 bettings. Rainbow 6 betting is particularly popular among FPS aficionados, especially since the game is regarded as a viable alternative to CSGO.
Anyway, given the fact that both brands have been competing for the first-person shooter market since the early 2000s, it was only natural for them to attempt to break into the esports industry.
GGBet

Casino

GG.bet seems to be rather proud of its live casino, and with reason. They provide a diverse selection of games, allowing gamers to simulate a true casino experience from the comfort of their own homes. All live casino games and slots may be played on a mobile device, which means you don't even need to get up to play.
To begin, just choose your game (GG.bet's most popular games are blackjack and roulette), log up, and begin playing with real people.
Additionally, there is the possibility to communicate live with both your other players and the dealer, which adds a desired social component to gambling.
Casino Bonuses
GGBet's promos are not limited to the sportsbook. Additionally, the casino bonus offer incentives. The GGBet casino is a sizable portion of their website, and they also provide incentives to bettors.
Numerous major bookmakers that also provide casino games will offer incentives.
Casino bonuses may range from free spins on certain slot games to special cards that payout when selected in table games. Casino bonuses are a popular feature that many operators provide.
Consider a few of the casino bonuses offered with GGBet.
New Year Bonus: A rotating list of various incentives offered in 2022, including matched deposits and free bets.
Weekend Bonus: Up to $200 in Bonus Cash and 50 Free Spins
Weekly Bonus: Every week, get a 100% match on your deposit and 25 free spins.
Available Casino Games
Casino material is located under the 'Games' category and includes an outstanding assortment of standard casino games. This means you'll discover more than 500 of the top slot games, as well as table games like blackjack, baccarat, roulette, craps, and Texas Hold 'Em, as well as a decent collection of video poker games.
Additionally, you'll discover a limited selection of 12 live casino blackjack and roulette games as well as a variety of Insta-Games such as Four Aces, Roll the Dice, and Minefield. Finally, it was pleasant to discover a couple of tiny casino bonuses in the 'My Bonuses' area that could be used on a slots game and instant online casino games.
GG

Bet: General Overview

This sportsbook's primary features include eSports bets and live sporting events, where users may benefit from decent odds and bonuses, a user-friendly layout, and several payment methods.
Today's gamers have a plethora of online sportsbooks to choose from, but not all of them are worth their time and effort.
Usability of Betting Site
In fact, we're convinced that the majority of GG.BET reviews will be positive in nature due to the fact that many prominent esports bets markets are mentioned as soon as you access the site, making it extremely simple to select your favorite game or market. Live betting options are there in front of you, making this a wonderful GGbet site for newcomers to try their hand at betting.
The dark backdrop makes browsing the material on their website extremely straightforward, and live streaming of esports competitions that are now taking place are quite easy to access on their site. From our perspective, the usability of GG.BET is really good.
Similarly to many other betting sites, the markets and sports are shown on the left-hand side of the screen in a vertical list, making it very simple for both newbies and seasoned punters to make a wager with the least amount of effort.
All of their promotions are included under one tab, so whether you're seeking to place a wager on established sports, MMA, or Hearthstone, you'll always know where to go to get the greatest prices.
Payment Methods
Our GG.Bet esports bets review discovered that the betting site offers a solid selection of secure payment options that should make funding your GG.Bet account simple.
This implies that you may make deposits and withdrawals using a variety of payment methods, including Skrill, Neteller, MasterCard, Visa, ecoPayz, Trustly, and Paysafecard. At GG Bet, you may make deposits starting at €5, and withdrawals for e-wallets start at €5. Card withdrawals need a minimum of €50.
Customer Support of GGBet Sportsbook
Suppose you want an immediate answer from GG.Bet, you may utilize the site's easy live chat tool. Additionally, it was reassuring to see that the betting site contains an e mail contact for customer care and a UK telephone hotline.
Additionally, a rather comprehensive FAQ section is available by clicking on the 24/7 Support symbol on the GGBet site.
Conclusion
In general, GG.BET is an attractive website with a heavy emphasis on esports. The sign-up procedure is straightforward, and navigating the different games and marketplaces is a breeze. This is made feasible by the site's strong concentration on esports: it does not need to conform to the general betting design used by other betting sites to provide betting on a diverse range of events.
GG.BET, in comparison to other of the bigger businesses, is not offered in as many countries. This restricts who is eligible to register and wager on the website. Additionally, it only displays odds in decimal, which may be inconvenient for those who prefer a different format, such as fractional.
FAQ
The site is completely regulated by the Malta Gaming Authority, offers only secure payment methods, and has a friendly customer support staff available through live chat. All of this contributes to GG.Bet is a safe and reputable alternative for your esports bets.
GGbet operates in the same manner as any other esports bookmaker. Create an account, make a deposit, and get your welcome bonus. Following that, choose the game of your choice and put wagers on the best odds. Always familiarize yourself with the website before to registration. You may do so by visiting gg.bet and learning more about what they have to offer.
What are the ways to pay with real money?
GG.Bet offers a variety of real money payment options. Skrill, Neteller, Visa, Sofort, MasterCard, EcoPayz, DotPay, Trustly, S€PA, Giropay, and Paysafecard are among these payment brands.
Last updated on 14 Feb 2023 - 16:55