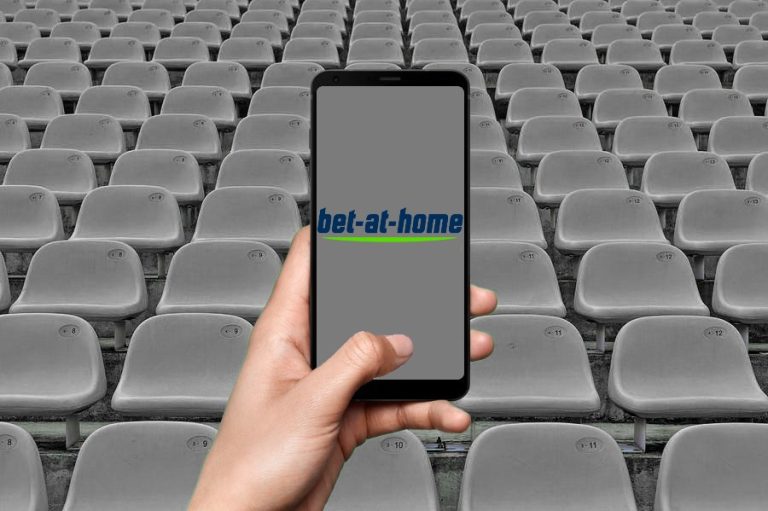 Bet-At-Home was among the earliest betting sites to start in the 1990s, making it a pioneering figure in the online betting sector. When the market began to shift toward mobile betting, Bet-At-Home was among the first to build independent mobile betting apps. The firm provides two unique mobile betting apps: one for sports betting and another for casino games. Bet-At-Home has maintained its Android betting applications throughout the years, providing frequent upgrades to guarantee gamers enjoy nothing but a faultless mobile gaming experience.
Despite the fact that their gaming items are available in two distinct applications, you will find both of these apps to be incredibly simple to use.
This is due to the fact that the user interface was created with the end-user in mind, resulting in a basic structure with clearly labeled navigation tabs. The theme and color schemes match the style of the main site, with blue, grey, and green colors completing the appearance on a predominantly white background.
Bet-at-Home

App Review and system requirements

One of the primary differentiating qualities that emerge from these pros and disadvantages analyses is compatibility. So, which phones are compatible with the Bet-At-Home apps?

You must have Android OS version 5.0 or later to use the casino or sportsbook android app. The iOS applications are more particular; the casino app requires iOS 9.3 or later, while the sportsbook app requires iOS 10.0 or later.

Based on these system requirements, we've offered samples of suitable devices for you to compare with your device.
Sony Xperia Z
Motorola Z4
Huawei Mate 20
Huawei P30
Samsung S7 and S7 Edge
iPhone 8
iPhone XR
iPad Mini
If your phone does not fulfill these minimum system requirements, you can play through the mobile site version, which works with any phone that can browse the internet.
How

to download and install Bet-at-Home App for Android?

Android applications are simple to use and have low system requirements, so they may be used on a variety of Android tablets and phones.
Any frequent player is aware that Google no longer permits real money gambling applications on their official Play Market.
As a result, the Bet at home app Android download is distributed via .apk files. The same holds true for the Bet-At-Home Android app. As a result, the installation process differs slightly from that of a standard Android app installation. If you follow the directions below, you will be able to install the app in a matter of minutes.
First, change the settings on your phone or tablet to enable installation from an unknown sources. To do so, navigate to Settings > Security > Unknown Sources.
Open your mobile browser and navigate to the Bet-At-Home mobile site. On the home page, there is a 'Mobile' tab in the top navigation bar. To access the download page, click on this tab.
To begin the download, click the .apk file link provided.
Once the download is finished, open the downloaded file and begin the installation. The icon for the app will be added to your home screen and app drawer.
To begin betting, open the app and sign in.
How

to download and install Bet atHome App for iOS?

Gamers who use the Bet at home iPad app and iPhone app are also adequately provided for. Bet-At-Home has created an app for iOS smartphones that is comparable to the one for Android devices. The majority of the functions are comparable to those found in the Android app. A similar strategy is applied here, with two separate applications for the sportsbook and mobile casino. This means you can't play casino games on the sportsbook app or wager on sports on the casino app.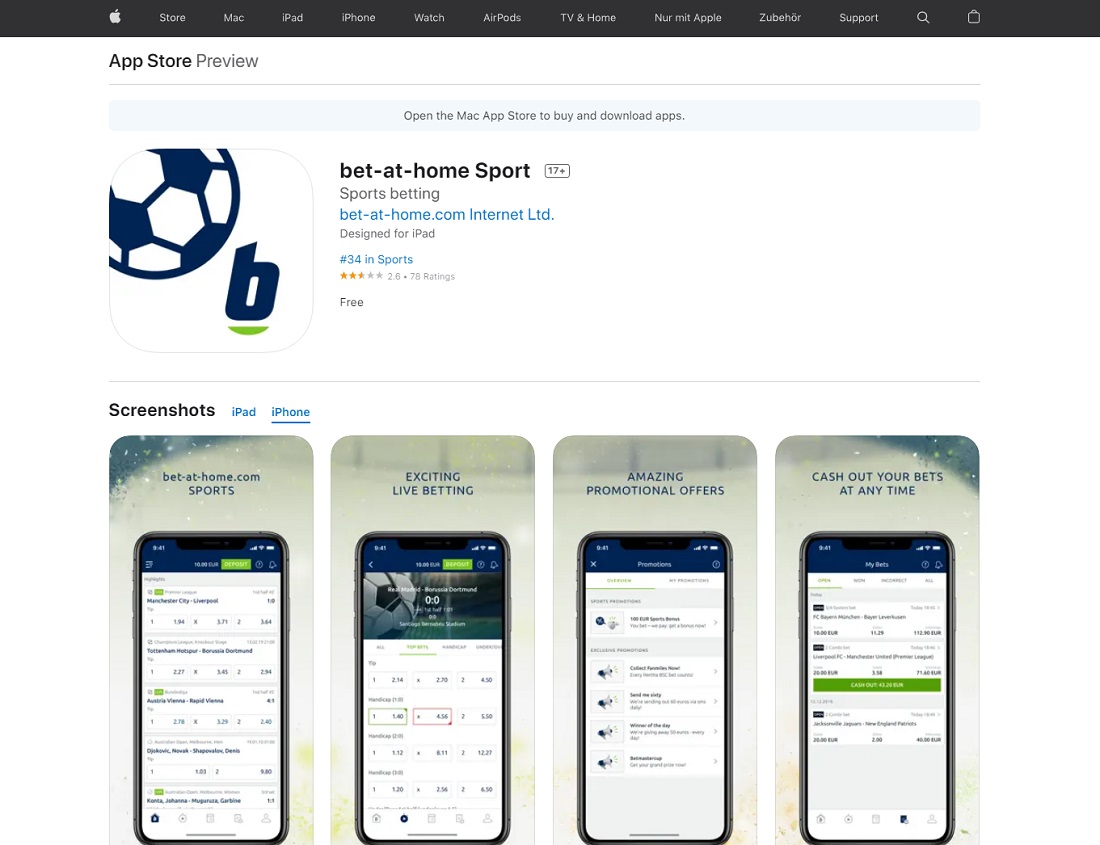 The iOS applications mirror the breadth and depth of the Bet-At-Home desktop site in terms of content and betting markets. The iOS applications ensure that you have access to the broadest choice of casino games and sports betting markets right in the palm of your hand.
The installation procedure for iOS apps is more user-friendly than that of Android apps.
This is because Apple has no objections to real money betting applications being included on their official app store. As a result, the installation process will be the same as with any other sort of iOS program.
Launch your iPhone or iPad's app store.
Look for the app by searching for 'Bet-At-Home.'
Select the Bet at home app download and install.
Open the app and begin betting.
As with the Android version, players in some countries may not be able to access the Bet at Home iOS app through the app store.
How

to register in the Bet-at-Home app?

1
Visit the app and tap the Register Now button in the upper right-hand corner of the site
A registration form will appear, which you must complete correctly. The first step in completing the registration form is to choose your name. You can use either Mr. or Ms. Then, in the spaces provided, provide your first and last name. You will then be able to input your street number, postcode, city, birthplace, nation, and currency. Then provide your birth date and mobile phone number.
2
Enter your login information
Enter your email address and password. Check to see that your password is strong enough, and then re-enter it in the Repeat password field.
3
Choose a term for your deposit limit
For instance, it may be per day, week, or month, or you could select "no limit." Then select the icon to the right to get information about betting highlights and bonus promotions via the website's newsletter. You may also select the second option to getting customized offers and coupons through SMS.
4
When you're finished, click the Register Now button to complete your Bet-at-home registration
After completing your registration, you must validate your email address. Bet-at-home would send a confirmation link to your email, which you would click, copy, and paste into your browser to validate your email. The betting site will then produce an account number for you to use whenever you desire.
Please keep in mind that if you use Gmail as your email address, the link may not arrive in your 'Primary' folder. Please double-check your 'promotions' and'spam' folders.
It is important to confirm your email address since you will only be allowed to log into your account once you have done so.
You may also request a new link if you can't find the one that was supplied to you. Enter your customer information in the login field and click the Login icon. You will then see a pop-up with instructions on how to obtain a new connection.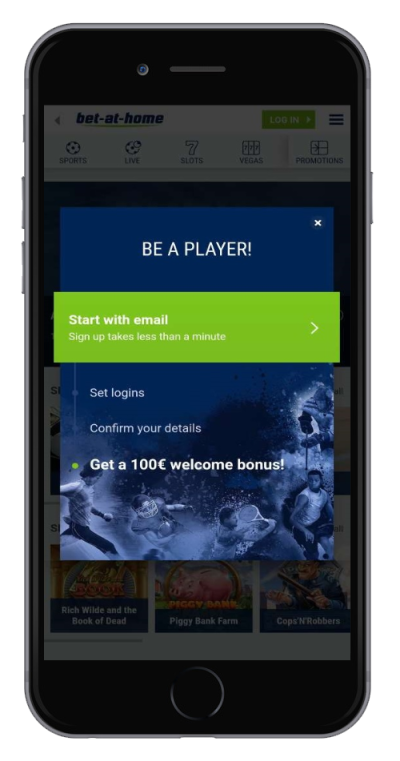 If you did not get an email or entered an erroneous email address, you must email customer service. The support team will update your data, and you can then request another link.
Features

of the Bet-at-Home mobile app

You may be confident that the Bet-At-Home mobile applications will provide you with the same high-quality betting items as the main desktop site. They have included a few extra features to liven things up a touch. The applications may not have many unique features, but they do provide a comprehensive mobile gaming experience.
Cash out. The cash out option on the sports betting app is one of the most prominent features. This is a feature that allows you to reduce your losses by withdrawing from a bet before it is resolved. With the cash out option, you don't have to sit through the full tournament and watch your wager burn if things go wrong.
Option for live betting. Still, the sportsbook app allows you to place in-play bets on live matches and events. By choosing the 'Live' icon on the main app menu, you can simply filter the events in the live betting markets. The betting possibilities on this page are just as diverse as the markets on the main sportsbook website.
How

to bet on the Bet-at-Home app?

Unlike the desktop version that most people are familiar with, the Bet-at-Home app is considerably easier to use since it lacks excessive language. The smartphone app is extremely user-friendly and engaging. It has sliders to make the site more user-friendly and appealing to prospective participants.
The mobile app, like the desktop version of the betting platform, displays the most recent betting events that you may participate in, but in a more organized fashion.
This makes navigating the website very simple. You may view the different betting markets and their odds.
Horse racing, tennis, football, basketball, hockey, and other sports are among the most popular betting markets. The eSports industry, often known as the online gaming sector, has been added to the list of sports betting markets. Sports betting markets, live betting, casino, live casino, poker, and bingo are all available.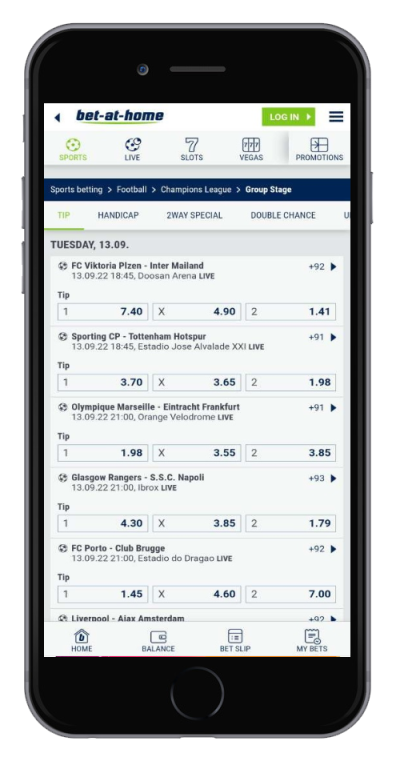 Payment

methods of withdrawal and deposit in the Bet-at-Home app

Members have alternatives for sending and receiving payments, as with most aspects of the Bet-at-Home service. You can select to rapidly deposit funds into your betting account, allowing you to contribute money and gamble on sports without waiting. You may also indicate which account any wins should be sent to. Each choice is secure and safeguarded by the most recent internet security methods.
Methods of deposit
Below are some examples of deposit alternatives accessible at Bet-at-home:
| Payment method | Minimum deposit | Maximum deposit | Time of deposit |
| --- | --- | --- | --- |
| Visa | $10 | No limit | Instant |
| MasterCard | $10 | No limit | Instant |
| Skrill | $10 | No limit | Instant |
| Neteller | $10 | No limit | Instant |
Methods of withdrawal
Here are some examples of withdrawal possibilities offered at Bet-at-home:
| Payment method | Minimum withdrawal | Maximum withdrawal | Time of withdrawal |
| --- | --- | --- | --- |
| Visa | $30 | $5000 | 3-5 business days |
| MasterCard | $30 | $5000 | 3-5 business days |
| Skrill | $10 | $6000 | 24 hours |
| Neteller | $10 | $10000 | 24 hours |
Mobile

Website Version

Customers absolutely adore Bet-at-mobile Home's app because of the variety of functions it provides.

As previously said, the platform's mobile version is particularly appealing due to its ease of use and accessibility. It displays the available events, odds, outcomes, and progress of each event at your fingertips.

Another feature of the mobile app is live betting, which allows you to place bets as events happen. You may track the progress of all betting events on your phone with the live betting option. Furthermore, as long as you have an internet connection, you may place your bets at any time.
One of the mobile website's standout features is the last-minute bet, which allows you to place a wager shortly before kickoff. This helps you to take advantage of the time period and make extra money.
Finally, there's the player's handbook, which may be located on your mobile website's homepage. This allows gamers to rapidly view the platform's terms and conditions. You will be able to navigate the platform and understand the regulations.
Bet-at-Home

App Pros and Cons
There are other sports to wager on, including football, tennis, and Formula One;
When compared to the biggest bookmakers, the odds are competitive;
The homepage has a live betting list, which facilitates in-play betting;
Reliable customer service and a quick live-chat function.
Users have no access to live streaming.
FAQ
How to update the Bet-at-Home app?
While upgrading the bet-at-home smartphone app takes little to no time, it is done manually. You may find available updates on the official website and also in the App Store and Play Market.
Do I need to validate my account when I register?
Yes. Upon registration, the app's typical step is to validate your account.
You won't need to download an.apk because the software is available in the Play Store and the Apple Store. However, if you're an Android user, you'll need to change your phone's security settings in order for the app to operate.
Is there a customer service department that can answer questions that aren't answered in the FAQ?
Yes. There are several methods to contact customer service. The first is to complete a feedback form. The next step is to send an email. The third option is to speak with a customer support representative.
Last updated on 08 Sep 2022 - 18:03
Liked this publication?