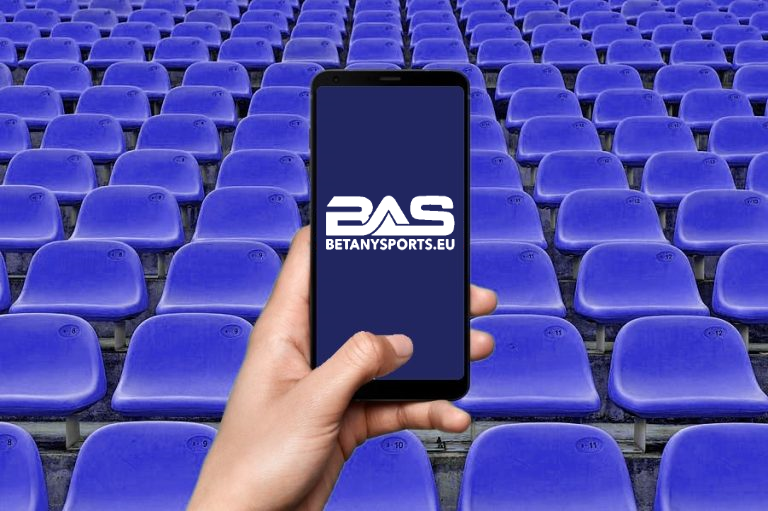 Are you a sports enthusiast who loves to bet on your favorite teams and players? Look no further than the BetAnySports App. With its user-friendly interface, a wide range of sports options, and convenient features, this app has become a go-to platform for sports betting enthusiasts. In this article, we will provide an in-depth review of the BetAnySports App, including its device compatibility, downloading and installation process, sportsbook features, account registration, betting options, deposit methods, cashing out winnings, and answers to frequently asked questions.
BetAnySports

Mobile App Review
The BetAnySports Mobile App is a comprehensive platform that brings the excitement of sports betting right to your fingertips.
Whether you're a seasoned bettor or new to the world of sports gambling, this app offers a user-friendly interface and a wide range of features to enhance your betting experience. From its sleek design to its extensive sportsbook options, the BetAnySports App has garnered positive reviews from users worldwide.
BetAnySports

App Device Compatibility

One of the standout features of the BetAnySports App is its compatibility with various devices. Whether you're an iOS or Android user, this app has got you covered. It is available for download on the official BetAnySports website, making it easily accessible for smartphone and tablet users.

No matter what device you prefer, you can enjoy seamless betting on the go with the BetAnySports App.

Downloading and installing the BetAnySports App is a breeze.

Here's a detailed guide on how to download and install the app:
How

to download and install BetAnySports?

1
Open the web browser on your mobile device and visit the official website of BetAnySports.
2
Once you're on the website's main page, scroll down to the bottom section.
3
Look for the icon that represents the BetAnySports mobile application.
It is usually clearly labeled or accompanied by a mobile device symbol.
4
Tap on the icon to initiate the download process.
5
Depending on your device's settings, a pop-up window may appear, asking for permission to download applications from third-party sources.
This step is necessary as the Bet Any Sports App is not available on official app stores.
6
Allow your phone to download applications from third-party sources by enabling the option in your device's settings
This step ensures a smooth installation process.
7
Once the download is complete, locate the downloaded APK file on your device.
The APK file is the installation package for the BetAnySports Mobile App.
8
Unpack the APK file by tapping on it or following the instructions provided by your device.
9
Unpack the APK file by tapping on it or following the instructions provided by your device.
Follow the on-screen prompts to complete the installation of the BetAnySports App.
10
Once the installation is finished, you can launch the app by locating its icon on your device's home screen or app drawer.
11
Open the app, and you'll be prompted to log in or register for a new account if you haven't done so already.
Congratulations! You have successfully downloaded and installed the BetAnySports Mobile App on your mobile device. You can now enjoy the exciting world of sports betting right at your fingertips. Access a wide range of sports, place bets, and stay up to date with the latest odds and updates, all within the convenience of the BetAnySports App.
Bet

Any Sports Mobile Sportsbook App

The Bet Any Sports App offers an extensive sportsbook that covers a wide range of sports and events. From popular sports like football, basketball, and soccer to niche sports like table tennis and darts, this app caters to the preferences of every sports fan.
It provides a comprehensive selection of betting markets, including pre-match and in-play options, allowing users to place bets on their favorite teams and players with ease.
Registering a New Account on BetAnySports App
To start using the BetAnySports App, you need to register for a new account. Registering as a new participant through the BetAnySports App is a seamless process that closely mirrors the registration procedure on the official website. Follow these steps to create your account:
Launch the BetAnySports Mobile App on your device.
On the main page, locate the "Register" button positioned in the upper right corner.
Tap on the "Register" button, and you will be automatically directed to a registration form.
The registration form will consist of various empty fields that require your information. It is crucial to provide accurate and truthful details about yourself during this process. Remember that any discrepancies in personal identification information may result in your account failing the verification process.
Fill in all the empty fields with the necessary information.
Next, locate the checkbox next to the statement acknowledging your familiarity with the "Terms and Conditions." Tick the checkbox to indicate your agreement.
Click on the "Register" button to proceed.
After completing the registration, a confirmation email will be sent to the email address you provided during the registration process.
Access your email account and locate the email from BetAnySports.
Open the email and follow the instructions provided within it.
By following the link provided in the email, you will finalize the registration process and gain access to the verification procedure required by BetAnySports.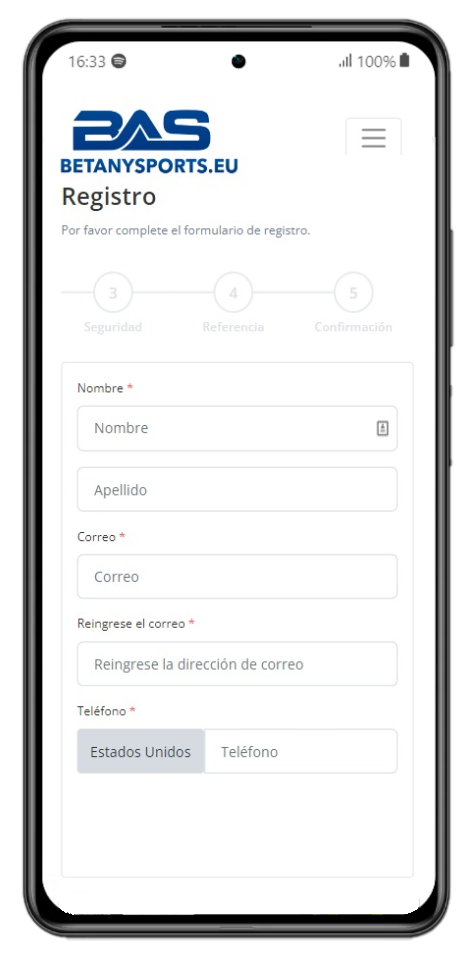 That's it. You have successfully registered as a new user at BetAnySports through the mobile app. Completing the verification process will ensure the security of your account and provide you with full access to all the features and functionalities offered by the Bet Any Sports App. Enjoy the excitement of sports betting and explore the extensive range of betting options available to you.
How to make a bet in the BetAnySports app?
Placing a wager on the BetAnySports App is extremely simple and is intended to improve your overall betting experience. Once you've entered into your account, you'll see a plethora of sports to choose from. Whether you enjoy mainstream sports like football, basketball, or soccer, or prefer niche sports like table tennis or darts, the app has something for everyone.
Take your time browsing through the available sports and events before making your wager. The app gives a full schedule of forthcoming matches, tournaments, and competitions, ensuring that you never miss a beat. The user-friendly interface allows you to effortlessly navigate through different sports categories and find the event on which you want to bet.
Once you've chosen your event, the BetAnySports App will show you a variety of betting alternatives.
The app provides a wide number of wagering options, including classic moneyline bets, point spreads, over/under predictions, and prop bets. You can select the sort of bet that corresponds to your betting strategy and preferences.
After picking on the sort of wager, you must input your stake amount. You can enter the desired wager into the app, giving you complete control over how much you wish to stake. Whether you're a low-roller or a high roller, the BetAnySports App supports a wide range of stake levels, allowing every user to adjust their bets to their degree of comfort.
After you've input your stake, go over your choices and double-check that everything is correct. Check the odds, event facts, and your chosen betting choice to ensure that they correspond to your plans. The app's user-friendly layout shows you your bet in a clear and transparent manner, giving you the confidence to proceed.
Simply confirm your selection when you are ready to place your wager. Your bet is processed quickly and efficiently via the BetAnySports App, guaranteeing that you never miss out on a wagering chance. The app also provides real-time odds and updates, keeping you up to date on any changes that may occur before the event start. This tool allows you to make informed judgments and alter your bets as necessary, increasing your chances of winning.
The BetAnySports App allows customers to remain ahead of the game by incorporating real-time odds and updates into the betting process.
The app's dedication to providing accurate and up-to-date information improves the whole betting experience, allowing users to make informed decisions.
Deposit Options Available on BetAnySports App
You have various methods for depositing funds into your BetAnySports sportsbook account to suit your tastes. While BetAnySports' customer service is well-known, it is worth noting that performing transactions online is highly encouraged due to the substantially reduced minimum requirements.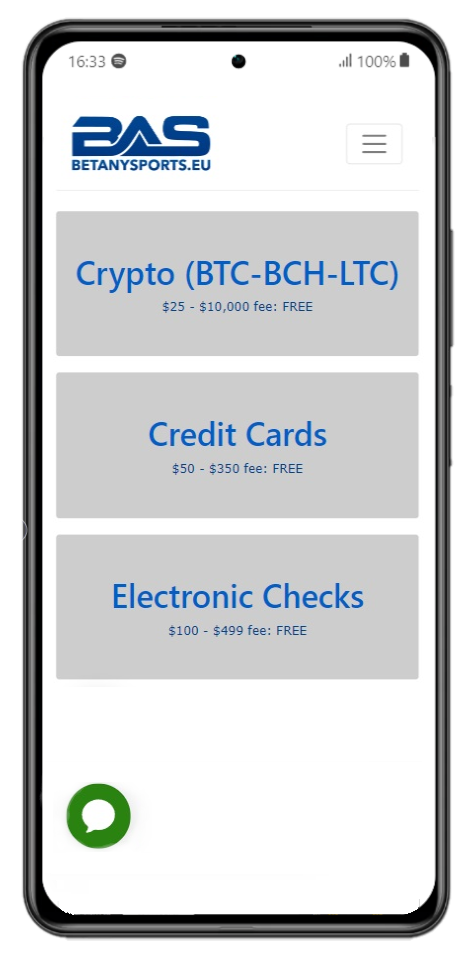 With the industry shifting toward Bitcoin deposits, it is highly suggested that you perform all of your deposits and withdrawals in this manner. The key reason for its appeal is that there are no transaction fees and the limitations are larger. Players will not only be able to deposit large sums, but they will also be able to withdraw large sums. The Bitcoin minimum deposit is $25 at the time of writing, and the maximum amount is $25,000.
If Bitcoin is still not your thing, there are a variety of different deposit options.
The second most popular method is to pay with a debit or credit card. The minimum deposit for this (or any other deposit channel) is usually $50. You can also mail them a check with no maximum limit. If you choose to do so, it is strongly advised that you first contact customer service.
Cashing Out Winnings at BetAnySports
When it comes to cashing out your winnings, the Bet Any Sports App provides a hassle-free process. With the exception of credit and debit cards, you can withdraw money using the same methods; however, if you want to withdraw your winnings after a credit card deposit, you must complete the 3X rollover restrictions. Money order transfers have a set cost of $100 for withdrawals, making them the least convenient unless you are withdrawing hundreds of dollars; the other methods also include transaction fees.
You can quickly withdraw your funds if you have a winning bet or a sizable balance in your account.
Navigate to the app's "Withdraw" area, choose your preferred withdrawal method, enter the appropriate information, and start the withdrawal. The software strives to execute withdrawals quickly, allowing you to enjoy your wins as soon as possible.
FAQ
How do I place a bet on the BetAnySports mobile app?
Placing a wager on the Bet Any Sports App is simple and quick. Simply log in to your account, select the sport and event on which you wish to wager, choose the type of bet, enter your stake amount, and confirm your bet. The app displays real-time odds and updates to help you make smart wagering decisions.
Can I place a free bet on the BetAnySports app?
Free bets are not a standard feature of the BetAnySports App. The app does, however, occasionally offer promotional deals and prizes, which may include free bet opportunities. To take advantage of any accessible free bet deals, keep an eye on the app's promotions section.
Where can I download the BetAnySports app on my phone?
The BetAnySports App is exclusively available for download from the official BetAnySports website.
Last updated on 20 Jun 2023 - 16:45
Liked this publication?