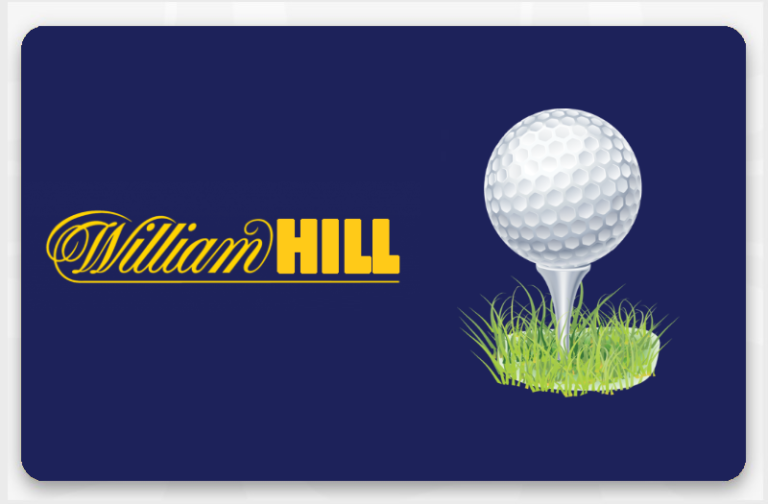 Golf is a very attractive sports for betting: full of events all year round and offering a big variety of betting markets, it's always a highlight for every sportsbook.
William Hill golf betting offer is worth your attention, especially if you are into the biggest US events like Masters or US Open.
In this guide, we will consider William Hill golf odds, the best features and probably some disadvantages of William Hill golf betting.
Golf

Betting Features

William Hill has a pretty wide range of golf betting markets available daily for various events. Among the top William Hill golf betting features are:
Convenient interface;
Live betting odds;
Competitive prices;
Special odds for selected markets;
Individual and group markets for the whole tournament or a particular round.
William

Hill Golf Betting Rules

William Hill golf betting rules are actually not very different from the ones it has for the rest of the sports. However, there are some nuances you need to know, as golf has many specifics: a big number of players, high dependance on the weather conditions, and several rounds, lasting for more than one day.

So here are William Hill rules created especially for golf betting:

Cancelled round rules. Sometimes, weather can spoil a round, or even the whole tournament. For example, a whole day can be cancelled due to the heavy rain. If the players are lucky enough, the round might be just postponed for a couple of hours.
However, sometimes the schedule can be severly ruined, and the game organizers are forced to cancel some rounds.
What if you wagered on exactly that cancelled round? Your wager will be cancelled as well — but if you bet on the tournament winner, the number of rounds won't matter.
Withdrawn players. No matter the reason why a player eliminated from the tournament, your bet will be counted as lost. Besides, if the leading player is disqualified, the next player becomes a winner, so your tournament bet might win in this case.
William

Hill Golf Betting Coverage

William Hill doesn't cover all the golf events you can think of. Unlike its soccer coverage, involving plenty of minor leagues worldwide, William Hill golf betting is mainly about the biggest tournaments. So here is what you will find at William Hill golf betting page depending on the current golf season.
Events
The Masters — the first tournament from the Major series, traditionally held in Georgia, USA. William Hill golf betting usually covers four days of this seven-day event, and doesn't always offer odds for practice rounds.
U.S. Open — a part of the PGA Tour and the European Tour, US Open is the second tournament from Majors. Held only on open fields, it remains pretty unpredictable in dates, as it much depends on weather conditions. So, William Hill Open golf betting odds might fluctuate much — but overall, remain competitive enough for pre-game, futures, and live bettors.
The Open Championship — The only event of Majors, happening outside the USA, and always held on open fields of Scotland, Ireland, and England. Taking place on weekends, it attracts plenty of viewers and golf bettors, so you will always find some odds for the top players at William Hill.
US PGA Championship — the fourth Majors tournament, full of events and various betting markets available at William Hill golf betting.
Besides the Majors, William Hill offers odds for various other big cups: FedEx Cup, Ryder Cup, Solheim Cup, and more. Pre-game markets for these tournaments, as well as betting options for in-play betting are not always available, but you can still come across them from time to time.
Markets
To understand what you can wager on, you should first get the idea of the gaming rules, right? If you already know all nuts and bolts of how golf is played, you can safely skip this part and jump straight to the next section. However, even a newbie can win at golf betting — so if you need a quick onboarding, here it is.
The aim of a golfer is to score a ball in holes with a club, trying to use fewer shots than an opponent.
Each game includes a particular numberof holes a participant must pass in a certain order. The field might contain various obstructions.
Each participant can use no more than 14 clubs: each of them are different and allow to make various shots.
So, armed with this basic knowledge, you will find William Hill golf betting markets more clear. Here they are:
Tournament winner. The most straightforward wager, where you simply pick a player and wager on him winning the whole game.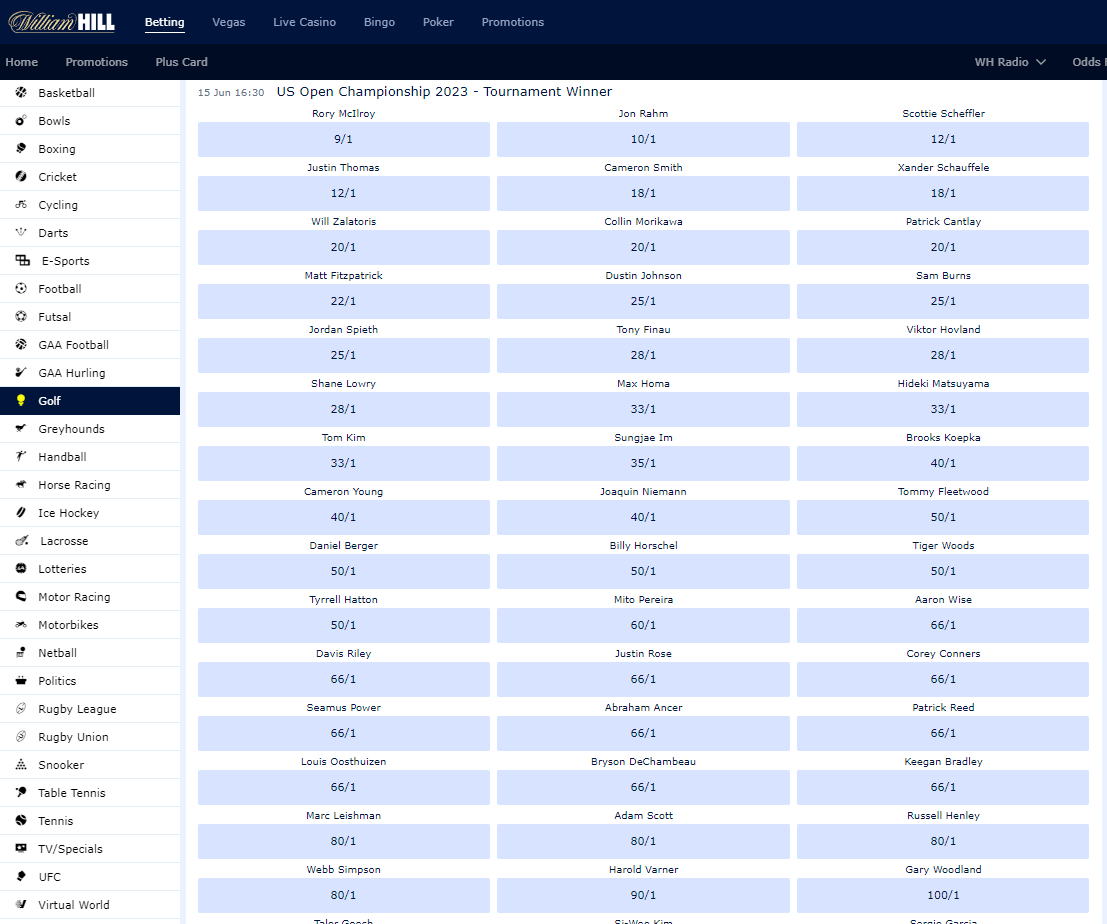 Players to finish in the top-20. Every golf tournament has plenty of players. Three most typical numbers of participants are 132, 144 or 156. So, it's pretty challenging to guess who will the the first. To make things simpler, bookmakers suggest you to choose one of the top-20 players — also difficult, but much more real, in fact. Besides, there are top-10, and top-5 leaderboards.
3-ball wager. PGA tournaments and some other golf events divide players in groups of three. So, you can wager on a player from a single group, comparing only three competitors, not 100 and more.
Player props. Such a market is not very common for William Hill golf betting — but there are still some for the biggest tournaments. Props are wagers on particular events or players' actions. For example, it might be a bet on who will be the first after a particular round or what country the winner will be from.
Futures. Wagers on the outright winner for the upcoming events or outcomes that might happen in future. For example, there are always William Hill Masters golf betting odds for future betting.
Live betting odds. All the same wagers, but available right during the course of the tournament, so you can watch the event and place wagers in real time.
Golf

Offers And Promotions

William Hill is not like many modern sportsbooks: you won't find regular reload bonuses, or some special free bets, but the one given as a welcome bonus.

However, William Hill has many special odds offers. Here are some options:
Enhanced odds. WilliamHill golf betting odds available for particular markets
Epic odds. Mainly available for soccer, they might still be sometimes found for some top golf rounds.
#YourOdds. A chance to suggest your own markets if you didn't find anything for you among the existing William Hill golf odds. Just post your odds via Twitter with the #youodds hashtag and they will appear in the betting coupon:

How

to Bet on Golf at William Hill?

To make a golf wager at William Hill, go to the main page and find Golf in the list of disciplines in the list on the left. You will see all the available markets. Choose a market, an outcome you want to wager on, and add it to the bet slip. Confirm your bet, and wait for the outcome, that's it.
Besides, don't forget to check the top bets list on the right: it shows betting highlights and the top profitable bets currently available for all sports.
To

Sum Up

William Hill offers competitive golf betting odds, and, even though the number of markets for every tournament might seem a bit small, the offer is still overall nice and profitable. Don't forget to claim your welcome bonus to squeeze the most out of your William Hill golf betting experience.

Last updated on 19 Apr 2023 - 08:58
Liked this publication?