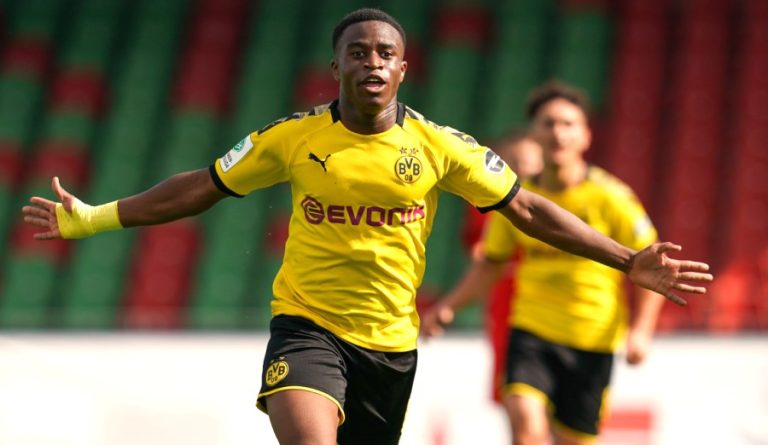 Doubts have surfaced regarding the age of Borussia forward Youssoufa Moukoko.
According to Bild, the striker may be 22 years old rather than 18. They write this referring to documents provided to journalists by Moukoko's adoptive father. Publication of these documents is prohibited by law.
Moukoko was born in Cameroon and moved to Germany in 2014, where he was adopted. At the age of 14, he ended up at Borussia U19.
Earlier, 21 of the 30 players called up to the Cameroon U17 national team for the African Youth Championship qualifiers failed the MRI tests required to confirm their age. Another 11 players then failed the test.
This raised doubts that Moukoko was 18 years old.
The Daily Mail sent an inquiry to the German Football Association (DFB) about this. They replied, "We do not comment on any speculation."
The DFB had already issued a statement in 2017 regarding Mukoko's age, whose official date of birth is Nov. 20, 2004.
"The DFB has already had a number of intensive discussions with Borussia Dortmund at various levels. At the DFB's request for careful consideration of the facts, those responsible at Borussia Dortmund always point to the authenticity of the papers and documents, which are also known by DFB.
There is therefore no doubt about the correctness of the age of the player. In this matter, the DFB relies on the details of the home club of the player," the DFB stated in 2017.
The Daily Mail writes that Newcastle and Chelsea, who are interested in acquiring Moukoko, are ready to withdraw from negotiations if the investigation into the player's age continues.
Last updated on 14 Jan 2023 - 23:53
Liked this publication?