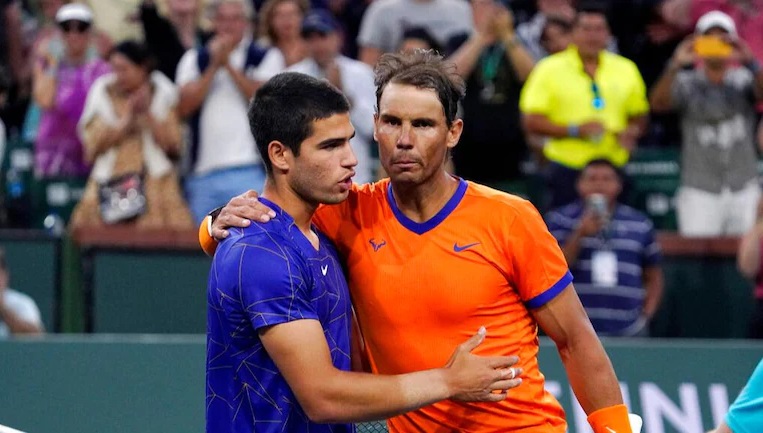 Friday in Madrid, Carlos Alcaraz survived an injury scare on route to a historic triumph against Rafael Nadal, setting up a must-see semi-final versus Novak Djokovic. Alcaraz began the match with a 0-2 record against Nadal, but he was confident in his prospects given Nadal's lack of match experience. Nadal was sidelined for six weeks due to a rib ailment, and he came in Madrid unprepared to play on clay.
In a thrilling quarterfinal at the Caja Magica, the 19-year-old Alcaraz overcame the 21-time Grand Slam winner Nadal 6-2, 1-6, 6-3 for his 26th victory of the season, the most on tour.
Alcaraz is the first adolescent to defeat Nadal on a clay court. "It means a lot to me, all the hard work that I put in every day paid off today to beat Rafa, beat the best player in history on clay, it means a lot to me," Alcaraz said.
"It affected me a lot the fall in the second set but when I lost the second, I went to the bathroom and I believed I was able to get back, I was able to do my best, try everything on court, fight until the last ball and I think it was the key."
Alcaraz ultimately maintained serve to take a 3-1 lead after losing the first three games and more than 20 minutes. Nadal won just one more game in the set, as Alcaraz took a dominating advantage.
Alcaraz fell while attempting to collect a ball in the third game of the second set, necessitating a long medical stoppage at 1-2 to have his ankle wrapped. Replays revealed that Alcaraz severely sprained his ankle.
The seventh seed was broken at the restart of play as Nadal extended his lead to 3-1, but then another delay occurred due to a spectator.
After a lengthy interval, Nadal held and surged away with the set as Alcaraz seemed noticeably constrained.
Alcaraz took a bathroom break and seemed to be in better condition at the start of the last game, gaining a 3-1 advantage. It was all he needed to win in two hours and 28 minutes and set up a thrilling match against Djokovic.
Last updated on 07 May 2022 - 14:21
Liked this publication?