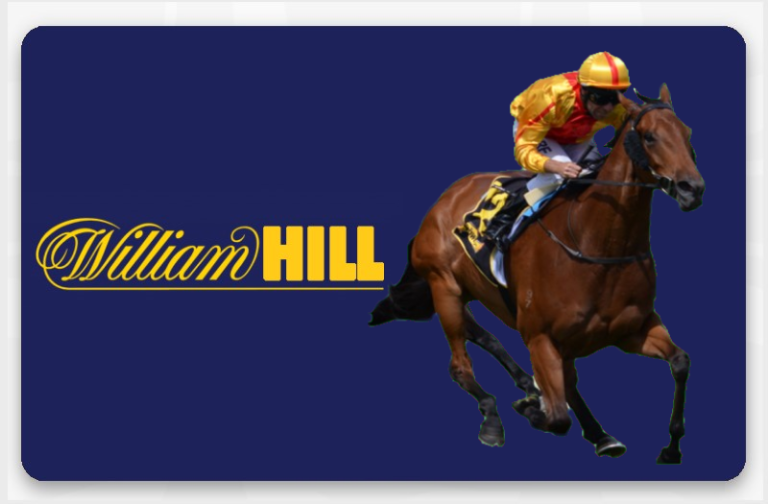 As one of the oldest bookmakers of British origin, William Hill is obviously associated with horse racing betting. It has been one of the top bookies in the horse racing industry since 1934 — and still keeps its reputation on the highest level when it comes to wagering on races.
So, if you chose William Hill as your fav venue for placing a couple of bets on Breeders' Cup or Melbourne Cup, you can be sure you'll get profitable odds and great service.
However, horse betting is a pretty complicated hobby by design: risky, unpredictable, requiring much special knowledge.
This article is a William Hill horse betting guide that will walk you through the basic horse betting rules and terms, some evergreen strategies, and all nuts and bolts of wagers at William Hill.
Understanding

Horse Racing Terms

To begin with, it's essential to puzzle out what all of the horse betting terms mean. So, we prepared a quick glossary with everything you should know to feel confident at William Hill horse betting section. To make it easier, we divided all terms into three groups.
Which Horse Racing Markets Can You Bet on With William Hill?
Besides the very simple and obvious wager on a horse you believe to win, there are several more — with a bigger or smaller risk. Here they are:
Win. You choose a horse and place a wager on it winning the race. This is the most popular and simple bet, but it implies much risk: even the favorite might disappoint you. Many small races don't offer anything but the Win bet.
Each Way. This is a multiple bet that you make on two outcomes. You win in two cases: if a horse comes first, or takes on of the places offered in the wager. For example, an Each Way ¼ 1-3 bet means that you win if the horse comes first, second, or third. However, you'll get only a quarter of your winnings if it's not the first place.
Match Bet. It's the best option when you can't decide which of the two horses you trust in most of all will win. So, you forget about all the other race participants and only watch the two favorites, making a wager on who will perform better.
Place Markets. Much easier one than a Race Winner Bet! In this case, your horse must finish in the first three or four (depending on the bet conditions) places. So, you will take your piece of cake not only if your horse wins the race.
Betting Without (BW). If you want to reduce your risk, and are ready to reduce the odds, too, you can exclude the favorite out of your racing card. In simple words, a horse you back can come second and your bet still works out, because you don't take the favorite into account.
Another multiple bet, allowing you to choose two horses within a single race and win if they finish first and second in the exact order. To create such a bet, you need to add two horses in the betslip, then switch to 'Multiples' in the betslip, and tick ''Exacta'.
Almost the same as Exacta, but the order of the horses finishing first and second doesn't matter.
The same as Exacta, but you pick three horses.
Lengthen Your Odds. A special offer for betting on the horses at William Hill which means you choose a horse and wager on the distance by which this horse will win.
William Hill Horse Betting Special Symbols and Abbreviations
So you know what bets you can make, but when you open the bookie, you see some very strange letters instead of the familiar bets — like here:

What is SP? What is EW? Let's straighten it out.
SP — Starting Price. It means the odds offered for a horse in the very beginning of the race. This starting price might be much more appealing than the odds you will see later. However, sometimes, betting at starting price might turn out to be less profitable — if a bookie has the Best Odds Guaranteed feature that we will discuss further in this post.
EW —  Each Way. You will see this abbreviation in the list of available markets, like EW: ⅕ Odds 3 Places and in the bet slip. If you want to make this wager, you need to indicate it in the betslip, like here:

RP — Racing Post Rating. Racing Post is one of the top respectable newspapers about horse races, so its rankings are considered official at most betting websites.
Horse Racing Special Offers And Promotions at William Hill
To squeeze the most out of the William Hill horses, you need to know what does a bookmaker offers in terms of promos. William Hill is pretty generous bonuses-wise, but how all these William Hill horse racing specials work?
Enhanced Odds/Flash Odds — simply special odds given for specific races and allowing you to get a bigger profit.
Extra Places — an offer, when a bookmaker is ready to pay for more places than usually. For example, you can win some money for the first five places depending on a wager you make. With Extra Places, you can wager on, say, sixth place, too. For example, if you check William Hill Grand National odds, you'll see that the bookmaker is ready to pay out for the first six places. With the Extra Places, you might get a prize for the seventh place, too.
Bet Boost — enhanced winnings from one bet. William Hill offers it for all sports, so you can also use for horse racing, too. To use a Bet Boost, just claim the offer at the William Hill promo page, check out today's horse racing odds at William Hill, and apply the bonus at your betslip.
Best Odds Guaranteed — a feature which guarantees you a payout at the best odds that have ever been offered for a particular horse. At William Hill, you are sure to get this offer for all UK and Irish races.
It might seem a bit more complicated than placing, say, soccer bets — but you just need to understand some nuances, and you are ready to go! Here is what you should do:
How

to Bet On Horse Racing William Hill

1
Open the Horse Racing section at William Hill. You will see plenty of races — yes, this is what William Hill can really be proud of.
Choose one using a filter by region, special offers, or just stick to the closest events.
2
Select a horse (or horses) and add them to the betslip at current odds (expressed in numbers) or at the starting price (the SP button).
Mind the rankings: by default, the first horse in the RP column is the favorite.
3
In a betslip, add your wager amount, and combine your picks into a multiple bet, if you want.
Place your wager and just wait for the race results. For most races, you can get access to the free live stream.
What

Strategy to Adopt with Wiliam Hill Online Horse Racing Betting?

As you see, there are plenty of various betting options for most races. Here are several of them that will be the most suitable for beginners.

For this strategy you need to know something about the first races of the day. At most tracks, morning races feature novice horses — and it's much easier to predict a favorite among the young participants. In other words, a favorite is usually very obvious.So what should you do? The best solution is to wager on Trixies or three Doubles from three different early races. If at least two horses win, you will get some profit.
Wagering on the Favorite at Odds 3/1
This strategy is widely used in many sports, but turns out to be the most efficient for betting on horses. It works the following way: you place two wagers on a favorite at odds of approximately 3/1 (4.0 in Decimal odds). If at least one of the bets works out, you will get a pretty nice profit.
If the odds for one of the horses are higher than 3/1, you can try pick more participants.
To profit from Each Way bets, many punters recommend to find a promising outsider with profitable odds and make an Each Way wager on it. With such a strategy, you have a nice chance to win pretty much if the horse comes first or takes one of the prize-winning places.
William

Hill Horse Race Betting Tips: General Advice

Whatever strategy you choose, here are some basic tips that might help you make the right decisions and win:
Mind various factors when placing your bet — not just the rating of the horse or odds. The race outcome much depends on the weather, the race tracker surface, the weight and experience of the horse and a jokey.
Check detailed stats and race overviews. Take a special attention to the current horse shape — William Hill horse racing betting section has much information about horses, jockeys, and possible race outcomes.
Make sure a horse you want to wager had a reasonable break before the race. The 'reasonable' one depends on the race type. A horse must have a rest for at least a month before a sprint. However. the long distance races doesn't require a large break, which might even be harmful.
To get more precise tips on William Hill todays horse racing, visit its The William Hill Radio Naps Table: it contains predictions from the top William Hill tipsters.
William

Hill Horse Racing Betting Odds

William Hill horse betting turns out to be pretty profitable with its competitive odds for most races. The best options are usually given for UK and Irish races, but with the special promos like Enhanced Odds or the Best Odds Guaranteed you might get the most out of your wagers.

A bit about the betting limits: the minimum wager is 3 pounds (or currency equivalent) and the maximum amount you can win is £1,000,000 which is by the way much bigger than most bookies usually offer.
To

Sum Up

Hope this guide helped you and you are ready to start betting on William Hill racing today. Thanks to the very smart UX of the website, you will soon know all nuts and bolts of William Hill horse racing betting, so good luck!

Last updated on 02 Feb 2023 - 15:29
Liked this publication?