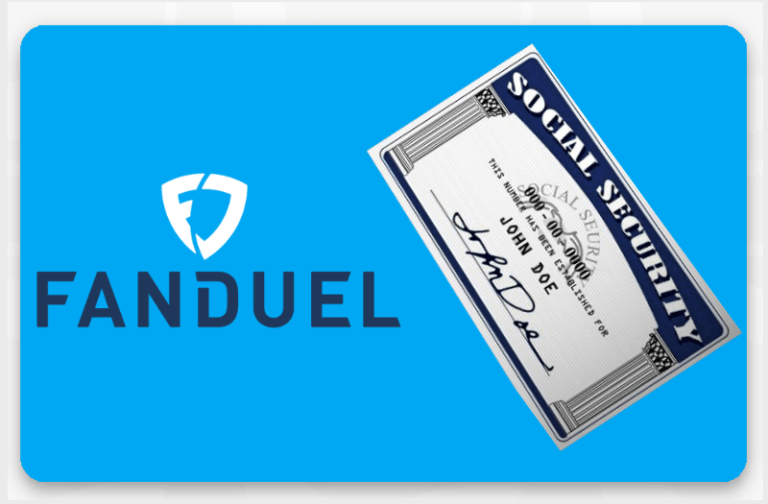 There are many options when signing up for an online casino, but they most likely will ask you for your legal name, home address, and telephone number. This may also be asked while registering for an online sportsbook such as FanDuel.
However, FanDuel has requested your Social Security Number. It doesn't matter if they ask for all nine numbers or simply the final four, many people will raise an eyebrow.
Why does FanDuel need my SSN? Numerous online operators, such as FanDuel, need the last four digits of your social security number when depositing or creating an account. This is essential if you win more than $600 at an online sportsbook since the sportsbook is obligated to record your winnings.
Social

Security Number Verification in the FanDuel Gaming System

It would be best to be overly concerned about providing your social security information to FanDuel since it is a safe practice.

FanDuel verification is about complying with most federal requirements to avoid fraudulent activity. As a result, you will participate in this kind of fantasy sport without worrying about anything.

In most cases, you will be requested to provide proof to verify your identity. You should supply as much information as possible throughout the verification process since the more information you provide, the more fluid your experience while using FanDuel Sportsbook will be.
The

Importance of FanDuel Player Verification and Why It Is Required

On the FanDuel website's help area, the article "Why do they want me to verify my identity?" explains the situation. When it comes to setting your profile in place, this page shows a particular routine for FanDuel participants to follow.

This kind of identity verification is required to comply with all government rules. It is also an excellent method of preventing fraud, allowing any FanDuel participant to enjoy themselves without fear of being defrauded.

If you are having trouble getting any successful verification, you should contact customer support for help by clicking on a page on the website or by emailing them directly. Typically, the number of people experiencing problems will determine the turnaround time, but it will most likely be within 24-36 hours. Additionally, any players requesting to withdraw money will be required to authenticate their identity once again. Whether you have previously provided them with your tax information, you will need to re-verify using the website's new verification system.

Because of the increasing number of reports of identity theft, FanDuel has tightened up its security measures even more.
This might also boost identification verification and ensure KYC protocol when visiting the website.
Most payment processors will take care of this for you and will be there when you want your monies back from them.
Compared to the previous procedure, this new one is more under the standards of official online gaming sites. Most of the time, you may find this kind of supervision on regulated online casinos and poker sites, such as those in New Jersey and Nevada.
Social

Security Protection Measures for Online Sportsbooks

Most online sportsbooks consider the SSN the most critical information to collect throughout the registration process. It's natural for most individuals to be cautious about divulging their SSN since it is one of the most secure pieces of information anybody can possess.

With regards to the majority of sportsbooks, like FanDuel, many players may believe that nonetheless of how well-known the brain is or how much money they stand to lose, their information will be compromised by the online sportsbook.
This is mainly because most scams, hacks, and breaches reported in today's headlines revolve around your social security number.
It's also worth noting that using a licensed and approved third party to verify players is a prudent technique. The Gaming Enforcement will enable sportsbooks to go another step further in securing their players and personal information.
Conclusion
After everything is said and done, it is only regular for players to be wary of any online sports betting service that requests personal information. FanDuel, on the other hand, requests the SSN of its players to offer them the best possible gaming experience.
Their goal is to provide you with the most seamless and enjoyable experience possible when using their website. As a result, although it may seem suspicious at first, it is really for regulatory considerations that FanDuel request your social security number.
This is also for your own protection from frauds, identity theft, and other forms of cybercrime that have been on the rise in the 21st century.
Last updated on 26 Jan 2023 - 16:56
Liked this publication?