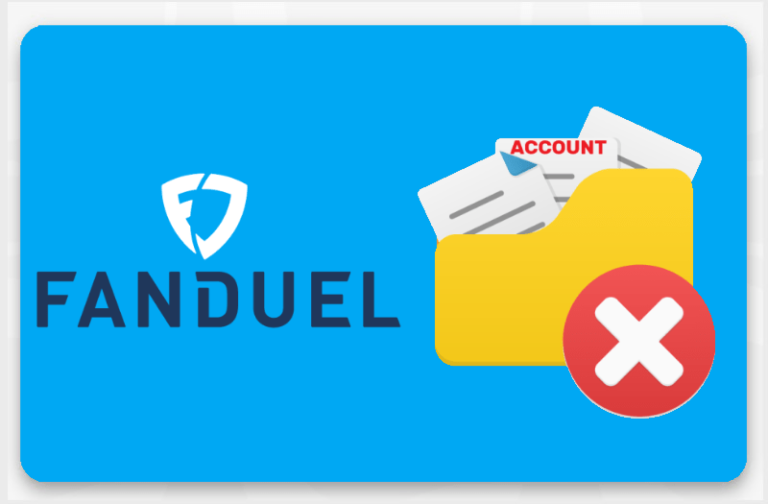 Every day, users choose to terminate their FanDuel account – whether it's DFS, the sportsbook, or the casino – for various reasons.
Perhaps you had a negative encounter with one of FanDuel's products, or the app was upgraded and fell short of your expectations.
It may be anything, but how do you do so if you want to leave and deactivate your FanDuel account? Further, we will describe the process of how to delete FanDuel account.
First, it's essential to note the distinction between shutting and deleting a FanDuel account. While these phrases are often used interchangeably, they may not necessarily indicate the same thing. While it is possible to terminate your account, you cannot wipe all traces of your activity on the account.
How

Can I Discontinue the Use of my FanDuel Account?

It's pretty simple to delete the FanDuel account, which also deletes all other FanDuel products by default since they're linked to the same account.
Take

the following steps:

1
Step 1
Visit support.fanduel to access the FanDuel contact form.
2
Step 2
Enter the email you used to create your FanDuel sportsbook account in the top line.
3
Step 3
Below that, you must pick a 'Reason for Contact' from the drop-down option – select 'Account Management.'
4
Step 4
In the body of the email, enter your message explaining that you would want to terminate your FanDuel account. You do not have to provide a rationale for your choice unless you choose to, and you should not be coerced into rethinking it.
5
Step 5
It would be best to inquire about making a last withdrawal since you don't want to cancel the account with funds in your account.
6
Step 6
Submit the form by clicking the green 'Submit' button.
There is no stated timeframe for when FanDuel's customer care will respond. However, they usually are somewhat responsive. Your account should be closed as a result of the mail.
Other

Approaches to Terminate a FanDuel Account

The Help Center provides straightforward advice on how to terminate your FanDuel account using the procedure indicated above. It makes no mention of using live chat. There is, however, no reason why this should not be permitted. Furthermore, canceling your account this way allows you to talk to someone directly, making it quicker to receive answers and for action to be taken.
Similar to the contact form, you can also send a direct email.
This is how you do it:
Once again, we recommend using the email address account associated with your FanDuel account.
Click 'Compose' to open the email.
Type support@fanduel.com in the recipient field.
You might enter the following as the subject: REQUEST TO CLOSE MY ACCOUNT.
Write an email to FanDuel requesting that your account be closed. If you have a customer account number, you may include it but never reveal your password.
After completing the actions outlined above, you will get an email from the customer support team to notify you that your account has been permanently terminated within 48 hours.
Last updated on 26 Jan 2023 - 17:38
Liked this publication?