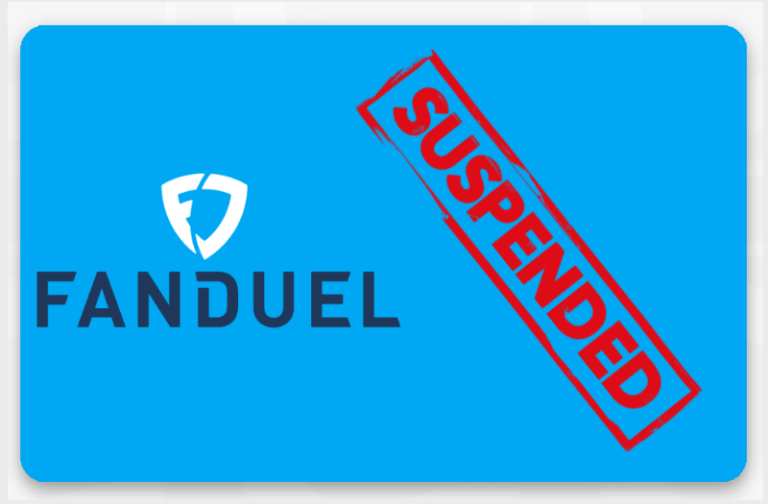 Millions of individuals use FanDuel to wager on their favorite teams. While the betting service makes every effort to keep its customers pleased, the occurrence of an infrequent account suspension or restriction might create concern.
Why

Have I Been Suspended from My FanDuel Sportsbook Account?

While the rationale for suspension may seem to be unjust, FanDuel must adhere to its terms of service in order to comply with federal law. You'll know you've tripped its sensors if your screen shows a notification stating that your FanDuel account has been suspended.
The

most often cited grounds for suspension are as follows:

1
Creating an account using fraudulent information
4
Suspicious activity detection
Inaccurate Information
The federal government taxes all winnings from online betting businesses. Tax records will be tampered with by providing incorrect or not complete information on FanDuel, which is a significant offense. To prevent legal complications, the following information must be accurate:
Date of birth
Telephone number
Email address
Your Social Security number's last four digits
When FanDuel discovers that you submitted inaccurate information, it has the authority to suspend you until you verify your identity and demonstrate that you committed an error.

Numerous Accounts
FanDuel may detect your impropriety based on your IP address, credit card information, and social security number. Bettors are not permitted to create multiple accounts on the site. If you establish a second account without realizing it, you risk being suspended or banned.
You may attempt to resolve the situation and get your account unbanned, but this will need a persuasive appeal letter.
VPN
Online betting is not permitted in every state in the United States. If you use a VPN to fool FanDuel into believing you are in another state, FanDuel will ban your access. To wager legally on this service, you must reside in one of the following states:
Colorado
Pennsylvania
Illinois
Virginia
Michigan
Indiana
West Virginia West Virginia
Tennessee
State of New Jersey
Additionally, FanDuel said that if your accounts in Pennsylvania, Indiana, or New Jersey were suspended before August 17, 2020, they would be stopped again.
Suspicious Behavior
If FanDuel detects any indication of a hacker attempting to access your account, it will be suspended. This is how it safeguards your account.
You may reclaim it, but you must first contact customer support team and reset your password.
How

to Restore Your Suspended FanDuel Account

To regain access to the betting platform, you must contact customer care. You may contact them through the following methods:
By emailing support@fanduel.com
Submitting an online request
Explain what occurred, and they will inform you of the reason for the suspension. Within a day or two, you should get a response. Following that, you should present your case and convince them to lift the suspension. If the process was successful, FanDuel revokes suspension.
Last updated on 24 Jan 2023 - 18:33
Liked this publication?