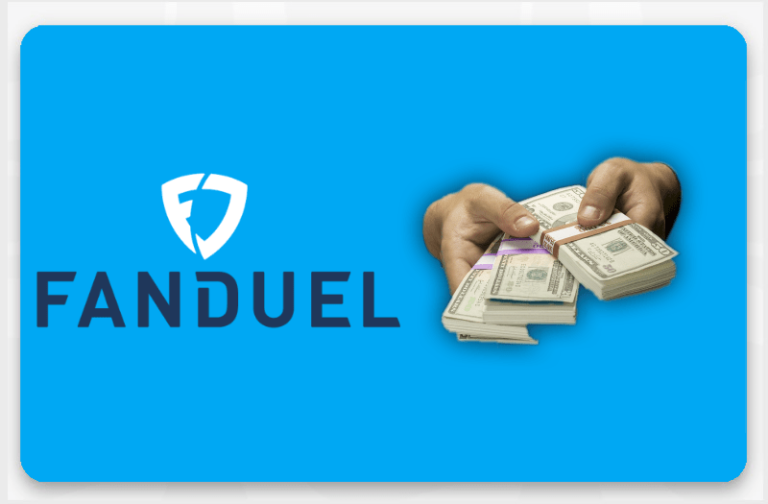 FanDuel allows requesting withdrawals from all sportsbook versions: a desktop website, mobile site, and a mobile app. The procedure is pretty straightforward: you'll quickly learn how to do it if you follow all instructions. Still, make sure you are eligible to make a payout request: there are particular limits, and we'll discuss them in this guide, too.
FanDuel

sportsbook and fantasy sports withdrawal options

Fanduel is a pretty standard US sportsbook in terms of withdrawal and deposit options. You can use the following payment methods:
PayPal;
PayNearMe;
E-Check;
Venmo;
Online Banking.
While you can top up your account using a credit or a debit card, this method is not available for payouts. As an alternative, you can use online banking, which doesn't usually take more than a couple of days.
The minimum withdrawal starts from $10; withdrawal limits may vary depending on your payment method. The payout time doesn't usually take more than 48 hours to process, so we recommend you to contact Fanduel customer support if there is a severe delay.
However, you need to allow up fourteen business days to process check withdrawals: it is the longest available payment method.
Note, that you might need to pay withdrawal commissions. FanDuel doesn't charge you for any payouts. However, the payment gateway might take particular percentage. For instance, online banking method might imply a 3%-5% withdrawal fee, depending on your bank policy.
How

to withdraw funds from FanDuel account

To proceed with a withdrawal, go to your account in Fanduel sportsbook mobile app or site, and find the Withdrawal button. You will see all payout methods available for you. Select the preferred one and indicate your payout amount. Then, follow the bookie's instructions.

For instance, if you chose PayPal, you will need to log in to your PayPal account right on the Fanduel's withdrawal page.
The withdrawal process is the same for both sportsbook and fantasy sports accounts.
I

can't withdraw money: possible issues

If you are trying to proceed with your payout, and it keeps failing, there might be an issue with a payment gateway or some technical problem. However, there are several popular reasons that might prevent you from withdrawing your winnings. Here they are:
You are trying to withdraw bonus funds. If Fanduel granted you with some free play money, you must use them for making bets and meet some wagering requirements. You can't just withdraw them as cash money;
You are withdrawing your deposit money. You can withdraw only your winnings, not deposited funds. If you made a deposit by mistake, or need to get a refund after you topped up your FanDuel Sportsbook account, it will be a separate procedure. To request it, contact the Fanduel customer support team;
Wrong address for checks. If you didn't verify your address, or changed it and can't update, try using an alternative banking option. Not all withdrawal methods imply indicating your address, so you can safely opt for PayPal, or bank transfer.
Again, it is the same for both fantasy sports and sports betting accounts. If you still have any issues with withdrawing your funds, or need more detailed instructions, don't hesitate to contact Fanduel customer service: it is willing to help 24/7 via a Live Chat, email, or phone.
Last updated on 26 Jan 2023 - 16:12
Liked this publication?